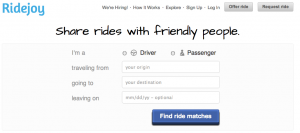 Four hundred and eighty-five miles is a daunting drive, no matter how you look at it. I wonder, one more time, how I plan to handle the journey with two strangers.
It's mid-April but feels like August, the asphalt baking beneath the camping gear piled at my feet. A black Ford Focus pulls into view. Please, please, have working air conditioning.
My car's heating core exploded six months earlier. The windows do not work and the engine whines for no apparent reason. All of which explains why I decided to trust the nine-hour drive to someone else's car. The trip is impromptu. After securing a last-minute ticket to Coachella, a California music festival taking place that weekend, I had 72 hours to find someone who could drive me to Indio, and then back again three days later.
A friend suggested Ridejoy.com. I went to the site and found a ride-sharing version of Match.com, pairing me with hundreds of potential drivers. Within an hour, I had an email response from user Samuel G, asking if I had found a ride yet. I checked out his profile, and his reviews were stellar.
After a few messages back and forth, I decided to ride with Sam.
Plan is hatched
The founders of a website that brings strangers together met in a similar way. Kalvin Wang and Jason Shen, undergraduate roommates at Stanford, moved to San Francisco together after graduation.
The two had bonded over a shared dorm, which eventually grew to a co-founded nonprofit at Stanford and mutual love for board games, tech, XKCD (a webcomic about romance, sarcasm, math and language) and going to the gym. They were looking for a third person to not only live in their apartment but also to cook meals with and share a passion for "making the world a better place." So they started a website, JasonandKalvin.com, to aid in the search.
"Us: Two guys looking for a roommate in SF, starting February 2nd or later. We cook a couple times a week and go to the gym together," read the site,
"You: Clean. Conscientious. Geek-friendly. Responsible, reliable, etc."
Of the dozens of emails Kalvin and Jason received, Randy Pang's stood out.
"It was four times as long as anyone else's," Kalvin said as he recounted the origins of Ridejoy. "And he ended it by telling us how we could fix the web form we set up for people to contact us."
What Randy wrote was the following, "P.P.S. Your web form sucks, needs to be bigger or have a scrollbar."
For two Stanford grads and technology enthusiasts, Randy's email sealed the deal. Jason and Kalvin had found their roommate.
Although the three had no intentions of starting a company together, Jason knew he wanted to create his own startup. Kalvin was leaving his job to travel for a few months, and Randy was happily working at Scribd. Yet the more they threw around the idea, the more excited they became about giving a startup a go. The night before Kalvin was set to leave on his travels, they discussed the possibility for hours.
As time crept into the early morning, they decided to go for it.
They submitted their application to Y Combinator — an accelerator that provides a small amount of funding and intense guidance to a large number of startups twice a year — and were accepted shortly there after. The team's original idea had nothing to do with ride sharing. They proposed a digital scrapbooking startup in their Y Combinator interview, a pitch that did not  engage the early seed funders.
"When we funded them, we told them it was more because we liked the guys than we liked the idea," said Harjeet Taggar, a partner at Y Combinator. "They had been friends for a while, they had programmers, and Jason was sort of the outgoing sales and business kind of guy."
So the three came in frequently for office hours during their first few weeks of Y Combinator funding. They bounced a lot of ideas off the partners, and the frequent long treks up the Peninsula together helped them develop the proposal for a ride-sharing company.
Their timing was perfect. The Burning Man festival was a few weeks away, and Kalvin knew from experience those who attended were predisposed to sharing rides since Burning Man itself is based upon a collaborative environment.
The team only had a few weeks to pull the site together, but they managed to create and launch burningmanrides.com in time. The website facilitated more than 1,000 ride postings for the 2011 Burning Man, including a ride for each of the site's creators. "We didn't think we had time to go, but we realized we had to use our own service," Kalvin said.
After Burning Man, the trio decided to expand to a West Coast ride-matching service.
Challenges of expansion
"Making the jump was challenging," Kalvin said. "Burning Man was an ideal test bed. It has 50,000 people, almost all who are already going to share a ride in some way, and they are a very effusive, forgiving, and sharing bunch."
Expanding to the entire West Coast meant that Ridejoy had to secure enough drivers and passengers to make the site viable.
Creating a broad enough marketplace can be the downfall of many startups. "They warned me that we exist in a graveyard," said Margot Leong, the community manager, recalling the conversation when Ridejoy offered her a job. "We are surrounded by the death of so many other companies like ours, but we still wanted to try."
Couch surfing, however, had taught Margot important lessons on what makes sharing experiences successful.
While studying abroad in England, a friend recommended Margot try couch surfing on a weekend trip to York. "I stayed with this engineer by day, awesome, crazy reggae guy by night," Margot said. Her host showed her all his favorite local haunts, accompanied her on a ghost tour and made the experience unforgettable.
When Margot moved to Hong Kong after graduation, she decided to become an ambassador for couch surfing. These unofficial ambassadors sign up at local couch surfing events, and "spread the word and take it into their own hands to organize meet-ups without official backing," Margot said.
Couch surfing's success is due, in large part, to passionate users like Margot. So when she joined Ridejoy, she focused building a strong user community.
Ridejoy's founders also want the site to be highly intuitive, operating under the assumption that the easier it is to use, the more likely people will keep coming back to do so. Securing their designer, though, was no easy feat.
"Everyone told us we were looking for a unicorn, that what we wanted didn't exist," said Jason. But once the team met Seth Warrick, they had found their unicorn — a designer, they said, who could create both an attractive and simple-to-operate user interface.
Seth knew he wanted to move to San Francisco from Nebraska, and he knew he wanted to work for a startup. The question was, which one?
After flying Seth out for a three-day trial run and interview, Ridejoy decided they had to have him. And they wanted him to know this.
The Ridejoy team devised a plan. They were going to send boxes of donuts to Seth's going-away party. But as it turned out, no donut shops in Omaha delivered. The team, however, was not to be deterred.
Seth, who was celebrating at his favorite bar, House of Loom, received a text simply saying something from the Ridejoy team was on the way. He was in the middle of DJ-ing when five pizzas arrived, enough to feed all of Seth's friends. "That definitely sealed the deal," said Seth. "I'd never had a company do something like that for me before, especially when I hadn't even signed anything yet."
Blind spots
Thdunk, thdunk, thdunk, thdunk. My eyes pop open to the sudden rhythmic jolting of the car.
I straighten up in the back seat. It's 2:30 a.m., eight hours into our trip.
Out the windshield, the white lane divider drifted towards the center of my view, and the thdunk, thdunk, thdunk begins again.
Sam's other passenger, a 20-year-old from San Bruno, had taken the wheel some time while I was asleep. Now he was repeatedly driving over the lane divider into the highway's shoulder.
It struck me then how little I really knew about the people I was traveling with. Sure, I had sent my mom Sam's cell number as a precaution, but other than that I had done very little to secure my safety. Did they have clean driving records, or a history of accidents? I had no idea.
Safety measures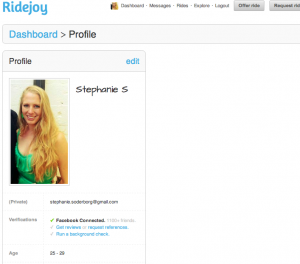 Because Ridejoy's focus is to foster community between its users, the company does not conduct driving record checks or pre-vet those who post rides, Kalvin said. Rather, users are encouraged to vet each other by leaving recommendations after a shared ride, or requesting that friends provide an online reference.
Ridejoy does make users sign in through Facebook, which helps prove their identity and shows any mutual friends between users. The  site recently rolled out an optional, but highly encouraged driver's license authentication program via webcam, providing a profile badge for those who use the service, indicating to others that their license is valid and identity corroborated.
The company also provides a safety checklist for drivers and passengers that it recommends users follow, which is exactly what Linda Stefanini did on her drive from Seattle to San Francisco.
Linda, at age 52, is not the stereotypical Ridejoy user, who tend to be in their 20s and 30s. "My husband thinks I'm sort of crazy," she said in an interview with Ridejoy, a copy of which the company gave me. "I think it worked out really well."
Linda messaged with all her potential passengers before choosing whom to drive with, making sure she felt her companions would be compatible. She also took photos of her passengers and their driver's licenses, sending them to her husband, as the Ridejoy safety checklist recommends.
End of the road
Nine and a half hours after first meeting Sam, we made it to Indio. I peel  cramped legs from the back seat, and slowly begin to transfer my belongings from the car.
My two companions jump out to help, and once the task is complete, I give them both a hug. In the past few hours, we bonded over a shared plate of animal style fries at In-N-Out, my desperate and fruitless search for a disposable camera at gas stations along Highway 5, and blasting MGMT.
"I'll shoot you a text in a few hours to meet up at the festival," says Sam, as he climbs back in the car.
He does, and while the enormous size of Coachella makes it too difficult to find each other, the idea of hanging out with my ride companion, a stranger up until a few hours before, no longer seems weird. But I never did find out his last name.