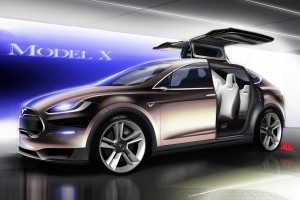 With the unveiling of its third all-electric vehicle earlier this month, Tesla Motors is on the path to making irrelevant the question: "Who killed the electric car?"
On Feb. 9, the company revealed its Model X, an all-electric luxury crossover utility vehicle at the Tesla L.A Design Studio in Hawthorne, California.
The car is the third model the company will produce, after the Roadster sports car, already on the market, and the Model S sedan, which Tesla plans to release for sale in June this year. The Model X is slated for production in late 2013.
Tesla Motors both manufactures and sells electric vehicles and their powertrain components – the battery, transmission and other elements that make an electric car run. It has differentiated itself from other electric car companies in its focus on penetrating the high-end, high-performance market first before producing mass-market cars.
So far, the tactic appears to be working.  Tesla is one of the few companies solely dedicated to electric cars that is succeeding in the marketplace. Other start-up electric car companies are not faring quite as well.
Aptera Motors, based in Carlsbad, California, which designed a three-wheel, aerodynamic teardrop shaped electric and hybrid car, went out of business in December after three years of delay in delivering its  model to customers.
Think Global, a Olso, Norway-based company which produced the two-seater, highway capable car Th!nk City, filed for bankruptcy in June.
The Department of Energy has placed a hold on its loan to Fisker Automotive, based in Anaheim, California, which produced a hybrid subcompact luxury sports sedan that was most comparable to the Tesla Roadster in terms of design and price – upwards of $100,000 – after too many production delays, perhaps spelling the end for the company.
By adding high-performance and design to the environmental benefits of an electric car, while managing avoid any major production delays, Tesla's vehicles have become a status symbol among car enthusiasts, as evidenced among the numerous car blogs raving over the cars online and the Tesla Roadsters found along Silicon Valley's money street Sand Hill Road and elsewhere throughout the region.
The Model X, the newest edition to Tesla's line of cars, features the "cool" factor for which the company is known.
As a crossover utility vehicle, the Model X is built on a passenger car body, specifically Tesla's Model S sedan, but the design of a sports utility vehicle. Its sleek exterior body, seven interior seats, and "falcon wing" doors, exude style, which is exactly what Tesla's Chief Executive Officer Elon Musk intended.
"The Model X is more SUV than mini-van," Musk said in an investor update call in January. "More functionality than a mini van, more cargo, easy to get in and out of – many people are forced to buy a mini van but hate it because they need functionality, so we want to give them functionality that looks really cool."
Tesla's website elaborates on the design, stating, "It is an automobile above category, built around the driver – and six of her friends." The use of the feminine pronoun alludes to Tesla's focus on women in the car's design. Although the car is gender neutral, the company held female focus groups during the design phase to determine what design elements were most important to them.  The company wanted to capture the "soccer mom" market along with the car savvy male market.
Not everyone is sold on the uniqueness of the design, however. "From the point of view of design," said Luca Gualco, the global director for Ferrari Financial Services, "Tesla did not really do something completely different."
The car has already been compared to the Acura ZDX and BMW 5 Series Gran Turismo. The more expensive BMW X6, though, might be a more accurate comparison point, according to Hunter Hagenbuch, a sales associate for Truspeed Motor Cars, located in Costa Mesa, California.
"Once you add on all the features, you are looking at a car that is close to $80,000, which is about the same range as the BMW X6," said Hagenbuch. "If you are going to spend 80 grand on a car, the question is whether the Model X can deliver all the desired features? There is still a ways to go for electric cars to be as easy to use as gas, they aren't really road trip cars, so that is already one issue."
Hagenbuch alludes to two of the biggest concerns for customers when it comes to electric vehicles – the range and charge time for the battery. The Roadster, Tesla's sports car and only model currently sold, has a range of 245 miles per charge. The battery charges in 3.5 hours with a 240-volt outlet at 70 amps. A standard wall outlet is 120-volts.
Tesla's estimated range for the Model S is 160, 230 or 300 miles per charge, depending on the battery option a customer chooses. A 240-volt outlet with high-amperage recharges the Model S at a rate of 62 miles per hour. While Tesla has not yet released the maximum range for the Model X, the company states that it will be comparable to the Model S.
With cars that can run for up to 300 miles, Tesla's cars competitive in terms of range with many of their gas-run counterparts. As for battery life, Tesla is currently working on improving existing chargers. Musk recently announced the development of a battery super charger, scheduled for release later this year, which would be stronger than any existing charger on the market.
"It's pretty killer," Musk said on a conference call with investors in February. "It is beyond stage three," which would make it the quickest, most powerful battery charger around.
Tesla also plans to price the Model X similar to an equally equipped Model S, which begins at $50,000. However, there is speculation that the base model of the X will be comparable to the mid-range Model S, and therefore more expensive than $50,000. Once all the extras are added on, such as extended rage of up to 300 miles, both Tesla's sedan and crossover utility vehicle could cost more than $80,000, as Hagenbuch estimated.  The Roadster starts at approximately $109,000.
Although other electric car start-up companies may not have taken off like Tesla, major automotive companies have validated the electric vehicle market by creating their own electric models.
Currently, analysts view the Chevy Volt and Nissan Leaf as Tesla's main competitors.
However, companies like Ford, BMW, Toyota, Mercedes, Renault and Subaru are also producing or planning to produce electric vehicles, with the first of those models expected to hit the market as early as later this year.
While Tesla remains on the high-end for battery range compared to its competitors, when it comes to price, both the Leaf and Volt have Tesla beat.
The Nissan Leaf, an all-electric five-seat hatchback, sells for as little as $27,000 after a federal tax rebate. According to the company's website, it has a maximum range of 138 miles.
General Motors refers to the Chevy Volt as an extended rage electric car, meaning it runs closer to a hybrid, where a gasoline generator kicks in after a certain range to help charge the battery for longer distance driving. The Volt starts at $31,645 after federal tax savings, and the company says has a range of 375 miles with a full tank of gas and full battery charge.
Tesla has plans to compete more directly with these lower-priced electric vehicles. The company's next car, after the Model X, will be a mass-market vehicle priced closer to $30,000, according to Musk on the year-end investor conference call.
The Model X, however, may have more issues than simply price and range.
The SUV, mini-van, sports car combination has left some analysts unsure on who exactly is the car's target market. "If you take away the cool factor, I am trying to understand who this car is aimed at," said John Licata, an energy strategist and Tesla analyst at Blue Phoenix, located in New York.
The "falcon wing" doors are evocative of the gull-wing doors made famous by the DeLorean DMC-12, but with a bi-fold arch so that the doors can open in tight spaces. Licata questions, however, if the design is truly suited for the soccer-mom crowd, who would potentially be attracted to the car for its space, or are they targeted towards a more "techie" audience.
He also notes that the doors may not be fitting for East Coast customers, where garage height clearance is not as high as in California. "Tesla can not just market to the West Coast, and it has been struggling with the East Coast demographic," Licata said. "The company needs to educate East Coasters more about the benefits of switching to electric cars."
Hagenbuch is more sold on the doors working for the soccer mom market. "It is for people who are active," he said. "You can stand inside, so it is easy for say a soccer mom to get her kids in and out. They are very innovative."
There are definitely perks to an electric crossover utility vehicle. Since it is all-electric, the Model X does not have to accommodate a gas engine, meaning there is cargo space in both the front and back of the car. The battery is located in the bottom of the car, lowering its center of gravity, so it handles more like a sports car than an SUV. Musk said the car has a 0-60 mph acceleration time of 4.4 seconds, 0.2 seconds faster than the Porsche 911 Carrera.
Tesla's stock responded positively in anticipation to the new model. On Feb. 9, the day of the release, stock rose 2.29 percent during trading hours, and another .61 percent after trading hours, according to Yahoo Finance. However, the company's stock suffered the day after the unveiling, dropping 4.54 percent to $31.10 from $32.08 daytime trading.
"The company didn't reveal the car's range, so we can only make assumptions," said analyst Licata. "This might have something to do with the drop in stock."
However, Tesla's stock rebounded after it released its fourth quarter and annual earnings, reaching a high of $35.00 on Feb. 15. The stock is currently trading at $35.29 as of Mar. 14.
Prior to release, Tesla unveiled two "ghost" images of the car, one that gave an outline of the sleek front profile, another than highlighted the wing doors, excitement over which may have influenced the stock's rise in price during the day.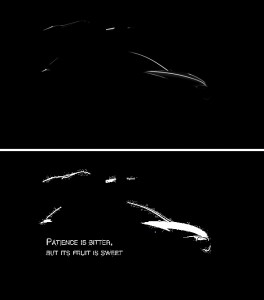 Knowing excited car buffs would be Photoshopping the images in an attempt to see more of the car, Tesla also hid a message in one image. When the whites are brought up to their maximum point, no more of the car is revealed, but the following message appears: "Patience is bitter, but its fruit is sweet."
In its year-end letter to shareholders, Tesla reported over 500 reservation for the Model X within 24 hours of its unveiling, demonstrating a strong interest in the car.
As for the Model X's positioning in the car industry, Tesla may have hit the right niche, according to Antonio Danova, an industry analyst at IBISWorld.
"Electric vehicles are normally lacking in terms of performance," Danova explained. "Tesla is at the forefront of marketing high-performance electric vehicles, so they have an opportunity to gain some market share."
The hybrid and electric vehicle manufacturing industry sold over 280,000 units in 2011, according to an IBISWorld report. Just over 17,000 of these cars were electric vehicles, accounting for approximately 6.2 percent of the hybrid/electric market.
The Nissan Leaf sold 9,674 units in 2011, accounting for 57 percent of the electric vehicle market. Tesla sold 669 Roadsters in the same period. If all of these Roadsters were sold in the United States, they would account for 3 percent of the market. However, some Roadsters were also sold in Europe and Asia. Tesla will only release 2,500 first edition Tesla Roadsters, and had sold all but 330 of them by the end of 2011. The remaining Roadsters will be sold in Europe and Asia only. The Chevy Volt sold 7,671 units in the past year, but is not considered part of the pure electric vehicle market.
The hybrid-electric vehicle market is growing, according to IBISWorld, at a forecasted rate of 6.3 percent annually until 2017.
"It is a small area that hasn't exploded, but there is a lot of room for growth as electric vehicles grow in popularity," Danova said.
Musk is also confident in Tesla's ability to grow and survive in the market. "I'm not really worried about competitor threats," he said on the February investor conference call. "What we are focused on is not really what any other company is doing, but rather are we making the best possible car. Is there anything we can do that will amazing and delight customers more."
Other market forces also positively impact the electric vehicle market. The rising price of gasoline is making owning an electric car more appealing, and possibly more affordable. Charging an electric car can cost as little as $0.02 per mile, compared to about $0.15 per mile for a car that runs at 20 miles per gallon. Annual fuel costs for a gas vehicle can costs $1625 annually, compared to $279 for an electric vehicle, according to Tesla's website, which pulled data from John Rudolph and Gilbert Master's book Energy for Sustainability.
California's new stringent emissions law, passed last month, is also a boost for the electric car market. The updated standards require approximately 15 percent of new cars to run on zero-emission technology, such as electricity, by 2025. The goal is to reduce smog by 34 percent and greenhouse gases by 75 percent in the next 13 years.
Tesla analyst Licata said he just hopes the company can stay focused in order to maximize their growth potential. However, on the day of the Model X launch, Musk mentioned that another company for which he is CEO, SpaceX, may go public next year. SpaceX is an aerospace transport company currently designing space launch vehicles. The announcement worries Licata, who thinks Tesla might be spreading itself too thin
The pressure on Tesla to perform is heightened by recent events in the company. Two of the lead engineers on the Model S left the company earlier this year, and analysts are watching to see if this will impact the rollout of both the Model X and Model S.
"Elon Musk was able to smooth over the leaving of the engineers," said Licata, "but now he really needs all hands on deck, Tesla needs to stay extremely focused."