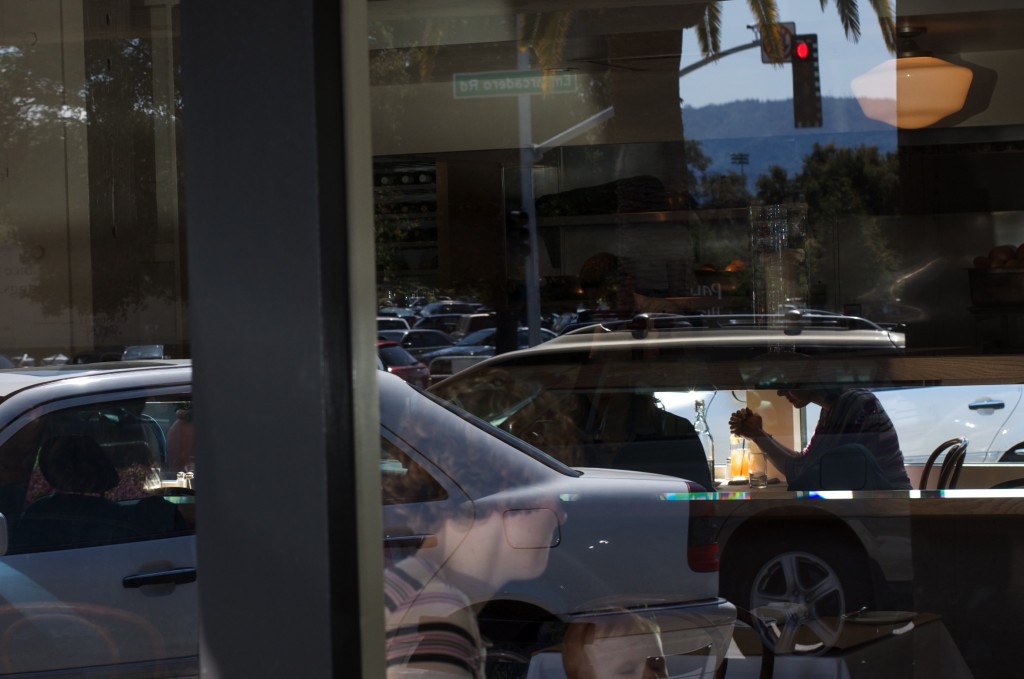 Many small business owners and managers on the Peninsula complain that Yelp holds back business, and some have gone so far as to accuse the company of blackmail.  This may come as a surprise to the large and growing number of consumers using the site.  But Yelp's efforts to educate small business owners about their practices have not eliminated the negative sentiment.
The San Francisco-based company provides an online forum for customer feedback and reviews.  It curates user-created content and has faced two class-action lawsuits in the past two years, both involving allegations of extortion.  Small business owners claim Yelp coerces them into purchasing advertising by promoting negative reviews and hiding positive ones.  Yelp denies this and claims this curation is "unbiased" and "neutral," designed to protect the site from fraud.
Federal courts dismissed both suits.  The latest was dismissed in November, due to lack of evidence and because, under the Communications Decency Act, the court said Yelp isn't liable either way.  Some local small business owners say they are still considering additional legal action.
Palo Alto restaurateur Satish Sandadi said he and the newly-formed Silicon Valley Indian Restaurants Association have discussed the possibility of pressing charges.
"I think they blackmail us," Sandadi said.
He added he doesn't mind that the site displays negative reviews of his restaurant.  "We've always had mixed reviews on Yelp," he said.  He claims to be more angry about the site's curation of the reviews: "The good reviews go the bad reviews stay."  He says he believes this is an effort to wreck his business and convince him to advertise with Yelp.
"Go find a recent good review of my restaurant and watch it," he asked. "In a few days it will have disappeared."
The phenomenon he refers to is the work of Yelp's sometimes infamous, "review filter."  Unlike most websites where customers publicly review and rate services, Yelp "hides" a high percentage of the reviews that people post.  If a review has been filtered, you can still see it on the poster's profile, but you won't be able to find it on the business' page, nor will the review factor into the business' "star count," a summary rating of the reviews Yelp has not filtered.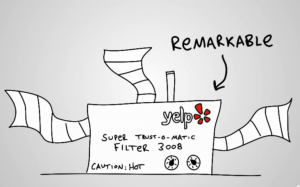 The review filter is algorithmic.  Although Yelp's user-support team will take down postings that are offensive or clearly violate the site's terms of service, company policy is to keep all other matters of post-filtering out of human hands.  A program monitors information about users and businesses and then makes the call on whether to display the review.  The "disappearing good reviews" Sandadi speaks of are likely the result of Yelp's program essentially "changing its mind," either in light of new data or because Yelp's developers altered the algorithm itself.
Darnell Holloway, the manager of local business outreach at Yelp, called the filter an "automated security system."
According to Holloway, and the many blog posts Yelp has made about the filter, its main purpose is to mitigate the impact of reviews that businesses have solicited or paid for.  As a business' digital reputation has grown more important, so has the issue of fraudulent reviews.  On  many online forums and websites, people offer to write positive reviews in exchange for money. A business can also pay people to write negative reviews of its competition.
Businesses can even commission reviews from "elite" Yelp users in some places.  These are users whom Yelp has awarded a badge to accompany their profile photo and possibly more credence in the eyes of the filter, based on their review history.
The Yelp filter, as a security measure, is essential to Yelp's success, Holloway said.  According to a piece in Businessweek, Yelp was successful in excising the fraudulent reviews of an enterprising, anonymous, small business owner in Texas. The article says he admitted to commissioning positive reviews from a non-customer, and Yelp's filter caught them all when other sites didn't.  In response to small business-owners' claims that their reviews had been filtered unfairly, Holloway said, "The review filter applies the same logic to all reviews, positive or negative. It's effectively an unbiased system."
The problem is, very few people are allowed to know just what that system is, making Holloway's claim that it is 'unbiased' difficult to evaluate.  Outside of denying Sandadi's suspicion that advertising revenue can be exchanged for 'kinder' treatment, (the company's website claims this 'misunderstanding' is caused by a paid service Yelp used to offer, which would allow business to select one or two of their reviews for display at the top of their page) Yelp has a strict policy of secrecy surrounding the filter.
"The only people who know the ins-and-outs of the filter are the engineers that created it," Holloway said.  "We don't publicly disclose the criteria that it looks at.  There are people that would use that information to reverse-engineer the filter and work around it."
It isn't hard to stumble into somebody who learned how an Internet service worked and hijacked it.  "Look at Google," said Jan Overgoor, who researches data for CouchSurfing.com. "Google's central search algorithm is really mathematically clean and well-known, but they do a bunch of little, secret, things to sanitize those results, because people undermine it."
Historically, savvy, mischievous users have caused the Google search engine to return results for 'George W. Bush," when somebody searched for "miserable failure," and prompted "did you mean 'French military defeats'" when asked for "french military victories."
Overgoor's research looks at a similar issue of trust and quality control within CouchSurfing's community of travelers exchanging lodging and hospitality.  He said he thinks that if he does develop a successful system to foster trust, it is likely to require a certain degree of secrecy to prevent sabotage. He said he doubts the claims that Yelp is running an extortion racket on the grounds that this would ultimately be bad for business.
"If you're Yelp, you want the picture presented by the reviews to be as close to reality as possible," Overgoor said.  Exchanging reputation for money jeopardizes this, whether it's someone contracted to write glowing praise for a business, or it's Yelp filtering out the opinion of a dissatisfied customer.
But the filter accounts for only a fraction of the grievances small business owners have with Yelp.  Melanie Yunk, a consultant for RoaringPajamas, a San Mateo-based company that helps small businesses manage their reputations online, said that most of her clients with negative feelings towards Yelp find that managing their presence is too demanding.
"I don't actually know of anybody who has turned poor Yelp reviews around," Yunk said.
"You're not going to find a single person in the restaurant business that likes Yelp," said Chris Cuneo, assistant manager of Mayfield Bakery and Cafe in Palo Alto.
Cuneo said he has heard the rumors about blackmail and extortion but says he has never experienced it himself.  He does acknowledge that the site has been helpful for receiving customer feedback.  But he says he finds the importance Mayfield places in its Yelp reputation annoying.  When at work, he says he has to check Yelp "religiously" on his phone to see if a poor review has been posted.  Whenever one is, he says his supervisors find out about it quickly.  "The phone's going to ring, and I'm going to have to have an answer."
Because it does not arbitrate factual disputes between businesses and reviewers, Yelp suggests businesses handle negative reviews by responding to the reviewer through their system.  "In meetings, we go through and talk about every single review," Cuneo said.  "I've had friends lose their jobs because of Yelp."
When online reputation consultant Yunk comes across a client with a poor reputation on Yelp, "they feel really distraught about it.  They feel like they have no control whatsoever."
"It becomes an obsession," Sandadi said.  He works with a much smaller staff, answering the phone himself twice every 10 minutes on a Monday evening.  He says he used to respond to reviews, but that got harder and harder.  He attributes this partially to Yelp's mobile application, which lets an angry customer leave an impulsive review before he has even finished his meal.  Sandadi said he gave up a few months ago. "Finally I had to say, 'No more Yelp!'  If they screw me, they screw me."
His lack of attention doesn't seem to have driven business away from the site.  In the first three months of this year, Yelp saw an average of 66 million unique visitors to the website each month, and 5.7 million on the mobile app.  "They know we've taken this aggressive approach to quality control, and they find the content to be useful," Holloway said.  "The filter isn't perfect but it's proven to be pretty effective at keeping the site useful for consumers."
This is similar to Overgoor's observation that Yelp at least appears to be getting something right.  And the fact that businesses have to pay attention to their reputation on Yelp also seems to benefit consumers. It gives business owners further motivation to treat every customer well — and to respond to feedback and complaints.
But Yelp also depends on the businesses reviewed on its site.  According to Yelp's prospectus, 70 percent of its revenue last year came from advertising by small businesses, amounting to $40,325,000.  Vijay Bists, the owner of Amber, a group of Indian restaurants on the Peninsula, said he has watched social media companies, like Yelp, Groupon and OpenTable, proliferate and make larger cuts into his profit margins, especially for new locations.
"Eventually those that are doing business honestly will not be able to pay these people," Bists warned, "and the social media bubble will burst."