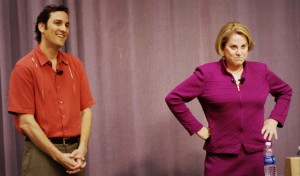 Once, when Andy Kurtzig was a kid, his mother took him to a 'grown up party.' Unbeknownst ot her, he asked the hosts if he could have all of the decorative balloons, and walked them across the street and sold them in the park.
"That was the first time I knew I had a problem on my hands," Sandra Kurtzig said. She correctly suspected he was a chip off the old block, an entrepreneur like herself. The two of them shared the stage Wednesday, decades later, in the last talk of Stanford Entrepreneurship Week 2012, and the latest in the DFJ Entrepreneurial Thought Leader series.
Sandra Kurtzig is nothing short of a legend. In the 1980s, she was the first female founder of a tech company that went public. The company was ASK, which became one of the 10 largest software companies in the world, and its flagship product was ManMan – software for manufacturing management.
The entrepreneurship talk opened with a recent video of Kurtzig announcing her latest venture last summer – Kenandy – cloud-focused manufacturing management software. "It's time to start thinking about what the next market is going to be, and we think it's going to be the business-to-business social enterprise market," she said.
Andy Kurtzig, once the boy with balloons, looked on proudly from the front row, waiting to be introduced. Andy Kurtzig is founder and CEO of JustAnswer, a Quancast top 200 website. JustAnswer manages a set of professional experts (legal, financial, medical, plumbing) and makes them available to customers, for quick, web-based advice. He's also an angel investor and philanthropist.
But the real focus of the presentation wasn't product. It was personal. The two serial entrepreneurs shared their stories with the audience, and compared them to one another. It was the first time mother and son had given a presentation together. "I have some baby pictures from when I started ASK," the elder Kurtzig teased. "But then I decided that was too much."
Both stories are classic in their own way. When she started ASK in 1972, Kurtzig had a Stanford master's degree in aeronautical engineering, a bachelor's from UCLA in mathematics, and absolutely no business experience. When she told her parents she wanted to start a company they told her it was time she got married.
"Not-having an MBA had some advantages," she said. "I had no book sense to confuse me about product pricing and raising money, I had to go with my intuition."
One example of this intuition emerged because she hadn't priced her product, a copy of her software, when she secured her first customer. "So I said $50,000," Sandra Kurtzig said. "And then the customer didn't react."
"So I said, 'Per module.' Still nothing. So I said, 'Per year!'"
"And then the customer sort of flinched and I said, 'but we'll cut you a deal because you're our first customer.'" Kurtzig has since learned that the "flinch" method of pricing is a practice taught in business school, and she is pretty pleased with having backed into it independently.
But while Sandra came to entrepreneurship with two degrees and no entrepreneurial expertise, her son had nursed his business sense practically since childhood. Inspired by the likes of Bill Gates and Steve Jobs, Andy Kurtzig wanted to drop out of UC Berkeley to start starting-up, but his mother wouldn't let him. "You finish what you start. I don't care what your grades are, just get your degree."
He switched from an engineering major to a business major, started two companies, and graduated early. One of his big points of advice to aspiring entrepreneurs was to confirm that people do in fact want your product. JustAnswers was born out of an experiment in rapid development: he'd spend one month building a product, and a second month promoting it. If the market wasn't receptive, he moved on to the next idea. JustAnswers was his third.
He spent years bootstrapping before seeking investors. Sandra, who took venture capital funding for both Kenandy and for ASK admits that for her son's situation, this was the right way to go. He was well-connected and well-positioned enough to make it work. And Andy, conversely, approved of his mother's practice of acquiring funding. "She already knew the business," he said, after saying he spent a lot of time feeling out the market. "And she wanted to hit it hard and hit it fast."
They already knew of one another's approval, and it seems that Sandra has been the business-mentor parent she didn't have. When she came to her parents with her idea for ASK: "Everybody thought I was crazy."
Now, Sandra said that when Andy calls in the middle of the night with a new start-up idea, as he often does, she often responds in all seriousness, "'Do you want me to answer that question as your mother or as a business person?'"