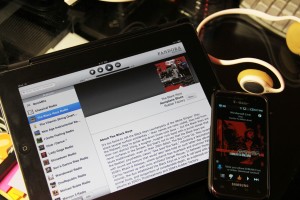 It wasn't quite music to investor's ears as Pandora Media, Inc. (NYSE: P) failed to meet expectations for its fiscal fourth quarter ended Jan. 31.
The Oakland, Calif.-based internet radio company on March 6 reported fourth quarter net losses of $8.2 million, or 5 cents per share, including charges compared to a loss of $1.4 million, or 31 cents per share, for the same quarter last year.
However, revenues for the fourth quarter grew to $81.3 million, an increase from $47.6 million in the fourth quarter last year.
Fiscal year 2012 net losses were $16.1 million, or 19 cents per share, compared to losses of $1.8 million, or $1.03 per share, in fiscal 2011.
For the fiscal year 2012, total revenues clocked in at $274.3 million, representing a 99 percent increase year-over-year when the company reported $137.7 million in yearly revenues.
Excluding one-time charges for stock based compensation and other items, the company reported quarterly net loss of $4.7 million, or three cents per share, compared to a loss of $925,000, or one cent per share in the year ago quarter. For the fiscal year, the company reported losses of $2.4 million, or two cents per share compared to $560,000, or 0 cents per share, in 2011.
The news came after Stifel Nicolaus' managing director Jordan Rohan bullishly raised his rating to "buy" from "hold" on March 5. On March 6, Pandora lowered guidance for the first fiscal quarter of 2013, citing that the first quarter regularly sees lower ad spend.
The results sent stocks tumbling down more than three dollars within a day. Pandora shares closed at $10.86 at the 4 p.m. close of trading on the New York Stock Exchange on March 7. Pandora's stock continues to trail below its original IPO price of $16, last June. Shares closed at $10.99 on Monday.
In a statement, Pandora Chairman and Chief Executive Officer Joe Kennedy described the fourth quarter as a "strong finish to fiscal 2012." He said: "Pandora continues to rapidly disrupt the radio industry and has only just begun to realize the potential of our $37 billion U.S. market opportunity."
Key to company executives: Total listener hours were 2.7 billion for the fourth quarter. This represents about 99 percent growth since the same quarter last year. Year-over-year, active users increased 62 percent to 47 million. Pandora reported "…record revenue, radio market share, listening hours and active users," Kennedy said in a statement.
But with this rapid growth, came growing content acquisition expenses. In the fourth quarter, $48.2 million was spent on content acquisition, accounting for 54 percent of total costs and expenses. This is up from a 49 percent ratio the same quarter last year.
Each time one of the tracks in Pandora's library of more than 900,000 songs is played, the company must pay full royalties, split between performance rights organizations and an independent collector.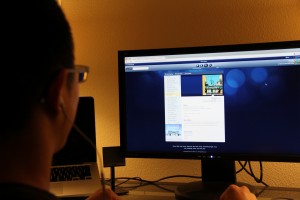 Advertising remains Pandora's dominant source of revenue with subscription dollars only accounting for about 11 percent of revenue. This reflects the company's "freemium" model: offering a free, ad-supported base service or a premium, ad-free "Pandora One" subscription for $36/year.
Pandora analyst Martin Pyykkonen with Wedge Partners in Denver says he actually looks at the company's situation as a glass half-full.
"That spread to me is really kind of the key to it," he said, citing that user growth, revenues and listener hours are up in general.
But Pyykkonen said that he thinks in the near term the problems for the company will be content costs and monetizing the mobile platform. More than 70 percent of Pandora users stream the music from mobile devices.
"Pandora is kind of in this situation where they came out with a service at a time where the markets obviously grabbed onto it, loves it, people are using it," Pyykkonen said. "But the advertisers—that is their primary way to sell revenue against that—are lagging relative to the usage and the cost to get there."
While the world is going mobile, Pyykkonen explained, advertisers are grappling with how to advertise on this new form, and also how to measure effective returns on mobile advertising. For years, he said, big advertisers and advertising agencies were used to buying print and TV, Mobile is still new to them.
The exact timing when advertising will catch-up with the mobile phenomenon is not clear, Pyykkonen suggested: "My caution to anybody looking at Pandora as a stock right now is that it's kind of hard to predict when that's going to really happen."
On the earnings call March 6, company executives said they have made "tremendous progress" toward mobile monetization in fiscal year 2012, claiming mobile revenues have quadrupled since fiscal year 2011.
Pandora also is actively building a foundation with local advertising staffing in most of the top ten radio markets.
With a strategy to make Pandora accessible anytime or anywhere, the company is partnering with automotive companies to integrate its radio service in new cars. In January, Acura and Kia Motors America, Inc. came on board, bringing the total number of carmaker and aftermarket manufacturer partnerships to 23.
The company said it is not experiencing significant impact from other digital music service competitors. This suggests that last summer's entry of Swedish-based Spotify into the U.S. market may not yet have had much effect.