Silicon Valley may fail to build community because of its lack of investment in the arts, according to a panel of experts who spoke at Friday's 2012 Silicon Valley Conference.
Silicon Valley has a higher concentration of arts-centric businesses than the national average, according to the 2012 Silicon Valley Index, an annual look at the region's economic and social health. But the Valley isn't ahead by much, Friday's panelists pointed out. And in general, Silicon Valley has a higher concentration of businesses than the national average, so when residents take that into account, the arts statistic looks even less impressive.
The number of art-centric businesses per hundred-thousand people in the Silicon Valley is just slightly higher than the national average, according to the Silicon Valley Index.
"Silicon Valley is the epicenter for thought about change," Joel Slayton said at Friday's conference, which was sponsored by Joint Venture Silicon Valley and the Silicon Valley Community Foundation. Slayton is the executive director of Zero1, an arts foundation that produces annual art shows, focusing on the nexus of art and technology.
The panel of experts also examined how the region's multiculturalism has affected the art scene, the relationship the Valley's business and tech culture ought to have with the arts and addressed the state of local arts education. "We're behind in education period," Slayton said. "The arts are certainly a part of that."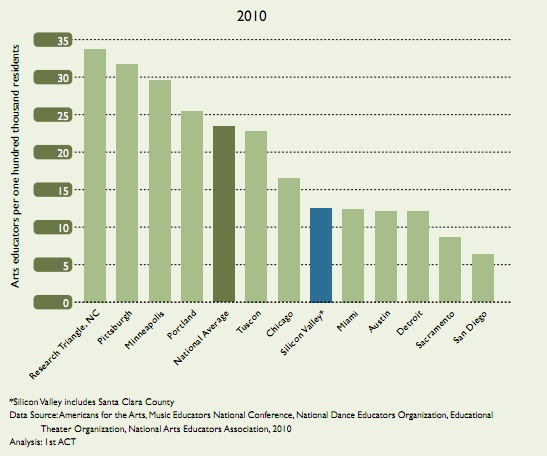 Slayton argued that the region has a "responsibility" to chart a new path. "Unless we bring the world of art and the world of technology together now, we will have missed the opportunity to remain leaders," he said.
Connie Martinez, chief executive officer of 1stAct, a business network that gathered the Silicon Valley Index's data on the arts, pointed out that arts are the key to "community building and place-making."
"It's about creating a place that workforce wants to live," she said, explaining why corporations and employers might be motivated to invest in local arts.
The panel moderator, Judith Kleinberg, former mayor of Palo Alto and San Jose and Silicon Valley Program Director for the John S. and James L. Knight Foundation, took this idea further, asking, "Why do we have buses that drive young employees from San Francisco to work here, and then back to San Francisco?"
Her point: "Jobs and housing and safe streets are not what attaches people. It's arts. It's culture. It's social vitality."
Slayton said that the Valley's responsibility to the arts needs to go even further. "The role of art is to bring to the table a sense of radical experimentation. Arts ought to become a centerpiece in the larger discourse of what's possible, not segregated as a decorative or add-on or entertainment."
He added: "Building an art scene in Silicon Valley is our chance to re-think the equation."