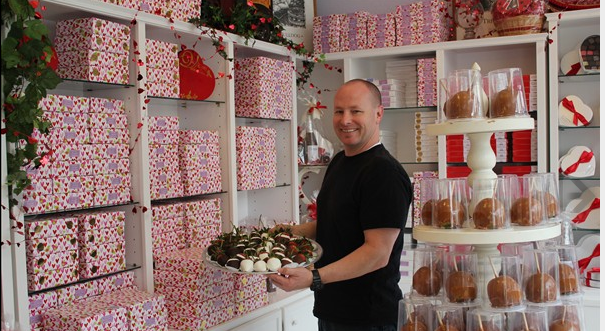 Nothing quite illustrates the magic – and mayhem – of Valentine's Day like a chocolate shop. And for one chocolate shop in San Jose, 2012 marks the 100th year it has been bringing joy to Bay Area sweethearts.
Nestled between two historic buildings, Schurra's Fine Confections stands as a oft-forgotten local landmark in Santa Clara County. Brothers Justin and Albert Schurra established the confectionery shop in 1912 when they opened stores in the Modesto and Stockton areas. However, in the 1930s, they closed those stores and moved to The Alameda, an upscale San Jose neighborhood. Shurra's has been a local presence ever since. The current storefront at 840 The Alameda is actually the shop's third location.
Although 12 other South Bay confectioneries existed when Schurra's began, it is the only one that still survives.
[cincopa AgNAA36Uno4I]
"It really becomes almost a tradition to come here," owner Brian Mundy said. "People talk about how their grandparents used to bring them here…[They] bring in heart boxes on Valentine's Day that they've been getting filled for 20 years and give it to their wife because [that was] their first Valentine's gift."
Schurra's employees also honor tradition in the way they make their candy, using locally grown ingredients and fashioning the chocolate by hand. However, the shop has introduced new and innovative delicacies over the years. The front case holds a mélange of treats, ranging from classic milk chocolate truffle to modern Sea Salt Caramel and exotic chili-spice almond chocolate.
"It's just the creativity of it," Mundy said, explaining his love for the store. "It's being able to start with raw ingredients and make something that's delicious and high quality… that does have such tradition."
Mundy became the owner of Schurra's in 2008, leaving behind a lucrative career in technology recruiting to follow his passion and take over the family business. Mundy's father, Bill Mundy, bought Schurra's nearly 30 years ago from owners who learned the store's recipes and techniques from Albert Schurra himself.
Walking into Schurra's, it's apparent that Valentine's Day is here. The store is filled with red and pink ribbon, cupids and loved-themed displays of chocolate wine bottles and heart-shaped boxes of candy. It's the shop's third busiest holiday, falling closely behind Christmas and Easter.
Mundy credits the comfort that comes with eating quality chocolate as one the reasons the store continues to be so popular with customers during time of year. "You get an instant gratification. There's sensory pleasures that go along with it… especially when you go back to a place year after year," he said.