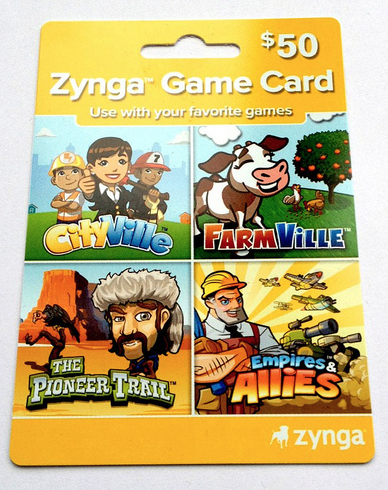 In its first earnings report as a publicly traded company, Zynga (NASDAQ: ZNGA) announced losses of $435 million including charges for the fourth quarter of 2011 and a 13 percent growth in its daily active user base.
Excluding a one-time $510 million charge for compensation expenses related to the company's recent initial public offering, fourth quarter earnings came in at $37.2 million, or 5 cents per share, compared to $63.2 million, or 9 cents per share, for the same period a year ago.
The mismatch was not unexpected, as the company had reported last year to the Securities and Exchange Commission that it depends on a minority of its users for the majority of its revenue, which increased to $311.2 million in Q4 up 59 percent quarter over quarter.
Revenues for the year were up 91 percent to $1.14 billion from $497.5 million in 2010. For the quarter, the company reported losses of $1.22 per share including charges, compared to a 5 cent gain for the same period a year ago.
For the year, the company posted a loss of $404.3 million or $1.40 per share compared to a gain of $90.6 million, or 11 cents per share, for 2010. Excluding charges, Zynga reported year-end profits of $182.4 million, or 24 cents per share, down from $238.9 million, or 38 cents per share, in 2010.
To demonstrate its continued worth, Zynga needs to prove that its user base will keep on growing. Zynga Chief Executive Officer Mark Pincus emphasized that he expected that number to go up, suggesting during the earnings call with analysts that social gaming would grow the way TV did—exponentially.
"We are excited about the opportunities in front of us to continue delighting our current players and to bring play to millions of new people," Pincus said in a statement released before the earnings call.
Chief Financial Officer Dave Wehner echoed Pincus' optimism.
"We think about growing the audience size," Wehner said during the call. "There's a billion social networkers out there."
For the fourth quarter, the company reported a jump of 38 percent in monthly unique visitors compared to the same period a year ago.
The earnings report narrowly beat analysts' expectations, but share prices dropped nearly 7 percent in after-hours trading after hitting an all-time high earlier in the day amid fervent anticipation of the new numbers. At the 4 p.m. close of trading on the Nasdaq market shares of Zynga closed at $14.35, up 7 percent before the after hours decline.
Wedbush Securities analyst Michael Pachter said of the earnings report: "On balance, I think we should dwell less on the past than the future," Pachter said. "When I hear the company say their revenues are flat, maybe their new games don't get their big boost until the second half of 2012."
Indeed, looking ahead the company said it expects to spend $140 million to $160 million in capital expenditures for 2012 and non-GAAP earnings in the range of between 24 and 28 cents.

The San Francisco-based games company is behind such online megahits as Farmville, a farming simulation game, but has also bought and taken over popular games from smaller developers, like the iOS Scrabble clone Words With Friends.
The "new games" Pachter has in mind include the medieval simulator CastleVille and the combat/strategy game Empires and Allies, both released in 2011.
This combination of internal development and external acquisitions has grown Zynga's network to nearly 3,000 employees in 19 offices worldwide, a dramatic increase from the core team of about seven developers listed on the company's website in connection with its July 2007 founding.
In 2011, Zynga boasted that 60 million people in 166 countries play its games every day. However, in its S-1 filing with the SEC, the company included 19 pages of potential risks, including its reliance on Facebook as a platform, the need to push further into mobile game development, and the "intense" competition in video game development, where good developers are invaluable and competition for them and their ideas is nonstop.
Pachter, for his part, said concerns about Zynga's close ties with Facebook are overblown. "I think dependence on Facebook is a fine thing," he said. "It only hurts if you think Facebook is evil or stupid, and it's not." He added:
"If anybody has leverage in this relationship, it's Zynga."
Zynga's rocky initial public offering was the most recent in a mixed bag of tech companies whose pre-Facebook IPOs excited the Valley and Wall Street. But for all the new entrants to the field, the ability to sustain proven success and growth is key. Those that can't establish that ability have failed thus far to see anything resembling Google's meteoric rise out of Mountain View almost a decade ago when it when public in 2004.
In May, shares of LinkedIn rocketed upwards on the first day of trading, but since then they have only briefly eclipsed their $94.25 price at the closing bell, mostly hovering at or below the $80 line.
Shares of fellow newcomer Groupon, by comparison, collapsed within the social-coupon company's first month on the NASDAQ, and are currently trading at two-thirds of the value of the company's peak price in November.
Of course, Zynga's crucial ally Facebook is the most potent comparison point for the games company's earnings outlook. Facebook's IPO filing two weeks ago revealed that the social network derived a whopping 12 percent of its revenue from Zynga's games in 2011.
That nugget of information from Facebook's S-1 sent Zynga shares up by more than 15 percent compared to this time last month. The challenge now for Zynga is whether it can keep its regular users up and figure out how to monetize more and more of them, through Facebook or otherwise.
Pachter said the key could be Facebook taking the lead and making it as easy as possible for its enormous user base to spend money on games and other apps from their computers or phones.
"Once Facebook gets all 800 million of us to slap down a credit card, then it's off to the races," he said.