This article is co-published with All Things D, where Peninsula Press reporter Eric Johnson is an intern.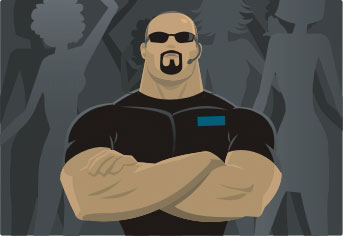 Even though it's one of the newest entrants to the Silicon Valley scene, social and mobile games company Zynga has already joined a small club of publicly traded tech companies paying for their executives' personal security.
It's no surprise that tech execs — the subject of increasing media attention — want to protect themselves, their families and their homes.
But only a handful of them do so with corporate money, according to documents filed with the Securities and Exchange Commission.
On March 14, for example, Zynga (which declined to comment for this article) disclosed to the SEC that it spent $1.37 million on CEO Mark Pincus's security in 2011. By contrast, many far more established companies, including Yahoo, Apple, AOL, Intel, LinkedIn, Netflix, Adobe and Electronic Arts, do not pay for — or do not disclose details about — any security for their top brass.
As a recent article in The Wall Street Journal noted: "Among the 180 large companies analyzed by Hay Group so far for a coming pay survey, 24 reported amounts for CEO-security compensation that ranged from less than $1,000 to nearly $1.7 million."
Zynga is third in costs, with only Lockheed Martin and Oracle clocking in higher.
As you might expect, the firms that sell them and the businesses that pay for them say that security packages are necessary expenses for the bottom line, rather than perks.
"Corporations want to make sure that the leadership within the company is not worried about their personal safety," said Kenn Kurtz, CEO of security firm Steele International.
Hewlett-Packard, which has paid for some of its execs' security in the past, said in its most recent proxy statement that protection is only disclosed to the SEC as a perk because "there is an incidental personal benefit."
But for HP, at least, the numbers suggest that there's more at play than just concern for the current leadership.
Its two recently resigned CEOs, Mark Hurd and Léo Apotheker, received $362,899 and $398,384 in home security benefits respectively on their way out the door, according to HP's 2010 and 2011 proxy statements.
Never mind the fact that Apotheker led HP for less than a year or that, in his 11 months as CEO, the company's stock dropped by more than 46 percent.
An HP spokesperson was only willing to reiterate the official explanation for the expenses. But, after hearing how much Zynga spent on security for Pincus in 2011, he chuckled and said: "As long as someone has a [bigger] number."
Maybe not surprisingly, the biggest winner in Silicon Valley's corporate-paid executive security scene is a much more stable CEO: Oracle's Larry Ellison, the third richest person in the world. Between 2007 and 2011, Oracle, which did not return a request for comment, paid for more than $7.6 million worth of security for Ellison's home in Woodside.
Kurtz said the specific reasons companies are willing to pay to safeguard their execs are all over the map. For example, that pricey protection Mark Pincus got in 2011? Zynga would tell the SEC only that the expense was motivated by "specific security threats" against Pincus and his family. In fact, Pincus got a restraining order against Vera Svenchina, a woman who allegedly left strange and threatening emails and voicemails for the Zynga CEO.
Facebook CEO Mark Zuckerberg — whose company covered $692,679 worth of security in 2011 — has also had to deal with a stalker. Last year, the social networking company executive obtained a restraining order against Pradeep Manukonda, a man who allegedly followed him in person and online.
Thankfully, violent or dangerous incidents involving tech executives are few and far between. The goal for security agents is usually to prevent incidents that cause personal embarrassment or damage to the company's brand. Most famously, in 1998, protesters attacked then-Microsoft CEO Bill Gates in Brussels, Belgium — not with weapons, but with four cream pies.
Kurtz stressed that his employees are more like personal assistants than Hollywood-style bodyguards. "Unfortunately, there's not a lot of sexiness in the job," he said. "It's 95 percent monotonous observation, with five percent spikes of exhilaration."