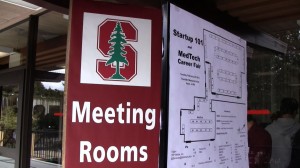 It wasn't your typical job fair: the sight of jeans, backpacks everywhere and young 20-something entrepreneurs filled the second floor of Stanford's Tresidder Memorial Union on Tuesday.
But for students with the right skills and the right attitude, the lean companies at the 2012 Entrepreneurship Week's "Startup 101 Entrepreneur Career Expo" were an open buffet. Representatives of companies working in social media, mobile apps, corporate hiring, business software, networking and more came looking for the next of the waves of entrepreneurs that the university constantly seems to serve up. A steady stream of students packed the rooms and informational tables, throughout the afternoon.
Rafael Solari, an engineer at the San Francisco-based online shopping site Shop It To Me, said Stanford has a ready pool of talent that's not readily available elsewhere in the region.
"We came here because we are hoping to hire more engineers, and we know that Stanford is a great place to hire," he said. "It's very hard to find engineers in town this year."
Walker Clayton, a Stanford alumnus now working for the social media marketing company Wildfire Interactive, echoed the idea that students at Stanford are "the perfect people to hire."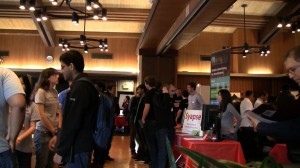 "Stanford students definitely represent the cream of the crop anywhere in the world," Clayton said.
Terry Li, chief operating officer at digital marketing startup Bre.ad, said a lot of the candidates he talked to were "extremely top notch." While Li himself has spent about five years at Google in the past, he sees opportunity for students to work at startups.
"Those companies are great for some kind of training, some kind of comfortable environment, but I think at a startup what you really get is an ability to make a huge impact," Li said.
Stanford Entrepreneurship Week 2012 takes place February 27 through March 7. This collection of over 30 events is hosted by the Stanford Entrepreneurship Network (SEN), a federation of programs, student groups and organizations supporting entrepreneurship in the Stanford community. For a complete listing of events check: https://sen.stanford.edu/e-week/calendardu/e-week/calendar