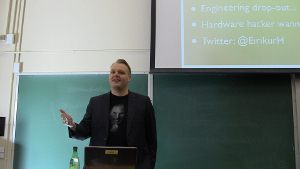 Two European entrepreneurs shared their vision of startup innovation on the opening day of Entrepreneurship Week at Stanford University, Monday.
Eirkur Hrafnsson, chief executive officer and co-founder of GreenQloud headquartered in Iceland, and Jan Rezab, CEO and co-founder of Socialbakers, based in the Czech Republic, spoke about 'green' geo-thermal powered cloud computing strategies and social media analytics.
Hrafnsson started by making the connection between cloud computing and green gas emission – basically, running "clouds" on renewable energy.
Hrafnsson said that Iceland is uniquely positioned to help foster green cloud computing services. "Iceland has one of the best places to get clean energy in the world, with its power grid 100 percent renewable," he said. GreenQloud's data center, for example, is run on energy and hydropower from nearby geothermal springs.
GreenQloud, dubbed as the world's first "carbon-neutral cloud computing service," is likely to appeal to customers interested in better managing their carbon footprint while embracing clean power cloud hosting, Hrafnsson said.
According to a report by International Data Corporation, IT will be responsible for 2 percent of global CO2 emissions by 2007, Hfafnsson said. He added that the rapid growth of cloud computing and storage could double the amount of high-tech green gas emissions by 2020. Also of concern: data centers in general are using less than 15 percent of renewable energy.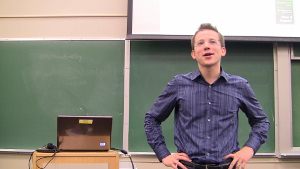 Rezab, co-founder of Socialbakers, headquartered in Prague, is a serial entrepreneur who started his first business at the age of 14.
Rezab talked about his experience as an entrepreneur who has failed and started businesses multiple times.
He built his first business, a 40-person mobile gaming company with over 40 gaming titles and over 100 deals with distributors around the world. By the time he turned 18, he'd received an Entrepreneur of the Year Award by Ernst & Young. Then, in 2007, his company shut down.
"Losing in Europe is taken differently," Rezab said. "Failure is generally non-accepted." He said he spent a really hard time digging out of the bottom. In 2008, he co-founded Socialbaker, a company focused on social media marketing and measurement. Socialbaker tracks social media statistics and provides social profile monitoring. The social media analytics company now has offices in Prague, Munich, London, Paris and San Francisco.
Rezab said that based on his personal experience, building companies in Europe is different from other places. For one thing, funding is harder to get. Access to networks is limited. It is harder to find more "internationally minded" people, he said.
As a result, he said, thought leadership is key to attracting talent.
"Becoming a thought leader is a critical thing. To get the best people, you have to constantly learn new things," Rezab said.
Stanford Entrepreneurship Week 2012 takes place February 27 through March 7. This collection of over 30 events is hosted by the Stanford Entrepreneurship Network (SEN), a federation of programs, student groups and organizations supporting entrepreneurship in the Stanford community. For a complete listing of events check: https://sen.stanford.edu/e-week/calendardu/e-week/calendar