PALO ALTO – Helped by higher license and service revenues, business software maker VMware Inc. (NYSE:VMW), posted fourth-quarter profits on Monday, Jan. 23, beating market estimates.
The company, whose software is used to build cloud computing data c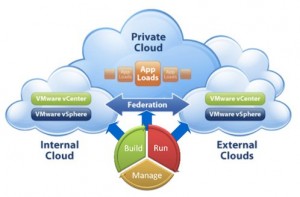 enters and boost the efficiency of personal computers and servers, posted net income for the fourth quarter of $200.4 million, or 46 cents per share, up 67 percent from $119.8 million, or 28 cents per share, for the same period a year ago.
Excluding one-time items, the company earned 62 cents a share in the latest quarter, ahead of Wall Street's 60 cents consensus estimate. Revenue rose 27 percent to $1.06 billion, compared to analysts' forecast of $1.05 billion.
For the full 2011 year, VMware's revenue grew 32 percent to $3.77 billion while profit more than doubled to $724 million, or $1.68 cents per diluted share, from the $357 million, or 84 cents per share, the company recorded for the year before.
License revenues for 2011 rose 31 percent to $1.84 billion. Service revenues increased 32 percent to $1.93 billion.
Looking ahead, the company said it expects revenue to grow 19 to 22 percent in 2012, to a range of $4.5 billion to $4.6 billion, in line with analysts' expectation of $4.51 billion.
Shares of VMware fell $2.12 Monday, or 2.4 percent, to close at $86 at the  4 p.m. close of trading on the New York Stock Exchange. Shares rose 4.7 percent to $90.04 in aftermarket trading. On Tuesday, VM Ware's stock rose 7.7 percent to close at $92.66, posting one of the day's largest gains on the NYSE, according to MarketWatch. VM Ware shares fell today to close at $92.15.
Derrick Wood, an analyst with Susquehanna Financial Group, said in an interview, "They are delivering a strong quarter, seeing very nice growth in demand for several new products, and meantime relatively stable spending conditions for others."
VMware Chief Financial Officer Mark Peek said on Monday's call with analysts that it has successfully launched a rage of virtualization products – vSphere 5, View 5 and Virtual Center Ops – among others. He also said the company had successfully launched a comprehensive cloud infrastructure suite for the private and public cloud.
Peek noted international revenues grew 38 percent to $1.94 billion compared to $1.4 billion, in 2010.
"We are very pleased to see our progress in growing our global market presence," Peek said on the call. "Demand in the Asia Pacific region was particularly strong led by Australia, Japan and China."
Looking ahead to 2012, the company said it will continue to invest in a three-part strategy that includes cloud infrastructure, new application platform capabilities, and cloud management capabilities for the post-PC era.
"Customers now want more than just virtualization," said VMware Chief Executive Officer Paul Maritz on the call. "2012 will be the year when we expect our customers to accelerate beyond virtualization in significant numbers and start operating in a cloud-like manner."
Wood said the company is "moving up" the stack and trying to meet the demand for more sophisticated management tools within data centers. He added that demand for the company's products may continue to generate strong growth.
However, Wood also said one concern for 2012's outlook is that the company in 2011 benefited from large license agreements in excess of $10 million each. It may be difficult for the company to repeat that performance, he said.
The company also said it remains cautious about the 2012 macroeconomic environment and the volatility in the world economy.
"Although we have not observed a slowdown in customer activity like we saw in late 2008 and throughout 2009, we are cautious about the potential for slower IT spending and remain concerned about the European markets," said Peek.
Against this backdrop, the company said it expects first quarter revenues in 2012 to be within the range of $1.02 billion to $1.04 billion, or year-over-year growth of between 20 percent and 23 percent.
Wood said he didn't expect demand for the next generation IT product and software architectures to slow.