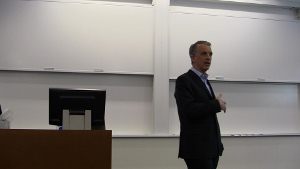 Parker Harris, co-founder of Salesforce, spoke at Stanford's Entrepreneurship Week Wednesday, shared entrepreneurship lessons he's learned and what he sees for the future of cloud computing.
Harris co-founded salesforce.com, a web-based software maker and a leader in cloud computing, in the spring of 1999. He now serves as executive vice president of technology and products.
Speaking before a packed auditorium, Harris said cloud computing is a hot topic in IT and described salesforce as " the leader " in enterprise cloud computing.
When the company started, however, the term "cloud computing" didn't exist.
What the salesforce.com founders had was a vision to change the software industry and a simple idea about how to make it more democratic, he said.
While most business software providers sold clients a license for software that was then installed on corporate networks, Salesforce offered a new approach: a Web browser-based product where users paid for the service by user and month.
Harris said businesses drastically needed more efficient and economical enterprise software. Once customers began experiencing success with the company's customer relationship management apps, the company realized it could do more. Salesforce leadership decided to make their platform available and let others build their own cloud apps. The idea to offer the company's platform as a service changed the landscape, he said.
With a browser and a web connection, anyone could build apps and deploy them to users anywhere, Harris said.
Harris also talked about how salesforce.com's business model has evolved.
"People are using social networking sites, such as Facebook, to communicate more than (they are using) mail," Harris said. "Facebook eats the web. "
The social networking trend also has changed the way enterprises create apps and affect their business models.  With so many interactions happening via Facebook rather than on the web, many businesses are moving their entire presences onto Facebook.
The other trend is mobility. As mobile apps gain traction, platforms on which enterprises create apps have shifted to "cloud, Facebook, and Android platforms," Harris said.
Meanwhile, employees want to bring their own devices to work and store data in the cloud. Employers, however,  are concerned about the data security risk. Given that more data will move into the cloud, Harris said salesforce is working to make possible for customers to "get access to any device at anytime anywhere."
The company is now transitioning  to cloud-based social and mobile applications. "How is everything is going mobile? How is our technology going to empower that?" Harris asked. He said a new generation of wildly innovative apps on mobile devices will show the way, launching new industries.
Stanford Entrepreneurship Week 2012 takes place February 27 through March 7. This collection of over 30 events is hosted by the Stanford Entrepreneurship Network (SEN), a federation of programs, student groups and organizations supporting entrepreneurship in the Stanford community. For a complete listing of events check: https://sen.stanford.edu/e-week/calendardu/e-week/calendar