This article also ran on page D-1 of the San Francisco Chronicle.
[cincopa AkJAM36ZvPtg]
What are the toys, gadgets and snacks of the future?
Visitors to Stanford University's Cool Product Expo made their guesses Wednesday as they sampled products from 35 startups.
Student organizers from the Stanford Graduate School of Business and the Stanford Product Design and Manufacturing Club invited both local and international companies to showcase their newest goods and electronics at the annual event.
Business school graduate student Dylan Ashbrook said he and other organizers picked companies that could show off "tomorrow's must-have products."
Following is a sampling.
Product: KixFriction
Price: $29.95
What it does: The KixFriction is the same size and weight as a regular soccer ball, but it's designed for playing where space is limited. The ball's black fins resist rolling, meaning it won't stray into the street if kids are kicking it around the driveway.
More information: www.kixsports.com
[youtube]Jq395E6-P_s[/youtube]
Company: Two Degrees Food (San Francisco)
Product: Two Degrees Bar
Cost: $1.99 each in stores; $19.95 for box of nine online
What it does: Two Degrees Food's slogan: "Is Good, Does Good." The idea is simple: satisfy your own hunger and help alleviate hunger worldwide. For every snack bar the company sells, it donates a meal to a child in Haiti, Malawi, Kenya, Somalia, India or South Sudan. The bars come in four flavors: chocolate banana, apple pecan, cherry almond and chocolate peanut.
More information: www.twodegreesfood.com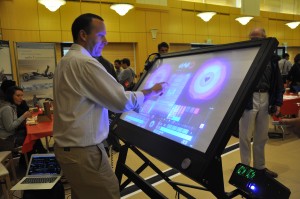 Company: Interactiva Labs (Santiago, Chile)
Product: QnQ
Cost: $8,000
What it does: The QnQ isn't available for purchase yet, but it was easily the best eye candy at the expo. It's a 47-inch touch-screen monitor designed to make parties and clubs more interactive. In addition to simplifying the process of live-mixing music tracks for a DJ, the QnQ displays videos and can work with a counterpart smart-phone app, taking votes from audience members on whether they like the current song – or even current DJ.
More information: www.interactiva-labs.com/en/qnq
Company: 3D Systems (Rock Hill, S.C.)
Product: Cube printer and Cubify
Cost: Printer: $1,299; extra printer cartridge: $49.95
What it does: 3-D printers turn digital designs into real objects you can hold in your hand. Just a few years ago, the cheapest printers cost more than $100,000. 3D Systems says it's designed the first 3-D printer for personal use, which children as young as 8 can use to make toys and art – no programming knowledge required. An online library of product patterns called Cubify lets Cube owners share or sell their designs.
More information: www.3dsystems.com
[youtube]4Xhm_p7KiHs[/youtube]
Company: Noribachi (Albuquerque, Los Angeles)
Product: renu 
Cost: $129-229
What it does: The renu is a personal solar charger for small electronic devices. The cheaper renu soaks in sunlight and converts it into power for devices like cell phones and digital cameras, which users can plug into the renu outdoors. The more expensive renu stores sun power in an internal battery so it can be used to charge their gadgets indoors or at night.
More information: www.noribachi.com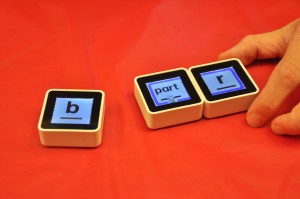 Company: Sifteo (San Francisco)
Product: Sifteo cubes
Cost: $149 for starter pack of 3; $45 for each additional cube
What it does: Sifteo cubes are tiny, movable screens that sense when other cubes are around. By moving them and connecting the cubes' sides, users can play a variety of puzzle and educational games. There are 19 games for children and adults in the Sifteo app store, and the company has released a software development kit.
More information: www.sifteo.com
Company: Local Motion (San Francisco)
Product: Local Motion
Cost: $12,000
What it does: The Local Motion is a fully electric, low-speed car designed for local use. It reaches speeds of only 25 mph, but its makers don't plan to compete directly with Detroit. Instead, they hope to sell their car to schools and organizations that can encourage students or workers to share eco-friendly rides around town rather than driving their own cars.
More information: www.getlocalmotion.com