View Video: Former homeowners leave toys, trash and treasures in foreclosed homes >>
Type "how to start a foreclosure cleanup business" into Google and you will find more than 43 pages of links. The myriad blog posts, advertisements and how-to manuals have one thing in common: They suggest a good business opportunity is awaiting, as long as you're willing to get your hands dirty.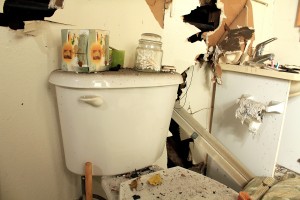 After all, someone has to get in and clear away the things left behind so that a foreclosed house can get back on the market.
But interviews with local junk removal businesses and real estate agents suggest that beyond the promise of a booming, recession-proof industry exists a tougher reality.
Due to several tactics used by real estate agents, foreclosure cleaning jobs, or "trashouts," are not so easy to come by in the Bay Area. Agents typically want to save money on foreclosure and short-sale houses while getting them back on the market as soon as possible. Many simply sell the property "as is" to avoid the hassle of clearing out all the remaining junk or fixing damage. Others bring their own hauling truck and clean the house themselves.
The agents who do want a house cleaned by professionals often rely on a small number of companies with which they have an established relationship. John Lee, a real estate agent with Pacific Union who specializes in foreclosures, said he tends to "work with a few companies who give me great service at good prices, so I am not really looking for other companies."
Lee said he might request several bids from junk removal companies that he normally works with and let the bank choose one. The pool of choices, though, is almost always the same, he said; another company may win an occasional bid, but it doesn't happen often.
A further complication is that it's hard to find numbers on how many foreclosure cleaning businesses — normally operating as a junk removal or hauling firm — have entered the market in recent years. Many cities do not record foreclosure cleaning, junk removal or hauling businesses as a unique category. Either the businesses fall into "solid waste removal" or "miscellaneous," making it unclear how many operate in an area.
Some cities, such as Redwood City, only maintain current records for business licenses, precluding retroactive searches.
Daniel Garcia and Matthew Herman started their business, Operation Junk, in 2010 because they believed the foreclosure crisis presented an entrepreneurial opportunity. "We came in and talked to some realtors and actually joined up with a lot of organizations, which ended up being a mistake," Garcia said. He and Herman concluded that focusing on foreclosures was not economically viable.
Foreclosures now make up, at most, 5 percent of their total business, they said.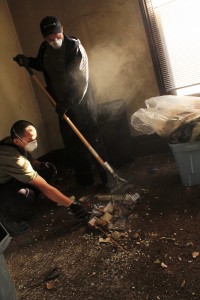 For the Bay Area franchise of 1-800-GOTJUNK, the recent housing market has resulted in a decrease in profits. "Probably 30 percent of our entire business was spurred by people moving or selling a home or business," said Tom Rypma, the Bay Area franchise owner. "When the real estate market crashed, that 30 percent dried up overnight."
1-800-GOTJUNK also has fewer competitors, as several went under when the economy dropped, according to Rypma. He has not seen a correlation between the rise in foreclosures and higher profits or increased competition.
The chief executive of another major operator in the Bay Area, Junk King, agrees that foreclosures have not led to easy access to the industry.
The company has seen "great stability through the recession and up to the recession," said Brian Reardon, CEO of Junk King Franchise, Inc.  Reardon attributes this to Junk King's established presence and customer service-based business model.
The company's San Carlos franchise will clear about 18 to 24 foreclosures a year, approximately 2 percent of its business. Reardon credits this to Junk King's solid rapport with real estate agents before the housing crisis hit, making his company an easy choice for those agents when they need help with any property — foreclosure or otherwise.
One thing cannot be denied:  foreclosures are still occurring at a high rate. In Santa Clara County, one in every 376 housing units received a foreclosure filing in October, compared with one in 563 nationwide, according to Realtytrac.com.
And some foreclosure removal companies have success stories to tell on their websites. One online advertiser tells the story of how its founder  " … 'fell' into this awesome business" after being laid off from a job. "Starting this business from the ground up allowed me to learn everything I need to know to run this business and make an excellent income!"
The website sells a guidance manual on how to start a foreclosure cleaning business for $497, reduced from the original $1,297. The site's creator did not reply to numerous emails and phone calls for comment.
Garcia, of Operation Junk, wishes he could be as positive. "I think anyone trying to get in realizes pretty quick that foreclosures are not really what they are cracked up to be as far as business for junk removal industry," he said.