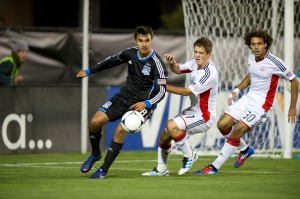 Like any respectable soccer franchise, the San Jose Earthquakes have hooligans. No, these fans aren't like Manchester United's "Red Army," notorious for violent outbursts and a belligerent culture that had England's prime minister looking to intervene.
But filing into Santa Clara's Buck Shaw Stadium dressed in black, waving menacing flags and directing obscenity-laced chants at the opposition, the several thousand members of the 1906 Ultras (the Earthquakes' fan group whose name references the Bay Area's 8.2 quake) would be very uncomfortable performing in church.
That is, until Chris Wondolowski takes the field.
At the sight of the slightly-built center forward, the male-dominated black horde of die-hard Earthquakes fans morphs into a bunch of smiling teddy bears, breaking into a rousing rendition of "You Are My Sunshine," with a couple of key lyrical changes.
"You are my Wondo, my Wondolowski.
You make us happy, when skies are gray.
You'll never know Chris, how much we love you.
Please don't take my Wondo, awayyy!"
But the 29-year-old Wondolowski insists he not only feels the love, he loves them all back, taking the time to give hugs and handshakes to a group of supporters greeting him at the airport after a road trip. A hometown hero having spent his childhood just an hour north of San Jose in Danville, "Wondo" was drafted by the Earthquakes with the 89th pick in the Major League Soccer 2005 Supplemental Draft.
Moments after he found out the team he grew up rooting for had selected him, Wondolowski was in a state of shock and joy. "This is just an unbelievable thrill," Wondolowski told reporters at the time. "I love playing soccer and I want to do it for as long as I can. To have this opportunity is something I've dreamed about for a long time."
It was the quintessential local feel-good story.
A prep star at athletic powerhouse De La Salle High School, Wondolowski was even more sought after for his prowess on the track than on the soccer field. While he was a three-time, all-league player for soccer coach Marquis White, Wondolowski's dream schools, UCLA and Cal, came calling to see if he would become a middle-distance runner in college.
"I was always fast, and I had played a lot of sports up through my first years in high school," Wondolowski said. "And while I was kind of recruited more for track than soccer, I had really just taken up running because I was good at it. My real passion was soccer, and I wasn't about to let that go."
Without scholarship offers from any Division I soccer programs, however, Wondo took his talents to Div. II Chico State University. "When Chico State offered me a scholarship, I jumped all over it," he said. "I followed my heart, and I'm so glad I did."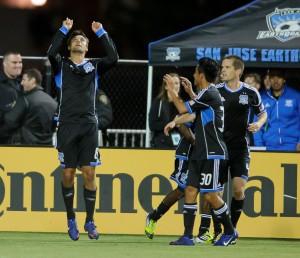 When Wondolowski arrived in Chico, the Wildcats were coming off just their third losing season in 34 years. Wondolowski did his best to help turn things around, scoring 10 goals and dishing out six assists as a freshman, and then leading the team in both categories again as a sophomore, with 12 goals and seven assists.
Despite Wondolowski's best efforts, however, the team struggled. A 6-13-0 record in 2002, his sophomore season, was the program's worst since 1966.
The team was closer to success than most thought, however, and something clicked the next season. In 2003, the Wildcats won the California Collegiate Athletic Association title and upset Cal State University-Dominguez Hills in the NCAA Division II Championship Tournament regional final on a Wondolowski goal with 24 seconds left in regulation.
Then Wondolowski stunned favored Midwestern State University with a game-winning goal in the national quarterfinal in Texas, and Chico State advanced to the national championship before losing to Lynn University (Fla.) in the title match.
After the season, he was named a Division II All-American, despite finishing the year with one of the worst statistical outputs of his collegiate career.
Mike O'Malley, Chico State's head soccer coach at the time, said, "That season was probably the worst of his career, statistically. But the things he did that don't show up in the box score were as important as any goal. He moved into the midfield, which opened things up for everyone else. He's the most unselfish player I've ever coached. His combination of skill and unselfishness was something to see."
Wondolowski's senior season lacked the magic of the previous year, but his speed and finishing ability had professional scouts taking notice. He was invited to the MLS Combine as one of just a handful of Division II prospects, but held performed well against the country's top collegiate players and heard his name called on draft day.
"Had he gone to Cal, Stanford or UCLA, you wouldn't have missed him," said John Doyle, then San Jose's assistant coach and now the team's general manager. "He went to Chico and kind of flew under the radar. We were lucky — he came out to one of our combines."
Contract in hand, Wondolowski's dream had come true. But in his first professional season, Wondo was stuck on the reserves, (soccer's equivalent to the junior varsity) where he led the team in goals but couldn't find his way onto the field with the full squad.
The next year brought more of the same, and when the Earthquakes relocated to Houston and became the Dynamo, it appeared as though Wondolowski wasn't destined to be a professional star.
Opportunities with the full team were sporadic at best, and he played just 1,777 minutes on the field in his first six seasons.
But Wondolowski was undeterred. "After San Jose drafted me, I went down to the preseason and kind of held my own," Wondolowski said. "Even though the game was incredibly fast and it was going to take a lot of work to get caught up, I always thought I could make it."
Turns out, all he needed was the opportunity.
In 2008, San Jose earned an expansion team, which regained the name Earthquakes, and  Wondolowski returned to the city via trade when Houston needed a bigger possession forward to replace the injured Brian Ching. In addition to the return home, a vigorous off-season training regimen had him in the best shape of his life, he said. And his coaches, always fans of the likeable Wondo, took notice. "If you had to chisel an Earthquakes player out of rock, it'd be Wondolowski," Earthquakes Coach Frank Yallop said.
In 2010, he earned 2,308 minutes, and repaid his club with a staggering 18 goals in 28 games, earning him the MLS Golden Boot award. The Earthquakes made the playoffs, and Wondolowski completed a stunning three-goal comeback with a game-winning goal against the New York Red Bulls, the top-seed and heavy favorite.
"WondoFever" took off, and the player who drove the same Ford Explorer he took to college was suddenly being invited to the ESPY's and seeing his name on roadside billboards in San Jose.
The instant success was a surprise even to those who knew Wondolowski best. "His competitiveness and work ethic separated him from his peers, as did his natural ability to finish," O'Malley said. "I thought he could be a special player, with a little polish. But this special? I don't think anyone could have imagined this."
In 2011, Wondo tied for the league lead with 16 goals more and again  was named to the MLS Best XI, the list of the top 11 players in the league. It was a turnaround almost unheard of in modern professional soccer.
It's no wonder the fans are singing.