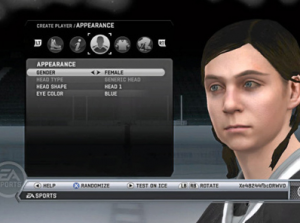 On Mar. 1, Electronic Arts (NASDAQ: EA) released a recruitment video with interviews from several women at the company discussing their career paths. The video encourages viewers to "speak with some of the women who've taken those opportunities about what drove them to games, what they love about their jobs, and what it's like to work in the industry in 2012."
Nearly two weeks later, on March 16, EA released The Sims3 Showtime. The game's promotional trailer opens with a plainly dressed Katy Perry, strumming an acoustic guitar and quietly singing before she undergoes a transformation to become a recognizable pop star. The tagline, "Take your Sim from unknown to unforgettable," encourages players to pursue such glamorous careers as a singer, acrobat, magician or DJ.
Juxtapose this with another one of EA's promotional videos for Mass Effect 3, a game in which you "fight to take back the earth." In the video, there are scenes of the game's female heroine battling robots overlaid with her "tough" speeches given throughout the game. Mass Effect 3 was released for the Xbox 360, Playstation 3, and PCs on March 9.
Both games were created for different consoles, and presumably different types of gamers — the city manager vs. the adventurer — yet both appear to target female gamers.
So what are the opportunities for women in the video gaming world?
Robin Yang, a 25-year-old social game producer currently living in Seattle, said that the changes in the last decade have been "interesting."
"Even though we've made strides in the last few years, it's pretty horrifying that we're still under 10 percent of women in the gaming workforce," she said. She attributed this to the fact that the majority of programmers are still male.
Yang began her career with video games as a reporter and assistant editor for AOL GameDaily, and then moved to become a game producer at several different companies, including EA's recent acquisition PopCap Games. She currently works for Toy Studio, a developer for Android games.
"I felt that the press side was definitely more welcoming because I felt people were more interested in my opinion [as a woman]," she said. "People were looking for diversity in reporters and perspectives on the content coming out, whereas in production it's less about what I provide as a woman and more what I can as a producer."
"While it is still definitely difficult to break into the industry as a woman, we are much more inclusive, and are more willing to self organize to ensure that we're mentored properly, and that's sort of thing will help in the long run," Yang said.
Yang recently attended a panel with Metanet's Mare Sheppard at the Game Developers Conference in San Francisco. Sheppard discussed the topic of sexism in the industry.
"The problem with Women in Games initiatives and other similar programs is that they tend to address the symptoms of inequality in our culture, but not the systemic problems beneath them," Sheppard wrote in an editorial that accompanied her talk.
"One reason for the underrepresentation of women in the games industry is that women often perceive a lack of fit when they compare themselves to the traditional computer-science major/computer programmer," she said.
Yang agreed, saying that encouraging education at an early age, specifically driven by more math and science for girls, would alleviate the career disparities and stereotypes later in life.
Though Yang said that women in the video-gaming workforce can still face discrimination, the female gamer population seems to be growing. According to the Entertainment Software Association, 42 percent of gamers are women; female gamers over the age of 18 account for 37 percent of the game-playing population, compared to only 13 percent of males age 17 or younger.
"In terms of EA's products, the Sims has been a very traditionally female game, and adding a celebrity like Katy Perry can show what kind of audience they're going for," Yang said. "However, you can choose to play as a female, and then have homosexual or heterosexual relationships in the game, and that's a huge development for gender parity."
Last September, EA received a letter from a 14-year-old girl, Lexi Peters from New York, requesting that female players be included in the company's latest release of its NHL '12 game after she and a teammate built a team that "looked like men."
Her letter was then forwarded to David Littman, a producer of the NHL game.
"Lexi's letter was a wake-up call," Littman said in an interview with the Globe and Mail. "Here's a growing audience playing our NHL game and we hadn't done anything to capture them."
Peters' face is now the standard avatar for female characters in the NHL game, released this past fall.