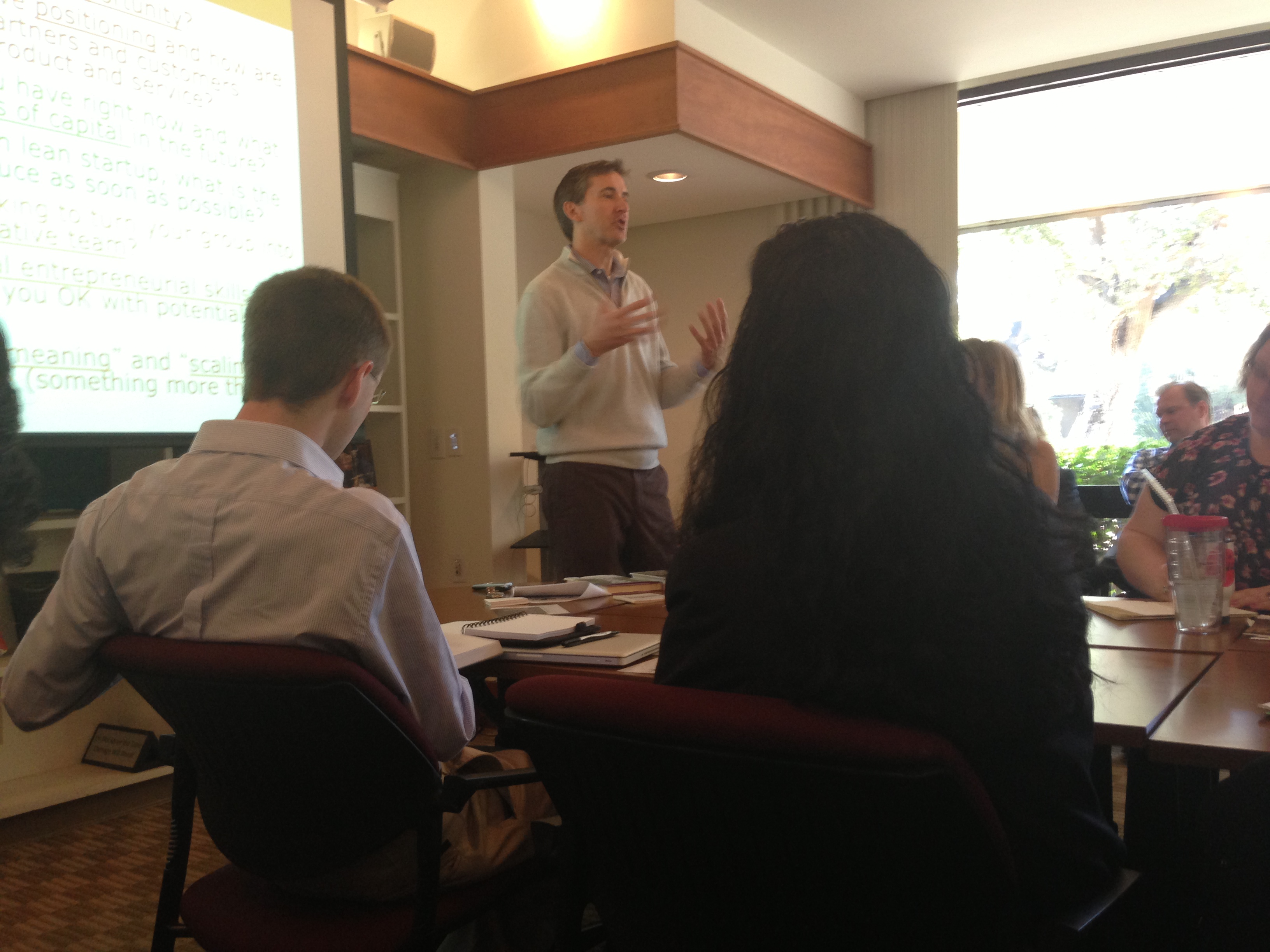 Stanford Professor and Hi Tech Guru, Tom Byers explained that humanities-focused students don't have to miss out on their slice of the entrepreneurial pie.
Speaking at an Entrepreneurship Week panel buzzing with the energy of about 50 aspiring entrepreneurs from around the globe, Byers assured all humanities students that entrepreneurial exploits are for them as well—in fact, he said, these ventures depend on them. "Raise your hand if you know who this is," Byers asked the crowd while showing a picture of Cosimo Medici. He then explained that the Medici family was the "venture capital firm" of the Florentine Renaissance.
Silicon Valley's entrepreneurs are the artists of today's tech renaissance, Byers said.
While acknowledging the technological and capital requirements for a successful startup, Byers focused mainly on the notion that tech entrepreneurship's future lies in addressing human needs. He brought up a number of tech giants as examples—Facebook, Google, Yelp—and noted that for each, the concept was simple and addressed a basic human need.
"The genius is in the application," Byers claimed. He explained that many people think they have a million dollar idea, but it's the people who at least attempt to bring it to life that get something out of the experience. Byers gained important knowledge from successes in business, but as he stated, "More importantly, I failed." Every failure was a data point influencing future decisions, he went on to say.
Byers is Co-Director for the Mayfield Fellowship at Stanford, a nine month program for 12 Stanford students that is "Designed to develop a theoretical and practical understanding of the techniques for growing technology and companies." As Byers explained, "I eat, breath and love entrepreneurship education".
His students can attest to this. "Professor Byers has an incredible ability to listen to your ideas, and then give you feedback that will blow your mind… his knowledge on starting companies is at an incredible level of depth and breadth," said recent Stanford graduate, Clayton Holz, who studied English and participated in the Mayfield Fellowship.
At times, Byers' presentation was almost like a motivational talk. Byers said, "This kind of sounds like an empowering graduation speech," but the truth is, for Humanities focused entrepreneurs, that type of affirmation and empowerment is necessary.
"The day before every breakthrough happens, it's just a crazy idea," Byers explained. He said he sees determination as an essential element to success. No matter how many old professors say the idea will never work, ignore them and go to the next mentor.
A question was posed to the audience, "how old was the average engineer working on the Apollo 11 mission?" Byers answered with a beaming smile: 26.
Non-engineers may not have technical know-how, but Byers explained that leadership qualities are important.
"Which element is most important for a successful startup… market, product, or team?" Byers asked the audience.
In agreement with the majority, he claimed that "team" was the most essential.
If Bill Gates were here, said Byers pointing to a picture of the initial Microsoft group looking more like ZZ Top than a tech company, Gates would say it was all the team.
Byers praised the invaluable skill set of leaders who can get a group to come together, "and make one plus one equal to three and not two".
Leaders that can get their partners to buy into a vision, and get people from all backgrounds to work towards a common goal are what drive successful entrepreneurial businesses, Byers said.
One of Byers' most inspiring experiences, he told the crowd, was teaching abroad in Florence, and having the opportunity to learn about the city's history.
During Byers' time in Florence, Steve Jobs passed away. Byers recalled, "the Mayor of Florence came out with a statement, saying Steve Jobs was the Da Vinci of our times."
When asked by an audience member, what is driving the renaissance Silicon Valley is experiencing today in tech, he responded, "It [is] love. Love drove that century and the renaissance, and this type of entrepreneurship is driven by love as well."