Hear more about this story and how it developed on the Peninsula Report podcast >>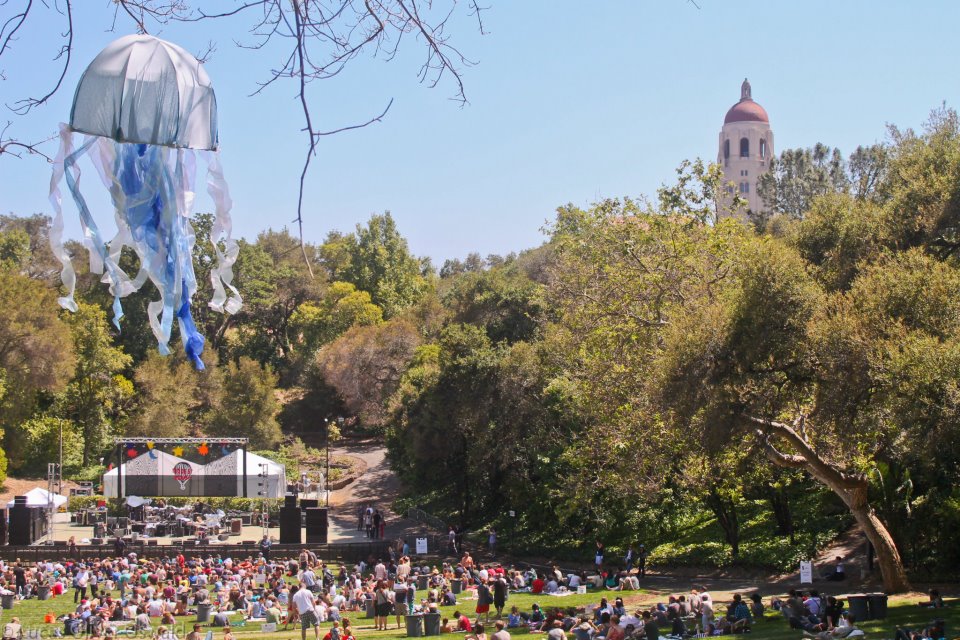 For the second year, student organizers of Stanford University's Frost Music and Arts Festival are channeling the spirit of events like Burning Man and Coachella. They're creating large-scale, interactive art installations to be displayed at Saturday's concert at Frost Amphitheater.
The second annual festival features psychedelic rock band MGMT, along with supporting acts Delorean and Kuroma.
Through grants from the Stanford Arts Institute and the Student Organizing Committee for the Arts, the arts component of the festival received four times more funding than last year, which was the first year of the event. Three students, dubbed the Frost Experience Directors, are organizing all art-related aspects of the festival. Additionally, Stanford's mechanical engineering department now offers a class specifically for students creating work for Frost.
"This is the first time I've seen such an army develop around an idea," Frost Experience Director Danny Smith said. With 40 students in the class and 180 signed up to volunteer as part of the Frost Experience team, Smith says he is impressed that busy students have devoted themselves wholeheartedly to building art for the festival.
Co-Director of the Stanford Concert Network Katie Rovelstad said she's excited that Stanford was able to book MGMT as the festival's headliner. A campus poll conducted last year showed the group is a favorite among students.
Frost is a nostalgic venue for many Stanford alumni and Bay Area locals, who remember Stanford's long, albeit intermittent, history of bringing well known performers such as Jefferson Airplane and the Grateful Dead to the amphitheater in the 1960s, 1970s, and 1980s.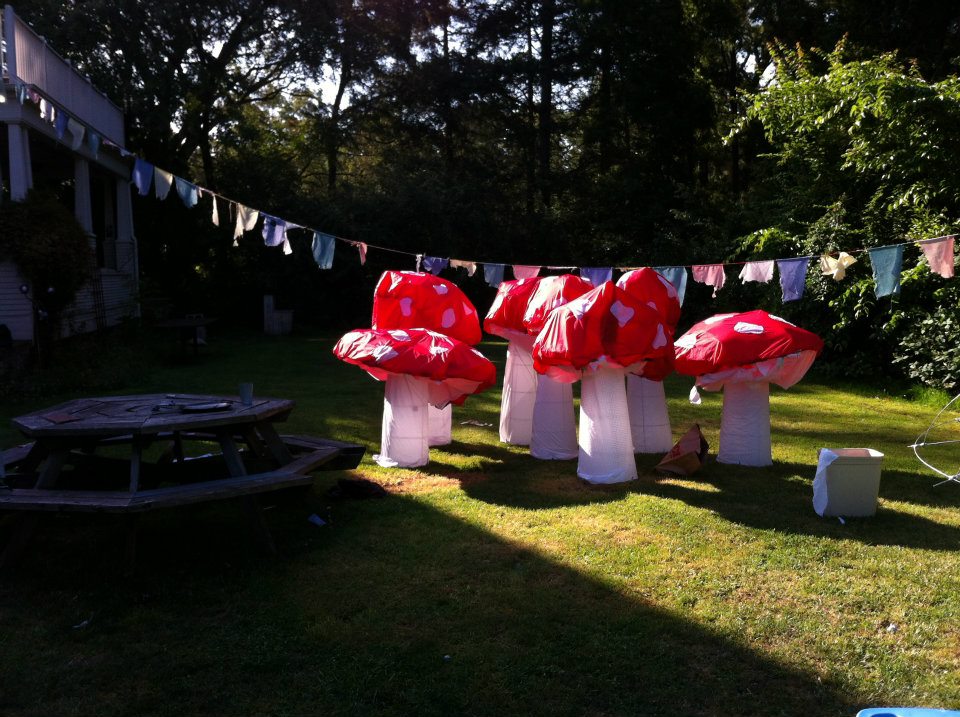 However, this year, the Frost Experience team aimed to make the Frost Music and Arts Festival more than just a concert held in a historic location. As events such as Burning Man and Coachella have grown in popularity, large art installations that serve as shelters, climbable structures, tactile experiences, or even canvases for festival goers have become an integral part of the atmosphere.
"SCN [Stanford Concert Network] has been doing awesome concerts forever," Frost Experience Director Max Cougar Oswald explained, "But we've never done large scale interactive art projects before."
Michael Sturtz, the professor of the Frost design class, is also excited by the novelty of the endeavor and wants to see his class become more formalized in future years. Sturtz hopes to get other faculty involved, and develop a course that spans two quarters so that students have more time and support as they create their work.
Citing the cross disciplinary elements of his class, Sturtz said he wants to turn the Frost Music and Arts Festival into a "spectacular showcase" that brings music, theater, art, design, and engineering together.
Sturtz is a pioneer in the area. In 1999, he founded The Crucible, an industrial arts school in Oakland that teaches unique art forms such as glassblowing, blacksmithing and enameling. From 1999-2009, The Crucible organized the Fire Arts Festival, an event that would eventually grow to become a three-night affair with over 20,000 attendees.
The popularity of the festival mirrored a trend throughout the United States, as art and music-based gatherings draw increasingly large crowds. Burning Man, a September festival in the Nevada desert, grew from an event that attracted around 4,000 attendees in 1995 to a full-blown festival of over 56,000 in 2012.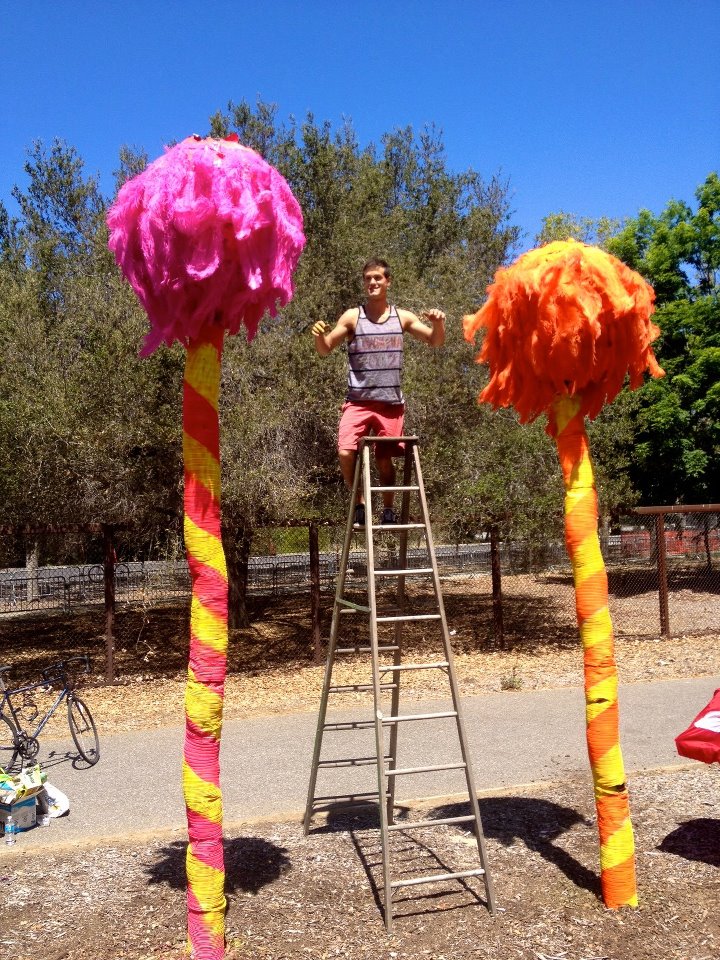 Burning Man's rise to national prominence caused many music festival organizers to take note of the event's characteristic large-scale art installations. Within the last decade, music festivals like Coachella and the Electric Daisy Carnival have increasingly incorporated this type of interactive art.
Sturtz says that his students are excited to contribute to this growing trend as they create work that viewers can walk through, touch or even paint. "The lean back and view audience is sort of the old model," he said, explaining that the modern festival experience is interactive.
Artist Michael Christian, who has displayed work at Burning Man for the last 17 years, builds on this idea, noting that when he used to show work in museums, the venue only allowed for one-way communication from the artist to the viewer.
It's no surprise, he said, that students are excited to be a part of this. "You're not being performed to," Christian added. "You're actually getting to participate. And there's an empowerment in that that's really exciting."
Christian also emphasized the need for constant innovation. The most cutting edge work, he says, is often found at lesser-known festivals, where there are fewer expectations and restraints. "In a smaller venue it's great. It's fresh, it's raw."

[soundcloud url="http://api.soundcloud.com/tracks/94655262″ params="" width=" 100%" height="166″ iframe="true" /]