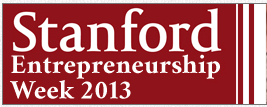 African-based entrepreneurs are shifting away from the social impact model in favor of a for-profit model, which delivers both revenue and social benefit, according to a panel of experts who spoke Friday as part of Entrepreneurship Week at Stanford University.
"It's definitely going in the capitalist direction," said Telerivet Chief Executive Officer Joshua Stern. "There's a lot of lost faith in non-profits, especially after poorly handled aid efforts."
The entrepreneurs and venture capitalists heard tales from the front from three African start-up founders. The panel included Clickatell Founder and CEO Pieter de Villiers, Khosla Impact Fund partner Mark Straub and Richard Essex of East Africa Capital Partners.
The companies focused on energy solutions, telecommunications and information technologies.
Stanford Business School graduate Dele Samuel Adeyemo opened the session by pitching his start-up, Vituo Technologies. "The current energy solutions [in Africa] are unattractive, dangerous and expensive," said Adeyemo.
Through more efficient hardware and software integration, Adeyemo believes his company can deliver cheap, renewable energy to East Africa. Vituo produces and installs proprietary solar photovoltaic panels and data analysis tools. Building off of Vituo's installations in Kenya, Adeyemo is attempting to develop a large-scale solar photovoltaic system.
Next, Lesley Marincola outlined both the telecommunications and energy solutions her start-up, Angaza, delivers.
Eighty-five percent of East Africa's population does not have access to the energy grid, and yet, 65 percent of Africa's population owns a cell phone. Marincola intends to address this demand with Angaza's pay-as-you-go solar system, SoLite 3 Solar Home System. Enabled through mobile SMS texting payments, users can pay for energy access remotely. The 3-Watt rechargeable battery is a cheap alternative to solar panels and other renewable resource systems, Marincola said.
Following the pitches, Stern offered some advice on launching a start-up in Africa and discussed his telecommunications and information start-up, Telerivet.
Telerivet enables anyone to create, launch and manage a SMS service or interface. The company offers a developer toolkit that is designed for customers with little or no technological background, making it easy to create SMS services unique to their needs. To address poor data coverage in remote areas, the company has developed a gateway that allows users to run the service outside of data range.
Stern explained that the two main challenges African start-ups face are raising capital and developing an efficient distribution model. It is important to develop strong partnerships within Africa in order to gain a better understanding of the needs you are addressing as a company, said Stern.
After Stern spoke, the panelists reflected on their personal experiences in Africa, as both investors and entrepreneurs. They pointed to immediate venture opportunities in Africa, despite the continent's economic struggles.
"Africans are good entrepreneurs because there is so much lacking in opportunity," said de Villiers. "The dynamic of the markets almost forces you to look after yourself and your family, and figure out how you're going to make ends meet."
Each panelist prioritized economic development that extends benefits to the middle class and lower economic strata.
"The big play is trying to get a business model's costs down and sell a much cheaper product to more people," said Essex.
Telecommunications technologies are one such example. According to de Villiers, for every 10 million mobile phones adopters, there is a 2.5 percent increase in GDP. Expanding telecommunication capabilities allows for more efficient business communications and increases the amount of mobile payment transactions.
Both the panelists and entrepreneurs agreed that funding remains a major obstacle to successful entrepreneurship in Africa. Straub suggested that Khosla Impact Ventures is poised to help fill that need.
"We are trying to bring the early stage seeking venture capital models to markets where there are very view venture capital firms and very little capital," said Straub.
Even with a push from prominent venture capital firms like Khosla Impact Ventures, de Villiers explained that Africa will struggle without the base of angel investing that has benefited Silicon Valley. Angel investors represent a population that have succeeded and understand the challenges that entrepreneurs face.
"In Africa, it's nonexistent," said de Villiers.
Editor's Note: An earlier version of this story incorrectly quoted Joshua Stern and identified him as as the leader of a company making a pitch at the event, rather than offering advice to companies making a pitch.