Hear more about this story and how it developed on the Peninsula Report podcast >>
Due to the increasing middle school enrollment in the Palo Alto Unified School District, board members are further exploring acquisition of Bowman International School's land and facilities to accommodate future students.
Last month, Palo Alto Unified School District (PAUSD) board members decided that Bowman's facilities would best serve as an extension to Terman Middle School—one of PAUSD's three middle schools—since Terman is located across the street.
The board discussed adding a separate middle school, but a new middle school was ruled out, due to pricing and location.
PAUSD board members have been searching for a new site since September of last year. Upon hearing that Bowman International School, a private K-12 school with an enrollment of 225 students, was looking for another site, also due to increasing enrollment, district board members jumped on the opportunity to acquire Bowman's land and facilities. Bowman is located at 4000 Terman Avenue.
Although the proximity of Bowman's facilities to Terman Middle School is desirable, the president of the board has expressed his concern about the safety of the road that divides the two properties.
"We are concerned about the safety of the students who will be crossing Terman Drive because many students will need to walk across to get to classes," said Dana Tom, president of the Palo Alto Unified School Board. "We need to make sure it's a safe and conducive area for students to navigate through."
Other sites have been explored for acquisition, but the location of Bowman is more practical for PAUSD, according to board members. This issue will continue to be discussed throughout the next several months.
"As we continue to discuss, we need to be careful about weighing the challenges and pros and cons of this venture," said Barb Mitchell, vice president of the Palo Alto Unified School Board. "We want to be sure that we can maintain the quality of our students' experience."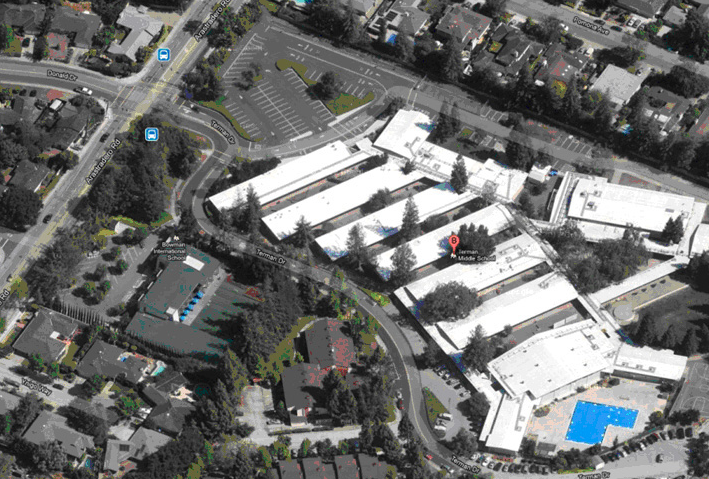 By expanding Terman Middle School, PAUSD will be able to avoid overcrowding and maintain its 27-1 student to teacher ratio.
PAUSD continues to be one of the top ten school districts in the state of California, according to the 2012 Growth Academic Performance Index (API) Report, published by PAUSD's Educational Services staff.
API measures academic growth and performance of schools. The district also reports to have the highest API results with a student enrollment of over 10,000.
PAUSD's overall district enrollment has been growing 2 to 3 percent for the past 30 years. Overall, there are 12,000 students enrolled and 2,700 students enrolled in its three middle schools.
The board calculates future enrollment to be an additional 250 to 300 middle school students per year.
Currently, Terman Middle School has a smaller enrollment than the other two middle schools, Jordan and Jane Lathrop Stanford. Terman has approximately 750 students; Jordan and JLS each have 1,100. Increasing the size of Terman would allow for equal funding for all three middle schools.
In 2008, Palo Alto voters passed a $378 million school bond measure, and PAUSD board members plan to use some of those remaining funds to purchase the Bowman facility, but the final price has not been set.
There is also concern that Bowman will not sell its land and facilities to PAUSD. Although board members said this is not likely, Bowman's interest to sell is contingent on finding a larger site.
PAUSD will not assist in Bowman's search for a new site, but they will actively meet to discuss the next steps of acquisition, board members said.
"We plan to enroll students by 2016," Tom said. "We've got to get the ball rolling. In the next month we will begin facility inspections on the site, discuss pricing, and firm up a timeline."


[soundcloud url="http://api.soundcloud.com/tracks/87364766″ params="" width=" 100%" height="166″ iframe="true" /]