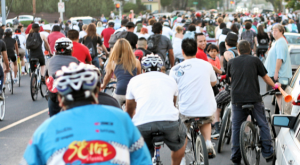 Over the last five years, San Francisco has seen a 71 percent increase in the number of people riding bikes on a regular basis, according to the Municipal Transportation Agency's annual bicycle count. And just the last year, the number of people commuting up and down the Peninsula with bikes on the Caltrain has bumped up by 39 percent. Now, with a recent decision in Menlo Park, the Peninsula's bicycle numbers will likely increase even further, giving hope to cycling proponents but causing worry amongst some Caltrain commuters.
In April, the Menlo Park City Council lifted a 3,600-employee cap on Facebook's new headquarters in the city. In return for the chance to add thousands moreemployees to its campus, the social media giant will pay millions of dollars for improved city infrastructure, including better bike lanes and other cycling amenities. The company has also committed to a vehicle limit, which means that 50 percent of its workforce will have to bike or take public or company-run transportation to work. Currently about six percent of Facebook's employees bike to work, according to the company's transportation coordinator, Jessica Herrera. She would like to see that number at least doubled.
"I'm really happy with it," said Andrew Boone, a Peninsula bicycle advocate on his way back from his regular Freak Bike Friday-gathering (where he rides his six-foot-high "tall bike" together with other regional cycling enthusiasts). Boone has lobbied hard to get Facebook to promote biking in the area. He argues it's "a win-win strategy," both making the area greener and helping Facebook attract young talents who are increasingly choosing companies based on ease of bike commuting or availability of public transportation.
Yet, as anyone who has tried to bring a bicycle onto the Caltrain during rush hour knows, more bikes may not be a good thing. During a recent Monday morning ride at 8 a.m., the conductor announced over the speaker: "Both bike cars are now full. We have, in fact, exceeded our capacity. We've turned away 26 bikes so far, that's 26 bikes. And that's just on our first station."
Others have different concerns. "Cyclists are actually unpopular in San Francisco," said Rob Anderson, a local blogger and transportation policy activist. He noted that bicyclists are still a traffic minority and are often criticized for disregarding the basic traffic rules and creating frustration and security hazards for pedestrians and drivers.
In the communities neighboringFacebook's new headquarters, people have expressed concerns over thousands of new employees flooding into their small city. Will the area be able to absorb it? Can the infrastructure take it?
"Many people have certainly been worried about this," Boone said. "I mean, in any small city, such a huge increase in commuters would be a frightening thing." He added that many people  agree with Anderson: "They are fed up with bicyclists acting like they own the streets, running red lights and not following the law. And having ridden a bike myself, I can understand that."
Boone thinks the way forward is better education on how to bike safely, as well as better law enforcement when bicyclists disregard the rules. "I've been in other cities where they don't seem to have the same kind of problem," Boone said. "In Oregon, for instance, the bicyclists always signal their direction. People almost never do that here. I think it's all about better education, and better enforcement."
The new infrastructure Facebook is funding is part of the solution too, Boone said. This includes construction of new bike lanes along the Bay Trail south of the Facebook campus, repainting stripes on old bike lanes along Willow Road, and renovating an unused tunnel under the Bayfront Expressway so that crossing the highway will be safer. These, along with other planned improvements, will improve cyclists' commutes, Boone said, allowing the "bicycle movement" to grow even bigger.
Others have different prophecies. Anderson, for instance, does not see a bike movement developing in the Bay Area. "It's mostly trendy hype and anti-car propaganda," he said. Anderson, perhaps unsurprisingly, doesn't ride a bike himself. He takes the bus.