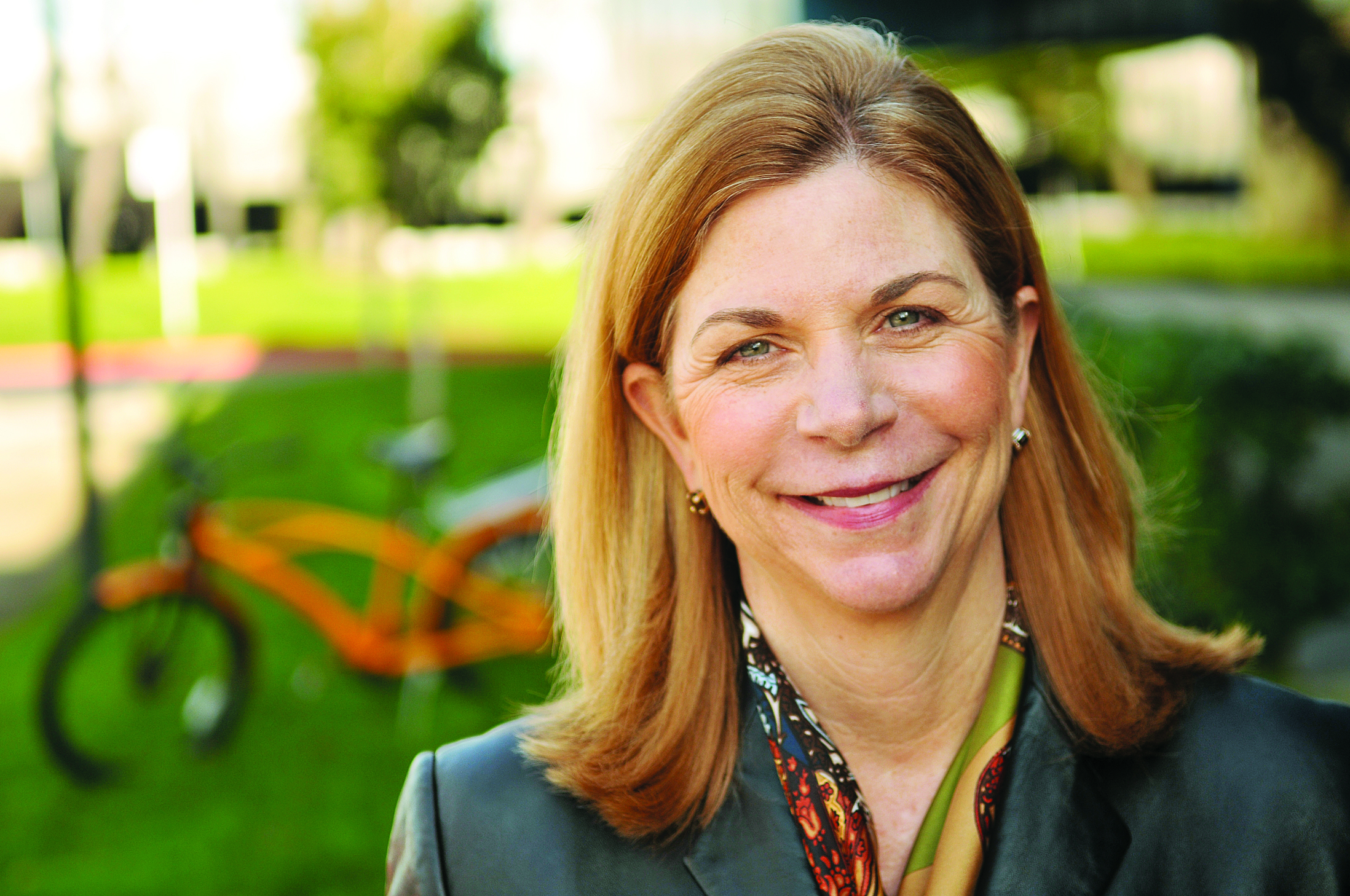 Several Batwoman bobble heads sit on a display shelf in the Silicon Valley office of Kim Popovits, President and Chief Executive Officer of the cancer diagnostics company Genomic Health, Inc. (NASDAQ: GHDX).
The bobble heads emerged after Genomic Health's 2005 road show, when the company visited 19 cities and five countries in 21 days before its IPO. At the Kansas City stop, Popovits faced a bat attack in her hotel room, an incident which prompted an influx of bat-related bobble heads and baseball bats from her colleagues per company tradition, in which achievements are memorialized through bobble head gifts.
"I've got a Batwoman bobble head now, so I'm 'bat girl,'" Popovits said at an Entrepreneurial Thought Leader speech she gave at Stanford in 2006. "It was definitely an experience."
Popovits, an upbeat 52-year-old who received a bachelor's in business at Michigan State University, has worked at the personalized medicine company since 2002. She joined two years after Genomic Health formed, leaving her role as senior vice president of marketing and Sales at neighboring biotechnology company Genentech, where she launched therapeutics for 15 years.
Her office might seem inconspicuous amid the bright orange, green and pink motif that extends throughout Genomic Health's Redwood City headquarters. Positioned along the side of the company's central office space, the outside wall of her office is glass on the top half. The bottom half of the wall, however, is covered with pictures of smiling toddlers, babies and teenagers, an extensive collage resulting from an ongoing invitation for employees to post photos of their children.
The quirks of company culture don't stop with bobble heads and family photos. Employees rave that the snack area has a constant supply of gummy bears, Starbucks and Pete's coffee. A company fleet of orange and pink-and-green bicycles are parked at bike racks, which employees use for efficient transport between the campus' three buildings. Popovits purchased the original six orange bicycles several years ago on an impulse buy when she was shopping at Costco with her husband, where the bikes were on display.
According to Kathy Hibbs, senior vice president & general counsel at Genomic Health, Popovits has a "human touch," a way of shifting the company's focus to people. Throughout the process of developing the company's DX breast and colon cancer tests and during the development of the company's emerging prostate cancer test, scheduled to become commercial in 2013, Popovits made a point of continually posing the question, "What would be best for patients?"
Large photos nearly cover entire walls of the company headquarters, featuring patients who have volunteered to use the products engaged in their favorite pastimes, such as horseback riding, cycling, piloting and teaching. Popovits knows the names of her 500 employees, according to Hibbs, who estimated that she would fall into the 90th percentile for name to face recognition.
"She knows who they are, she knows what their jobs are. And they know that she knows that," Hibbs said. "She's a busy CEO, but people can get in her office to see her, and they do."
Popovits' emphasis on people extends into her belief in the importance of building what she calls an "all-star team." In interviews she maintains that people are the most important factor in giving ideas traction. Within the company, Popovits integrates herself into employee culture by participating in groups such as the company slow-cooker club. Hibbs described Popovits as an "active member" of the group, widely known for her crock-pot chili.
Before college, biotech wasn't on Popovits' agenda. She had planned to become a teacher, but mentors persuaded her to avoid the field, saying it was "flooded." She started college planning to become a medical technician or a nurse, but ultimately found her way into business classes. She took her first job after graduation in pharmaceutical sales, which helped solidify her interests science and business.
"I sense that it is a hard environment where they want to see results," said Ron Leuty, a biotechnology reporter at the San Francisco Business Times who has covered the company for several years, of Genomic Health's workplace environment. "It's not a play zone. 'Here is what we're going for,' and everyone is going toward that goal."
Leuty also described Popovits as surprisingly "laid-back." "She's funny, and it's a little disarming in a way," he said.
In addition to humor, an ability to easily break down scientific and business concepts has taken Popovits far. She has a knack for distilling concepts and explaining them across scientific, business, legal and financial spheres, as well as with doctors, patients and investors. In many ways she is a skilled translator, simplifying concepts and asking the right questions.
"She is versatile; she's well spoken and she's direct," Hibbs said.
Genomic Health is a kind of a quiet giant among the life science companies in Silicon Valley. It employs nearly a quarter of life science employees in Redwood City, but Popovits' name probably wouldn't jump out to company executives in San Francisco in other industries, according to Leuty.
"I think anyone in the life sciences space would know Kim's name at least and would connect her with Genomic Health," Leuty said. "I think Randy Scott (a co-founder of Genomic Health) has gotten a lot of the attention because he has grown a couple companies."
Despite Popovits' enthusiasm for her job, she admitted that it "consumes most of my mind time. My family would definitely say that."
Employees at the company view her first as a CEO, not as a female CEO, according to Hibbs.
Although it "isn't as common as it probably should be" for women to be biotech leaders in Silicon Valley, Hibbs said, "I am more motivated by the fact that she is a great CEO than that she is a female CEO."
Changing the Cancer Paradigm
Like Scott, "personal experiences with cancer" spurred Popovits' interest in the cancer diagnostics field, as noted in her company bio.
"It's hard to find anyone whose life hasn't been touched with cancer," Popovits said in a phone interview.
Popovits recalled sharing Scott's dismay in the early 2000s, when even though the humane genome project had nearly reached completion, cancer therapy was still being administered with a one-size-fits-all approach. Each tumor had a different molecular signature, but the diagnostics and analytical tools weren't yet in place to treat cancers with individualized therapies.
According to Popovitz, of every 100 women who receive toxic therapy for breast cancer, only three to four will experience benefits. Only 10 percent of men diagnosed with prostate cancer have aggressive forms, yet 90 percent of those diagnosed men will receive aggressive treatments. What's more, the U.S. healthcare system will spend about $80 billion on cancer therapeutics this year. Because the average efficacy rate is about 25 percent, about $60 billion will be spent on cancer drugs that do not yield any benefit to patients. To Popovits, these statistics make a compelling case for shifting health care dollars out of procedures and therapeutic drugs and into diagnostics. It's a win-win situation: the government saves money, and patients receive therapies that are effective for them.
Popovits played a central role in seeking funding for cancer diagnostics in the early 2000s and in overseeing the commercialization of Genomic Health's first Oncotype DX breast cancer test in 2006, a direct challenge to the therapeutics-based paradigm of treating cancer.
Although she never pursued a graduate degree, she applies 15 years of experience in therapeutics at Genentech to the development of cancer assays at Genomic Health. Popovits said working on Herceptin, the first targeted medicine approved by the Food & Drug Administration, which was designed for a specific, aggressive form of breast cancer, was one of the most informative experiences she had while working at Genentech. Herceptin showed her the hurdles of marketing targeted therapeutics and made her aware of diagnostics' absence from modern medicine. It was at Genentech that Popovits came to see molecular diagnostics as the future of health care, or as she put it, "getting the right drug to the right patient at the right dose at the right time." This has become a common definition of personalized medicine today.
Popovits recalled the pushback she and the early members of Genomic Health faced as they worked to raise the $100 million necessary to commercialize the company's first cancer test.
No one believed in what we were doing," Popovits said, recalling "moments of depression and self-doubt" she and her team experienced. Potential investors repeatedly told the company that they thought the Oncotype DX was being pitched 20 years too early, and that $3,500 wasn't a feasible starting price point for the test.
Leaving the business in the hands of those who didn't believe in it wasn't an option for Popovits. The founders and their friends and family raised the first $7.9 million themselves. Next, series B and C investors such as Baker-Tisch, Kleiner Perkins Caufield & Byers and Versant stepped up to invest.
"I think there was a tenacity there where Kim just continually said, 'We should keep going and let everyone else catch up to us,'" Hibbs said
The breast cancer test went global by 2007, just one year after its launch. Soon after, it was endorsed by the head of the National Institutes of Health, Francis Collins. The company became profitable for the first time in 2010, a time when many life science companies struggled to even get off the ground.
To date, Genomic Health's products have reached roughly 65,000 women with breast cancer. Popovits' goal is to reach 1.5 to 1.6 million patients globally. About 151,000 patients are diagnosed with early stage breast cancer every year.
"When you feel like you're up against everybody saying it can't be done — I think that's what makes GH entrepreneurial. I think that's what makes it exciting," Popovits said.
A New Subsidiary "Startup"
Popovits acquired an additional role at Genomic Health in March 2012. As of March 1, Popovits is not only President and CEO, but also Executive Chairman of Genomic Health's Board of Directors, a role held by Scott since 2009.
The extension of Popovits' role to Executive Chairman of the Board came hand in hand with the simultaneous formation of a new subsidiary. Plans for this new phase in the company's development reflect a faith among Genomic Health staff that Popovits is the right woman to continue leading the company ahead of competitors such as Myriad and Clarient, Inc.
Scott is now a Board member and will serve as Chief Executive Officer of the company's newly formed research subsidiary, dedicated to exploring new ways that genomic data can be applied to personalized medicine. The expansion of Popovits' role and the announcement of the subsidiary, were publicly released in the company's February fourth quarter earnings release.
The company has been quiet about the details of its subsidiary plans. Director of the Stanford Genome Technology Center Ron Davis and analysts speculate that the new subsidiary will focus on expanding diagnostics to other aspects of oncology, and that it may ultimately grow to include other fields of medicine such as neurology, immunology and cardiology. The company's press release stated that next generation sequencing, a more holistic, accurate method than today's more commonly used PCR-based sequencing, will be at the heart of the new subsidiary. The company currently uses PCR to produce its commercial diagnostic breast, colon and developing prostate cancer tests. In the press release, Scott referred to the subsidiary as a "new startup."
According to Leuty, the new subsidiary is evidence that the company isn't satisfied with its current scope and technology. Genomic Health plans to invest $20 million in it over the next two years. Because the subsidiary is internally funded, the company expects a profit of between $5 and $8 million for the 2012 fiscal year but could face a loss of up to $3 million.
The extension of Popovits' role to engage responsibilities traditionally covered by the company's founder is a statement of the company's respect and confidence in Popovits' work, Leuty said.
Popovits will receive a $110,000 increase in her 2012 base salary, according to the company's most recent 8-K. The company's compensation committee determined that Popovits will have an annual base salary of $600,000 in 2012, compared to a $490,000 salary in 2011. Scott's base salary increased to $400,000 in 2012 from $350,000 in 2011. According to the company's most recent 14-A from April 2011, the sum of Popovits' salary, option awards, and non-equity incentive plan compensation in 2010 was $1,615,115. Analysts familiar with the company described Genomic Health executive pay structure as typical for personalized medicine companies.
"Kim's taking on roles traditionally held by Randy and Randy's taking on leadership of the new subsidiary speak a lot to what people inside the organization think of her," Leuty said.
Leuty expects the subsidiary to give rise to new products down the road.
"They aren't just sticking with one test," Leuty said. "They're moving forward and continually bringing new products along. This spin out (subsidiary) is indicative of what they're doing in sequencing."
Genomic Health isn't alone in looking to next generation sequencing, according to Tycho Peterson, an analyst at J.P. Morgan Securities, in a phone interview. Diagnostic companies across the United States, particularly in Silicon Valley and Boston, are trying to capitalize on the most up-to-date sequencing technology.
At least for now, Peterson said, Genomic Health has positioned itself as the global leader in the cancer diagnostic industry.
"As long as the [diagnostic] field lasts, they'll be a leader," Leuty said. "By switching into next generation sequencing, they've made their life longer. Maybe in the future they'll be the leader of an entire set of cancer assays."
As Popovits looks to the future of her time at Genomic Health, the biotech CEO said she hopes to oversee the company's grow into addressing later stages of cancer and other forms of the disease. She is adamant about building a leadership now for the future of a company, which she believes can maintain its status at the forefront of disease diagnostics for decades to come.
"I think we have made such a breakthrough in understanding cancer treatment that I don't feel that I will be personally satisfied until we are helping patients across multiple cancers around the world and expanding progress with our breast cancer test," Popovits said. "There is a huge business opportunity out there, but also a huge opportunity to impact the lives of so many more patients passionately if we want to keep at this."