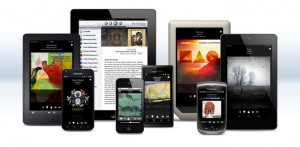 Pressured by rising royalty costs, Pandora Media Inc. (NASDAQ: P) decided to cap monthly free listening hours for mobile users.
"In short, this is an effort to balance the reality of royalty costs with our desire to maximize access to free listening on Pandora," wrote Founder Tim Westergen in a blog post last Wednesday.
Free mobile listening hours will be limited to 40 hours per week per user. If the cap is exceeded, mobile listeners can pay 99 cents to continue listening for the rest of the month. Westergen explained the measure will affect less than 4 percent of total monthly active users. At the close of the third quarter, Pandora reported 77 percent of its active listeners are streaming music over mobile devices. The company announced it had 65.6 million active listeners at the end of January.
According to Westergen, Pandora's royalty costs have increased more than 25 percent in the past three years. The royalty fee collections organization, SoundExchange, is set to increase royalties an additional 16 percent over the next two years.
The current state of affairs
Westergen's announcement came shortly before the company's fourth quarter earnings call, scheduled for March 7. Content acquisition costs for the fiscal year 2013 are expected to reach as high as 60 percent of Pandora's revenue, costing the company $250 million. By comparison, cable TV music services pay 15 percent of total revenue for content acquisition, satellite radio pays 7.5 percent and terrestrial radio pays nothing, due early anti-piracy legislation.
"It's really a listener monetization rate problem," said Piper Jaffary analyst James Marsh. "If they monetized their listenership like other players in the industry do, we wouldn't be talking about music licensing."
When asked about royalty costs, Pandora executives are quick to point to the current copyright legislation rather than acknowledging a lagging monetization model. The company formed the Internet Radio Fairness Coalition with the Computer & Communications Industry Association, Clear Channel Media & Entertainment, the Consumer Electronic Association, and others to support the Internet Radio Fairness Act. The legislation called for a change in the standards and procedures by which Copyright Royalty Judges determined music royalties, which would effectively reduce the amount of music royalty fees paid by Internet radio providers.
"We believe that the content cost that we pay currently, particularly on what we pay to performing arts and labels, is simply unfairly high, it's out of line with any standard that's ever existed for radio in this country today," said Chief Executive Officer Joe Kennedy at the Goldman Sachs Internet & Technology Conference in San Francisco on Feb. 13, 2013.
Under current copyright law, the Copyright Royalty Board, a panel of three Copyright Royalty Judges appointed by Congress, determines royalties for non-interactive digital audio streaming services. Satellite radio, cable television and terrestrial radio royalty fees are set by the judges. Internet radio royalty costs are determined by the fair market value for the content. The distinction between Internet distribution and others was established in the Digital Millennium Copyright Act in 1998.
"At the time the act was passed, Congress went along with the idea that record companies needed to be protected against services over the internet, in the wake of Napster, but not against services distributed by cable and satellite systems," explained Roger Noll, emeritus professor of economics at Stanford University.
Congress included this statute in order to protect the pre-existing music distribution services against the threat of new Internet-based services that might come along in the future.
Since satellite radio and Internet radio are now directly competitive, Noll believes the current royalty system needs be reconsidered. If Pandora is required to pay royalty fees per use while competitor Sirius XM pays less per play per subscriber, Pandora cannot be expected to survive, Noll said.
Prospects of changing copyright legislation
Representatives Jason Chaffetz (R-Utah) and Jared Polis (D-Colo.) and Senator Ron Wyden (D-Ore.) introduced the Internet Radio Fairness Act in September of last year. It failed to move beyond the House Judiciary Committee.
In an effort to push the bill through, Pandora spent more than $310,000 in political contributions and $220,000 in lobbying. Donations went to President Barack Obama and to Rep. Bob Goodlatte (R-Va.), chairman of the House Judiciary Committee. As chairman, Goodlatte will be a key figure in the continued royalty dispute.
Despite initially failing to shift copyright legislation, Kennedy remains optimistic.
"I think we had a good success in the last six months in terms of getting the key policy makers interested in this issue," Kennedy said at the Goldman Sachs Technology and Internet Conference. "Even already this year, the Chair of the House Judiciary Committee, Bob Goodlatte, has said he wants to hold more hearings on the issues of music royalties."
When asked about the current state of the royalty struggle, Chaffetz's press secretary, M.J. Henshaw, indicated a version of the bill would be reintroduced this term. The date has yet to be set.