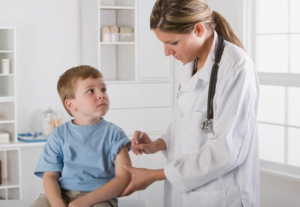 Children across the peninsula and across California are starting school next week, and many are discovering a new law requiring children entering seventh through twelfth grade to provide evidence of up-to-date Tdap immunizations (pertussis booster shots). The law comes as a response to the whooping cough outbreak that swept through the state last year, infecting more than 9,000 people.
"This is a big change many families are not prepared for," Cornelia Dekker, MD and medical director of Lucile Packard Children's Vaccine Program, in a statement issued by the hospital. Although Governor Jerry Brown signed a bill to give families an extra 30-day grace period from the first day of school, it's up to individual schools whether or not they will implement the grace period. "Parents may not realize that their kids may be turned away from class if they don't have their Tdap," Dekker said.
The statement from Lucile Packard Children's Hospital went on to point out another change for the coming school year.  "The Advisory Committee on Immunization Practices (ACIP) is recommending that expectant mothers get immunized with the Tdap booster during pregnancy, both to protect moms-to-be and to pass on the antibodies to babies. Fathers and caregivers are also recommended to get the vaccine. And, same as last year, children entering kindergarten will need to demonstrate evidence of their Tdap.
Dekker also reminds parents to get the flu vaccine this year; "even though this year's vaccine is the same as the one given last year, parents and adults should still get it, because protection drops off over time."
Below is a list of all the vaccines required for children of all ages to enroll in California schools, courtesy of the California Department of Public Health.