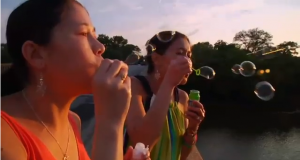 There have been many days over the last four decades when twin sisters Anabel Stenzel and Isabel Stenzel Byrnes, 39, wondered if they would ever set foot outside the hospital again. They were born with cystic fibrosis, a disease that causes thick mucus to build up in the lungs and eventually leads to lung failure.
But Saturday night, at San Francisco's nearly sold-out Castro Theatre, the Redwood City twins took center stage for a standing ovation. It was the Bay Area premiere of "The Power of Two," a documentary about their lives, their double-lung transplants at Stanford and their crusade to encourage organ donation in the United States and abroad.
"The film is about Ana and Isa's journey from patients to advocates," said the film's director Marc Smolowitz, of San Francisco. He decided to make the documentary after reading Ana and Isa's autobiography.
"I fell in love with Ana and Isa as people and subjects. When I met them, that just sealed the deal for me," Smolowitz said.
"The Power of Two" debuted in August in Los Angeles and also ran for a week in New York. It snagged the prize for best feature documentary at the Life and Death Matters Film Festival in Colorado. Now, Smolowitz and the twins have their sights set on a bigger prize. The film is one of about 70 documentaries up for Oscar consideration in 2012.
A story of joy and pain
The narrative opens with a triumphant day in July 2011 when both Stenzel and Stenzel Byrnes swam in the U.S. Transplant Games in Madison, Wisc. It's an event known to transplant recipients as "the Olympics," and both sisters competed and medaled in swimming and track and field events.
"I never really had the expectation that I would live very long or that my life would be so great," Stenzel said in the film. "If transplant wasn't offered to me, there would be nothing to do but prepare for death."
The film delved into some of the most trying moments of the twins' lives as well: failing health, deaths of friends with cystic fibrosis, the realization that double-lung transplants would ultimately become their only options for life, and others would need to die in order for them to live.
Stenzel was the first to receive a double lung transplant in 2000. In 2007, her body rejected the donor lungs, and she received a rare second transplant. In 2004, Stenzel Byrnes was, by her doctors' estimates, about 12 hours from death when a matching pair of donor lungs became available for her.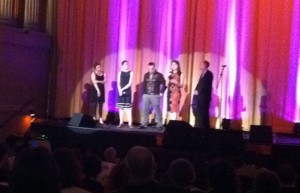 "All our lives, it seemed like one of us was doing well when the other was doing badly," Stenzel said in the film. "So when we were both post-transplant – what a celebration!"
A mission in Japan
As part of the celebration, the sisters decided to advocate for organ donation in their mother's home country of Japan, where transplants are rare. The film explains that there is a cultural stigma surrounding organ donation in the country because many people there do not believe organs should be taken from someone who is brain dead. As a result, Japanese patients in need of organ transplants may wait up to 20 years for organs to become available.
"It's not fair that, because we were born in America, we had the chance to receive transplants," Stenzel Byrnes said. "If we were born in Japan, we would have died of our disease."
It was the desire to raise awareness about the situation in Japan that prompted the twins to reluctantly agree to make the film. Smolowitz insisted that their campaign would be best highlighted through their own life story.
"We are not 'in the spotlight' people, and we ask God for humility everyday," Stenzel said. "But if it helps shape the story, we had to accept the recommendations of Marc."
Now, after having seeing the finished product, Stenzel called Smolowitz "one of the most exceptional human beings I have come across. It was truly a joy and a highlight of my life to make this film in dozens of cities over two years."
Life still full of challenges
The twins' lives continue to be filled with pain as well as joy. Stenzel missed parts of the film's Los Angeles premiere week and the entire New York premiere because she was in the hospital with a serious gastrointestinal condition likely related to her cystic fibrosis.
Still, she wrote in her blog that her healthy lungs are the most important thing.
"After 11 years of taking immunosuppression medications, I am, like many long term transplant survivors, a medical disaster waiting to happen… Transplant is the gift that keeps on giving in more than one way; so as long as I can breathe I am not worried."
Honoring the gift
The image on all the film's movie posters and publicity materials captures a tradition the sisters started to honor their organ donors when they travel to special places. They blow bubbles.
In this way, they said, they can "see" their organ donors' gift to them – their ability to breathe.
[youtube]YIU4lZSGxr8[/youtube]