Hear more about this story and how it developed on the Peninsula Report podcast >>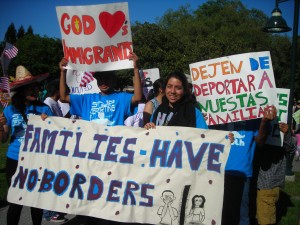 Bay Area residents are taking action against federal immigration enforcement measures that separate deported parents from their children, many of whom are protected from deportation by an executive order issued last year.
As supporters of immigration reform rallied in Mountain View on May Day, the debate over immigration reform heated up in Washington. A bipartisan coalition of senators is pressing to get a bill passed that would provide a "path to citizenship" for most of the country's 11 million undocumented immigrants.
If the bill is passed as proposed, most immigrant families would no longer have to worry that their lives could be disrupted by separation via deportation.
The activity in Congress has energized local supporters of immigration reform.
"This is the best time to get all the people together and go for it," said Roberto Munoz, a community activist who was one of the nearly 2,000 people who demanded humane immigration policy in a march through the Mountain View streets May 1.
Fractured families were the chief concern of the protestors at the May Day rally. Wendee Crofoot, a longtime Mountain View resident who helped organize the march, explained why she believed immunity for immigrant children fell short.
"A little girl that gets to stay is great," Crofoot said. "But I want her mother to be a citizen, too."
The large crowd of marchers at the Mountain View rally was in step with Crofoot's concerns.
For over two hours on an abnormally hot afternoon, the mostly Latino demonstrators chanted, sang, drummed, and whistled their demands for family friendly immigration laws. At the front of the procession, which stretched for multiple city blocks, demonstrators held two large banners. One urged a "Comprehensive Path to Citizenship." The other read "Families Have No Borders."
Groups of teenagers assembled at the front of the march. One group wore blue shirts that read "Stop Deporting Youth." A group of girls wearing white shirts were committed vocal leaders. One teen held a sign that read, "Dejen de Deportara Nuestras Familias – Stop Deporting Our Families."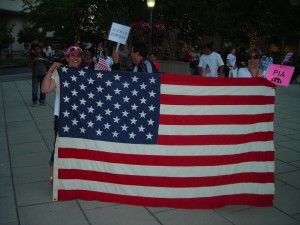 These teenagers were DREAMers – young immigrants protected from deportation by a presidential directive issued last year. The directive's guidelines are similar to those of the so-called DREAM Act, which has been introduced in Congress several times since 2001 to no avail. Young people qualify who entered the country before turning 16, have lived here for five years, are enrolled in school or the military, and have a clean legal record.
A study released by the Immigration Policy Center in 2012 estimated there are 65,000 eligible DREAMers in the Bay Area, enough to fill a Raiders game at Oakland's O.co Coliseum. These numbers were originally reported in the San Jose Mercury News.
Their parents, however, are still deported in large numbers. According to data published by U.S. Immigration and Customs Enforcement, over 1.5 million undocumented immigrants have been deported since President Obama took the oath in 2009, a record for any one presidential term.
Roberto Munoz is all too familiar with this reality. He spoke at length about several local families fractured by deportations, although he withheld specific names.
He was most passionate relating the story of an East Palo Alto father, who Munoz claimed was deported for a second time earlier this month after spending the better part of six months finding a way to come back. He had only recently reunited with his wife and six year-old child.
"Sometimes the immigration take the wife, sometimes the husband, and sometimes both," said Munoz. "It's something that really, really hurts the families and the community."
Munoz, who was originally an undocumented immigrant but became a citizen in 1991, has worked for five years with Peninsula Interfaith Action (PIA), an organization that unites congregations around causes such as immigration reform and helped organize the Mountain View march.
"We fight to keep the families together," said Munoz, when asked about PIA's mission.
Father Bob Moran, a priest at St. Joseph's church in Mountain View was unsure how common family separations were locally. Many of the immigrant parents he knew held steady jobs, which he said puts them at much decreased risk of deportation.
"But it's there," Father Moran said. "I know because there is a certain fluidity in the group in terms of coming to mass on Sundays."
The march culminated with a festive rally in front of city hall in downtown Mountain View. The keynote speaker was Bishop Patrick McGrath of San Jose's diocese. Flanked by a band, dancers, and booming sound system, Bishop McGrath called the status quo a human rights issue. He demanded the end of immigration policy which, he said, seeks to split families
"Enforcement of the policy is immoral!" McGrath said, prompting uproarious applause.
As McGrath walked off the stage, the band played "God Bless America."
Afterwards they burst into a more upbeat Latin tune, "De America, Yo Soy – From America, I am."

[soundcloud url="http://api.soundcloud.com/tracks/94645070″ params="" width=" 100%" height="166″ iframe="true" /]