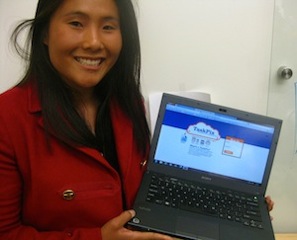 In Silicon Valley, much attention is given to those companies seeking venture capital funds. But much energy goes into the development of a company before financing is even a question. For many Stanford students looking to break into the startup culture, finding a team can be the biggest obstacle.
That's where startup FounderSoup comes in. Started by a group of Stanford alums and sponsored by venture firm Andreessen-Horowitz, FounderSoup aims to connect potential co-founders in order to best capitalize on Stanford students' skills.
The group hosted "Meet Your Co-Founder," a pitch event for Stanford undergraduate and graduate students, on Thursday evening in the basement of the Huang Engineering Center. Eighteen teams of Stanford-affiliated students, including groups from the Business Association of Stanford Entrepreneurial Students, BASES, gave 90-second pitches about their startups. The event was part of Stanford's annual Entrepreneurship Week.
"As I picked up skillset of iOS development, people started asking me for coders, because they had business ideas," FounderSoup co-founder and Stanford alum Weston McBride said. "Eventually I thought, 'this is just annoying, and I'm tired of people asking me.'"
McBride said that he and co-founder Mike Dorsey had similar thoughts and decided to "put on an event, with people who can code, people who can sell things, and people who can build widgets and we're just going to put them in a room together and let them figure it out."
Fourteen months later, FounderSoup has successfully hosted three pitch events.
Steven Tiell, CEO of Spud Flower, a gift-giving platform that encourages parents to build college funds for their children, said that his pitch could have been better but that the event was still useful.
"It's a different kind of audience [from what we're used to]," Tiell said. However, his startup had already met with "three or four positive leads."
One of the more crucial aspects of the networking portion of the event was the handing out of business cards — all registered participants were given a set at the beginning of the event as a type of icebreaker. Many walked away with a mini-rolodex of Stanford students with various skill sets.
Some presenters just described their products, while others used their valuable time to identify and solicit particular needs in a co-founder.
"What you can achieve in 90 seconds is insane," said Angela Hayward, entrepreneurship concierge with Stanford Technology Ventures Program. which co-sponsors Entrepreneurship Week along with other Stanford programs.
"Incubators keep popping up, but the thing about an incubator is that they already assume that you already have an idea, that you've already got a team, and that all you need is a little push before you go raise Series A funding," McBride said. "There's definitely a need for that, but no one is really addressing the part in the life cycle right before you need incubator services, where you need to find a co-founder, where you need help validating your idea."
FounderSoup aims to keep venture capitalists and other financiers out. The location of Thursday evening's event was kept secret until two days before. It was FounderSoup's attempt to avoid allowing "groups seeking code monkeys" in.
"We really try to protect our talent pool," co-founder and Stanford MBA student Andrew Bellay explained. "Sometimes people want to use their skills, but not always in a beneficial way. We've really built a trust with the talent that we're trying to maintain."
However, Bellay also said that this was the first pitch event held in conjunction with BASES, which in turn solicited more presentations from undergraduates. "We saw a lot of business folks pitching to find engineers," Bellay said. "Normally, there's a more equal balance."
Kristina Chang, a first-year MBA student at Stanford's Graduate School of Business said her startup was utilizing the pitch event to meet the University's "large base of talented entrepreneurs."
Her startup, TaskPix, is already largely developed. Her team was soliciting a technical co-founder to improve the existing product. Though she had not yet made any connections, Chang remained hopeful.
"The night is young," she said.
And for those startups that walk away without having found a team? FounderSoup wants to keep in touch.
"The way that I think of startups is that there's an interchangeable set of parts… You have all these different, very important pieces…which came together for the same reasons, and now they can be mixed and matched to build something new," McBride said.
"When a startup starts to go under, there's a new opportunity that blossoms out of failure, which is all these talented people who can do whatever they want," he added.
Stanford Entrepreneurship Week 2012 takes place February 27 through March 7. This collection of over 30 events is hosted by the Stanford Entrepreneurship Network (SEN), a federation of programs, student groups and organizations supporting entrepreneurship in the Stanford community. For a complete listing of events check: https://sen.stanford.edu/e-week/calendardu/e-week/calendar