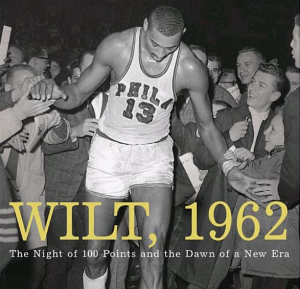 One game. One man. One hundred points.
Today marks the 50-year anniversary of the night NBA superstar Wilt Chamberlain scored 100 points in a single basketball game. It's a record that has never been broken. No one has really even come close. (Kobe Bryant was the nearest, with an 81-point game in 2006.)
"Basketball fans talk about the triple double," said Gary Pomerantz, who authored a 2006 book chronicling the historic athletic feat, "But this is the only single triple in NBA history."
In his book, Wilt, 1962: The Night of 100 Points and the Dawn of a New Era, Pomerantz takes takes readers back to Hershey, Pa. in 1962. The game between the New York Knicks and Chamberlain's Philadelphia Warriors was not televised. The Warriors won, 169-147, and only about 4,000 fans were in attendance to witness what would become sporting legend.
The following season, the Warriors left Philadelphia for the Bay Area and became the San Francisco Warriors. Chamberlain lived in San Francisco for two years before he was traded back to Philadelphia to play for the 76ers. Despite his brief career in the Bay Area, his statistics were impressive.
"Wilt deserves to be in the Bay Area Sports Hall of Fame," Pomerantz said. In his two seasons in San Francisco, Chamberlain averaged 45 and 38 points per game and brought the Warriors to the NBA finals in 1964.
Pomerantz now teaches sports reporting in the Stanford Graduate Program in Journalism, and to celebrate the 50th anniversary of the 100-point game, two of his students interviewed him about his memories of working on the book and his insights about Chamberlain's legacy.
"We should see him for what he was," Pomerantz said. "The single most transformative figure in the history of professional basketball."
[youtube]vQ6mEG2sX-4[/youtube]