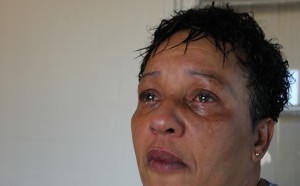 "I wasn't arrested. I was rescued."
In February 2010, Diane Joiner began a sentence of 6 ½ months in county jail, split between San Mateo and Santa Clara counties. She had seen a jail cell many times before, for possession of a controlled substance, possession of drug paraphernalia and parole violations.
Still, Joiner did not consider herself a hardened criminal, a feeling that was confirmed when she served the last 100 days of her sentence in state prison, alongside murderers and sexual predators. She calls her time at the Central California Women's Facility in Chowchilla "the longest days" of her life.
In a 6′ x 10′ cell, she decided to turn her life around.
Prison "was the best thing for me," she said, "because it made me realize that if I'm gonna be down, I'm not gonna stay down."
She turned to the services that the San Mateo and Santa Clara correctional departments offer, including Achieve 180, a project funded by a federal grant. It places 200 high-risk county inmates with case managers who help them find housing and employment, as well as treatment for substance abuse.
Gender Responsive Treatment, a program offered by the Service League of San Mateo, was instrumental in changing her behavior, she said. The program is based on the concept that men and women commit crimes for different reasons. By targeting those reasons, program directors hope to reduce an inmate's likelihood of returning to jail.
Today, Joiner is the promotional face of these programs and has spoken at numerous events about their impact on her current lifestyle. Her success comes at a pivotal time, as rehabilitative programs have been cut back in jails around the country — by as much as 40 percent in California, according to a recent California Watch estimate.
Many of San Mateo's programs have escaped the budget chopping block so far. Perhaps no one is more thankful for that than Joiner.
"She's a pillar of what can be if you take advantage of every opportunity offered," said Angela Taylor, the lead case manager for the Service League of San Mateo and Joiner's case manager for Achieve 180. "She literally took advantage of all the resources available to her. … She's an inspiration."
"She made a major turnaround," said Shirley Melnicoe, the reentry coordinator for the San Mateo County Manager's Office. "She'd been a drug addict over 30 years."
Under the influence 
Diane Joiner is 53 and lives in East Palo Alto. She has a light brown complexion, an expressive face and an infectious laugh.
She did not always radiate such vibrant energy, however. Three decades of addiction took care of that. She did "all kinds of crazy things" and "got into a lot of trouble" for much of her adult life.
"I don't know how I made it, I just don't. 'Cause I beat myself up," she said, describing her life on drugs. "Sometimes I looked at myself and I didn't even recognize myself, that's how bad my skin [was] and my face was sucked in. I looked like death."
Her physical appearance was not the only thing that suffered as a result of her addiction.
"Drugs are something else," she said. "You don't think right, 'cause you're not all there. You do things on impulse. And you get in trouble like that, too."
Joiner said she got into even more trouble when she turned to prostitution as a means to pay for drugs.
"When you turn dates and you prostitute, a little bit of you is taken out every time," she said. "You get desensitized to anybody and people's feelings. You become hard and callous. You do. I did. And the more you turn dates, the more you use. That's how you get lost in drug addiction, too. You don't feel worthy."
When she was not selling sex, she still found herself seeking out the solace of one man or another — only the payment was validation and not drugs or money.
"I was always with another man. I never got to know myself," she said. "How could anybody like you if you don't like yourself?"
It is a question she wrestled with for years. She got lost in her addiction, and in the process she lost her family, too.
"People think being an addict is only hurting themselves," Melnicoe said. "[But] they're hurting their children, they're hurting their parents, they're hurting a lot of people. All your actions are going to affect other people."
Joiner knows that all too well. A mother to five children, she was never a major presence in any of her kids' childhoods. It was left to Joiner's mother to raise her eldest son, Aron, a popular boy with curly hair he kept back in tight cornrows. Aron and his grandmother had a trusting relationship. In comparison, Joiner barely knew him.
Not being a presence in Aron's life is Joiner's greatest regret. He was 17 when he was killed in Stockton in June 2004. The full details have never been discovered, and no one has been arrested in connection with his death.
Joiner vividly remembers the confusion that abounded that day.
"Mom called me and I was dressing the twins," she said, referring to her youngest sons. "She told me, 'Diane, Aron's been murdered.' And I said, 'Who?' I didn't know who she was talking about. I didn't have a clue what she was saying. I didn't get it for a whole day. 'Aron who?' I kept saying. 'Aron who?' He was gone."
"I miss him every day," she said, the tears she was struggling to withhold now freely streaming down her face. "That's the biggest regret of my life. That I wasn't in his life. I can never make that back."
Change of course
"I regret some of my past, but I don't beat myself up for it. I don't," Joiner said. "If I did, I can't go forward. I live today in the world of acceptance. 'Accept the things I cannot change, the courage to change the things I can, and the wisdom to know the difference,'" she said, riddling off the Serenity Prayer that is engraved on a plaque in her room.
She has taken the quotation to heart, and has made an effort to be a constant presence in her other children's lives. She is saving up the money she makes at the Menlo Park Goodwill to buy the twins iPods for their birthday.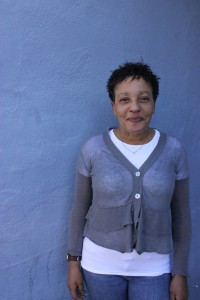 She has an entirely different outlook on life since her time behind bars. While in jail, she enrolled in Gender Responsive Treatment. The instructors started by changing the language she used, such as transforming every "can't" into a "can."
"I'd go into my cell, and I'd practice. 'That's what I used to be. That's who I was.' When you speak positive things, they become ingrained in you," she said.
"There's tools to live not using [drugs]. And I had none of them. Gender Respons[iv]e gave me all the tools I needed to live."
When Joiner was released, Taylor noted, "she didn't go back to the old neighborhood and fall into the same habits."
Not everyone is so lucky. In the San Mateo County jail system, officials estimate that between 60 and 70 percent of inmates will reoffend. That amounts to nearly 35 inmates each month who return to jail.
Joiner knows this firsthand. She told herself numerous times that she would get off drugs, but every time she got out of jail, she fell right back into the same traps, she said.
Before Achieve 180, Joiner said, she didn't stand a chance. "No one has a chance. They're going out with the same tools they had before—none."
Now, "Relapse is not gonna be part of my story," she said. "They say relapse is part of recovery. Not in mine… Every day I think 'I'm so lucky. I'm gonna keep this luck. I'm gonna stay clean today.' I don't do anything to compromise who I am. And whenever I think about drugs… I know it will take me back to jail. I'm not going back there. I've done my time."
[youtube]ijeKqBbw9do[/youtube]