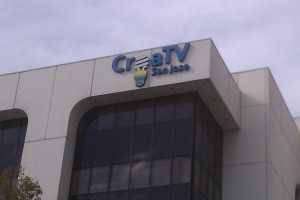 "There's blood all over," a man said during the 911 phone call. "Have you ever seen a massacre?"
Bay Area residents awakened on Oct. 5 to the news of a mass shooting at the Lehigh Southwest Cement Permanente Plant in Cupertino. Quarry truck driver Shareef Allman had killed three co-workers and wounded six others.
While news outlets from around the state scrambled to the scene, the staff of a media organization based 13 miles away stayed put. Their emotions shifting between disbelief and despair, executives of CreaTV, a local cable-access channel, waited for the storm that would most certainly settle over the station on West Julian Street in San Jose.
"I was called early in the morning by a staff member watching the news, and I turned it on and my first thought was, 'They got the wrong guy,'" CreaTV's executive director, Suzanne St. John-Crane, recalled in an interview.
Allman drove trucks at the quarry to make a living. But people who knew him well say he drew his identity from the jobs that paid virtually nothing. He self-published a 2007 book that spoke out against domestic violence, and since 2009 he had hosted "Real2Real," a monthly CreaTV show that gave him a soapbox to preach non-violence and interview disparate community members.
Understatement was not his style. He sported a bright orange suit on several segments of the show, and neighbors described him as a snappy dresser with an optimistic outlook on life.
As more and more friends stepped forward on Oct. 5 to urge Allman to turn himself in, it became clear to many that something deep inside him must have snapped. The Shareef Allman they knew was not the man who came to work that morning with an AK-47 and at least one handgun.
When CreaTV's phone lines started ringing, St. John-Crane was prepared for the onslaught of questions about both Allman's personality and the station's history with him. He was a volunteer like hundreds of others, but his title of producer hinted at a deeper affiliation.
"I never got a bad feeling from him. Never," St. John-Crane said. "Very shocking for all of us, what happened."
In talking with reporters, St. John-Crane was quick to put distance between herself and the shooter, clarifying that they weren't friends, that she had never seen a full episode of "Real2Real," and that he was one of more than 600 members of the community who used CreaTV's services—"sorta like he was a member of a gym," she said.
CreaTV considers itself unconventional when compared to other media outlets. The nonprofit took over San Jose's public-access stations from Comcast three years ago. Its wide range of programs includes jazz concerts and festivals, high school football games and forums on the local K-12 education system.
CreaTV also features shows from local producers on topics as diverse as financial advice, restoration of old cars and sketch comedy.
"Getting the word out" about the opportunities and offerings at the station has not been easy, St. John-Crane noted. But she said the public's response has been overwhelmingly positive.
The uniqueness that makes the station appealing to many San Jose citizens may have contributed to the misperceptions that surrounded CreaTV's link to Allman, she said. "Because in traditional media producers are employees and are paid, the assumption that folks made when they saw this gentleman on TV doing a show was that he worked for us, and that's not the case," St. John-Crane said.
CreaTV welcomes involvement from members of the community, regardless of their age or experience. Although producers are unpaid, they have almost complete control over the editorial content of their show.
"The public access channel is curated by the community," St. John-Crane said. "We don't dictate the standards. This is San Jose's channel. What does San Jose want to say and see?"
Although St. John-Crane was able to clarify some misunderstandings, she was not able to prevent a few ideological websites from spreading misinformation about her relationship with Allman.
"I found my picture on right-wing websites claiming that I was associating with a Muslim murderer. They didn't even know this man. Just complete lies," she said. "People can take your images, and take your video, and re-purpose them without permission. [They can] make claims and make assumptions."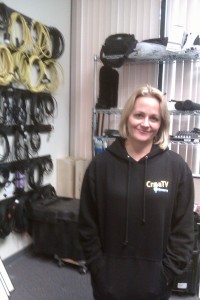 St. John-Crane is not new to the limelight. She is the lead singer in a blues band called Pearl Alley that includes her husband, Daniel Crane. She also has a background in the nonprofit world.
"I thought Suzanne handled things very, very well," said Judy Joseph, a longtime producer for CreaTV. "She did an amazing job, very graceful, very professional, and I commended her for that."
Brian Stuckey, producer and host of CreaTV's "Get Real with Brian Stuckey," said he found himself answering similar questions after the shooting.
"I don't like being associated with…" he trailed off. "I had people call me up and say, 'Isn't that the TV [station] where you produce your show?' "
He added, "I know Suzanne's got a good heart for the community and everything else, and I know that hit her probably really hard. I know she got cornered a couple times… This whole thing with the murder had nothing to do with CreaTV, at all."
Allman shot himself to death on the morning of Oct. 6, as Santa Clara County sheriff's deputies cornered him in Sunnyvale. Despite much speculation, his motives for the shooting will never be known.
St. John-Crane said she believes that CreaTV was nothing but a positive in Allman's life.
"Who's to say that this guy wasn't coming in here ready to, you know, who knows?" she said. "But this was definitely a place where he thrived. He loved his show. He loved doing it, he loved speaking positively."
"Who's to say that that didn't really help prevent a bigger tragedy?" she said.
Both Stuckey and Joseph say that, for them, producing shows on CreaTV has been an enjoyable experience. "I love my job," Joseph said. "I love being out in the community. For me, I think [my show] is definitely a way to give back to the community."
For St. John-Crane, CreaTV's ability to give back to the community is a priority. And now, following the Cupertino tragedy, it has a chance to play an even bigger role in community healing, she said.
"This is a part of our story, but it's not the whole story," St. John-Crane said. "We're doing too many other things. We're doing too much good in the community."
[youtube]bbSOQ4JhkIw[/youtube]