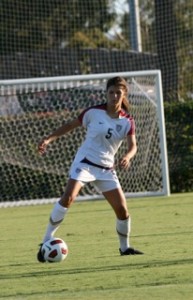 Two days before beginning high school, soccer defender Maddie Bauer went into the air for a header in a national team game. She felt the brute force of her opponent's head collide with her mouth.
Her mother, Kathleen Bauer, saw the look Maddie gave her as she scooped up a few pieces of chipped teeth and tucked them in her soccer socks.
"Her eyes and my eyes just met," her mother said. The look "was just kinda like 'damn.' That's the only word I can use to describe it."
Kathleen imagined her only daughter starting high school "looking like a pirate." Focused on the game, however, Maddie barely let the incident rattle her. She played on, in what Kathleen described as an intensely focused manner—thinking about the game, and not her imperfect smile.
Maddie, now a junior in high school with caps on her two front teeth, is a member of the U.S. under-17 national team. She has been a staple on the national team through 14 or 15 tryouts over the years. They all seem to run together for the 16-year-old, who is more focused on the future than the past.
Her coaches think she might follow in the footsteps of recent Stanford soccer phenom Christen Press.
That sets the bar high. Press is accustomed to success. At Stanford, she set school records with 71 goals and 41 assists over her four-year career. Press won the Hermann Trophy, college soccer's most prestigious award, and was the No. 4 pick for the Women's Professional Soccer League draft. She won the league's Rookie of the Year award, as well.
"Everything she seemed to touch turned to gold," said Jay Cooney, Stanford women's soccer assistant coach.
Press is accustomed to disappointment, too. Press' remarkable talent with a ball at her feet was not enough to win a national championship. Stanford lost both title games during Press' career: 1-0 to Notre Dame in 2010 and 1-0 to North Carolina the year before. Press was drafted by the Florida MagicJack, only to see that team dissolve within the year.
Press had extensive experience with the Olympic Development Program, which each year culls hundreds of thousands of hopeful players across the nation down to one 24-player national team in each age group. Despite her success within the program through the years, Press was cut from the final squad for the London 2012 Summer Olympics. She recently signed a contract with Kopparbergs/Göteborg FC in Sweden, biding her time until she can return to play for the U.S. national team in a title game.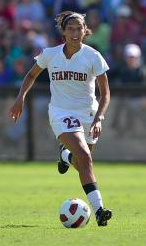 As Press' soccer career hits a road bump, Maddie Bauer's is taking off.
Maddie Bauer stands at 5-foot-7. So does Press. Both have brown hair and hazel eyes, grew up an hour apart in Southern California and played—six years apart—on the same traveling soccer team. The young women have never met, but soon they will share a common legacy. Bauer has verbally committed to Stanford. She'll join the Stanford women's soccer team in eight months.
Though the two young women play different roles on the soccer field—Bauer is a defender and Press a forward—Bauer noted that her journey in the sport seems to follow Press' old path.
Although Press graduated from Stanford in 2010, her legacy on the soccer field continued to impact the Stanford team. A year after she left, the team had an undefeated season and defeated Duke 1-0 to win the national championship.
Bauer is well aware of this legacy. Bauer's club team, the Slammers FC, has sent nearly 30 young women to play on the national team for their age divisions and three players to Stanford.
She finds it difficult to pinpoint a single role model.
"Christen Press is famous," said Bauer. "She works hard and she is fast and she scores."
Press is not the only player Bauer admires. "Mariah Nogueira; I wanted to be her when I got older," she said, citing another Stanford alum who previously played for Bauer's club team. Former Stanford star Cami Levin is another life-long role model. Levin's younger sister Savannah has played with Bauer on the Slammers FC for a number of years.
But Press has cast the longest shadow, not only in the elite soccer circles of Southern California, but around the nation, as well. The mention of her name evokes strong memories from those who have seen her play.
Bill Irwin, Press' former coach on the under-23 national team, vividly remembers one of the first games in which he coached her: Press and an opponent were stride for stride as Press made a break for the net. For a moment, it looked like Press would lose the ball. Instead, "she just knocked the ball past this player and found another gear," Irwin said. "It looked like the other girl was running backward in quicksand." At that moment, Irwin looked at his assistant coach and said, "Roadrunner!"
"That was Pressy," Irwin said fondly, calling her by her nickname. "She was the Roadrunner."
Not only was Press "blessed with unbelievable speed" but Irwin remembers just how hard working and dedicated she was to the sport.
"It would probably be hard not to admire what Christen Press did in her college career because it's as good as it comes," said Matty West, the girls' soccer coach at Mater Dei High School, and Bauer's coach of three years.
Even though West has never coached Press, he knows all about her. Her experience on the national team is "a credit to how talented she is and how hard she works," he said. "I'm pretty sure Christen Press is a big influence on Maddie."
Press was part of a Slammers FC team that won four national titles in traveling soccer.  Press was the "cornerstone of that team, our lead scorer," Slammers FC head coach Walid Khoury said.
Bauer knew she could be a leader on her own team, as well. "I wanted to be that person for girls younger than me," she said.
It is a role that West says she has filled with ease.
"Maddie provides incredible leadership on and off the field," West said. "She has all her teammates' respect and provides a great example for older and younger players."
For now, Bauer hopes to keep her grades up in order to make it through the admissions process at Stanford. Although she has verbally committed to coach Paul Ratcliffe, she must maintain her grade point average and take challenging courses in order to be accepted to the university.
It's a tough challenge ahead for her, given how frequently she has to miss school because of her soccer obligations.
Like Press, Bauer has devoted thousands of hours after school to practicing her sport. And every month for the last few years, Bauer has missed one week of school to travel to distant points across the world with her team. She hopes to qualify with the team to play next fall in Azerbaijan. It would mean missing an entire month of school, but for Bauer, "it would be worth it."
"It ain't pretty, it ain't glamorous," said Kathleen Bauer of her daughter's hectic schedule. But "Maddie has that mental toughness and the ability to handle things when things get tough."
"If she had a different personality, I wouldn't have embraced this lifestyle for her," Kathleen said. "She's wired for this stuff."
Bauer may be wired to play soccer, but she knows how too easy it is to fall from the top. That is why she keeps two goals in mind. She hopes to represent her country on the women's national team in the years to come.
Bauer's top priority, however, is obtaining her college degree.
"Because after soccer, who knows what I'm gonna do?"