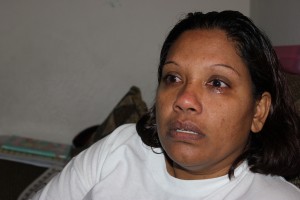 Joseph Maharaj was practically born with a mustache, and that threw everyone off, his mother said with a smile. He always looked so grown up.
In reality, Maharaj was 14 when he was killed last year in South San Francisco. One of two friends he was with that September evening suffered gunshot wounds as well. For Maharaj, the second bullet was fatal.
The shootings are being investigated by the South San Francisco police. Investigators have determined that Maharaj was not the intended target and believe that he and his friends were unarmed. Maharaj had never been identified as a documented gang member, police said.
"My son had nothing to do with it. The kid they shot the first time, he had nothing to do with it," said Maharaj's mother, Aysha Haq. "They're gonna go after these 14-year-old kids, that didn't have guns … they weren't no gang-bangers, nothing."
While homicide rates in San Mateo County have been relatively stable in recent years, government and law enforcement officials in the county are concerned about pockets of violence and the influence of  youth gangs. In South San Francisco, shootings involving teenagers and young adults are "definitely on the high side, with gang involvement going up in recent years," said city police Detective Ken Chetcuti.
"We had gone through a couple years with zero homicides," he said, and then in December 2010, "there was a triple homicide. And we have had two more since then," each involving youths.
County Supervisor Rose Jacobs Gibson has led an effort to understand the effects of youth gun violence in concrete terms. At the end of September, she released a 16-page report titled "A High Price to Pay: The Economic and Social Costs of Youth Gun Violence in San Mateo County," in partnership with the Association of Bay Area Governments.
"The motivation in conducting a financial analysis … was to provide the complete picture of the true impact of youth gun violence to our community," Jacobs Gibson said in an email interview. "The issue is too often communicated as though the incidence of youth gun violence only occurs in certain communities. This report demonstrates how that conclusion is no longer true, not only is gang-attributable instances of youth gun violence on the rise, but that it has an impact on all cities and communities."
"The financial impact is staggering," Jacobs Gibson added. "Non-fatal and fatal injuries of San Mateo County youth from 2005-2009 will cost society an estimated $234 million in medical care, criminal proceedings, future lost wages, disability benefits, and lost quality of life."
Parents who have lost a child can understand the need to look at the problem in a financially quantitative manner. For them, however, the loss is immeasurable.
"They destroyed my family," Ivonne Garcia-Lopez told reporters last June. Garcia-Lopez's infant son, Izak, died in a barrage of gunfire, a result of alleged gang retaliation and mistaken identity, according to East Palo Alto police. Some gang members may have been at a baby shower that Garcia-Lopez attended with Izak, police said, adding that Garcia-Lopez and her immediate family were not affiliated with gangs.
A 17-year-old has been charged with murder with the special circumstance of lying in wait, along with two counts of attempted murder with infliction of great bodily injury and use of a firearm. He will be tried as an adult, prosecutors said.
Michelle Vilchez, the executive director of the Peninsula Conflict Resolution Center, considers Izak's death a tragedy on multiple levels. She said the teenage suspect "is oblivious to the severity of the incident, thinks he's going home soon. He's not on his way home, he's on his way up through the [criminal justice] system."
"[There's] almost this disconnect that the young people have about this activity and what the consequences are going to come from it," she said.
At the Peninsula Conflict Resolution Center in San Mateo, Vilchez and her staff attempt to remove that disconnect. They stress constructive alternatives to violence, such as anger management and problem solving. They have partnered with South San Francisco to facilitate conversations among youth, parents and community leaders.
South San Francisco also has hired new police officers, organized neighborhood watch programs, and met with parents and students to address issues such as rising gang involvement.
"We really believe that when people are able to come together and talk about things in a respectful manner, you're gonna have long-lasting, sustainable results that are going to be transforming not only to the individual but the community at large," Vilchez said.
Haq hopes to transform her community as well —  through discussion about what parents need to do to protect their children in neighborhoods that have seen more violence than in the past.
South San Francisco City Council member Pedro Gonzalez agreed that many parents need to do a better job of understanding their kids. "I'm surprised that so many parents don't know what is a gang, what are the signs," he said. "Parents should be aware of the very early signs of their child getting involved in gangs."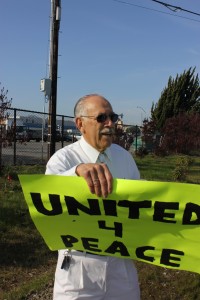 Sometimes, language barriers make that difficult. A number of parents in South San Francisco do not speak English, Gonzalez said. He meets every month with the Spanish-speaking community to address their concerns and increase citizens' involvement in constructive community-based programs. These efforts include Los Hermanos, a program for high school students that encourages them to pursue higher education, and the South San Francisco Coalition for Safe Neighborhoods.
Last month, Gonzalez joined Haq in a peace walk memorializing Maharaj and the other youth killed in recent months.
"We are trying to stop this. We can't do it alone," Gonzalez said. "Police on every block can't do it. Families have to do their part."
As for Aysha Haq, she's trying to do her part as she fights through the grief of losing a son. "It's a difficult time, but I gotta look at it this way: If I continue to fight and if I can make one person's life better, it will be worth it," she said. "The more people that fight with us, the better chances we will have to prevent someone else's kid from getting shot."