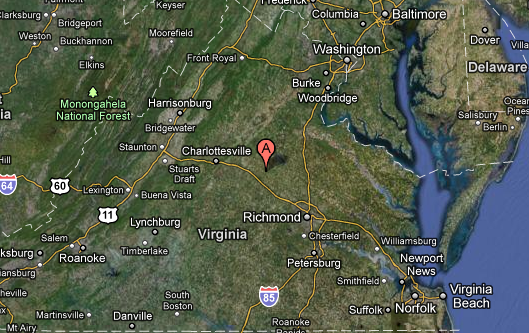 The 5.9-magnitude earthquake that hit Virginia and trembled cities across the East Coast this afternoon prompted evacuations of federal buildings in Washington, D.C. and temporarily halted flights and train service in several New England states.
It also prompted west coast dwellers – especially those in Northern California – to wonder what all the fuss was about.
"We eat 5.9 for breakfast," wrote one reader of the San Francisco Chronicle's website, SF Gate.
Paul Jones, a former Peninsula Press reporter who grew up in Northern California's Marin County and felt the quake while at his current job at the Philadelphia Inquirer, said the quake didn't feel like much at first — especially by California standards.
"I was sitting at my desk when I felt my seat trembling. I thought it might be vibrations from someone walking by," Jones said. "But then I saw my [computer] monitor shaking. In California, it probably wouldn't have drawn too much attention, but it feels like people in Philadelphia are a big more rattled by the event. Fortunately, there doesn't appear to be any serious damage."
A 5.9 quake has the potential to cause more damage on the East Coast than on the West according to Greg Beroza, professor of geophysics at Stanford University.
"The earth's crust on the east coast is different — it allows waves to propagate more efficiently than they do here," he said. "The radii of damage of a 5.9 quake might be larger there."
Beroza explained that the West Coast of the United States lies on a plate boundary — one of the places where two plates in the earth's surface meet. The boundary is known to be "tectonically active," in other words, the plates shift and collide to cause earthquakes.
"Here, we know that they happen, and we know why they happen," Beroza said. "Earthquakes here are inevitable."
But the East Coast of the United States does not lie on a plate boundary. Earthquakes there are rare and caused by intraplate activity, which Beroza said scientists don't completely understand.
"It's a different ball game," Beroza said. "We know that earthquakes can happen [on the East Coast], but we don't know why."
The last 5.9-magnitude quake on record in Virgina took place in Giles County in 1897.
The U.S. Geological Survey reports that today's quake was centered in Mineral, Va. — about 87 miles southwest of Washington — at 1:51 p.m. EDT. There were no immediate reports of death and only minor injuries. Damage to east coast buildings appears minimal, though, the Associated Press reported damage to the central tower and three of the four corner spires at the National Cathedral in Washington.
Beroza noted that the East Coast's older buildings and the less stringent seismic codes further increase the risk of earthquake damage.
Stanford University today re-released 1997 report outlining an index researchers created to evaluate various cities' risks for earthquake damage. The index looks at criteria including the city's size, number of residents, buildings' earthquake resistance, prominence of surrounding areas and emergency response capabilities.
Washington D.C. and Virginia locations were not included in the 10 cities this report examined, but Boston was. Its earthquake vulnerability number, 39, edged out San Francisco's 37.
"Bostonians face an overall earthquake risk comparable to San Franciscans, despite the lower frequency of major earthquakes in the Boston area," the Stanford news release said. "The reason: Boston has a much larger percentage of buildings constructed before 1975, when the city incorporated seismic safety measures into its building code."
Of the 10 other cities in the Stanford study, Tokyo was the most at-risk, with a score of 54.