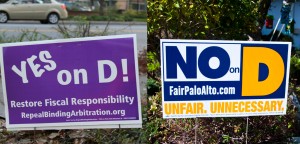 Palo Alto voters on Tuesday passed Measure D by 67.3 percent, ending binding arbitration for police and firefighters.
The measure's passage repealed an article of the City Charter that mandates binding arbitration when contract negotiations between the city and public safety unions come to an impasse.
Tony Spitaleri, a 38-year veteran in the department who also serves as president of the International Association of Fire Fighters Local 1319, expressed disappointment Tuesday night.  "We're going to end up with nothing resolved. A group of people treated like second class citizens," he said.
Yoriko Kishimoto, a former Palo Alto mayor, said she thinks voters "made the right call this time," adding "I do want the firefighters to know that they are tremendously respected and that they've been doing a great job in Palo Alto. I don't think the vote was about that. Sometimes there's a limited budget and we have to negotiate compensation within that bigger picture."
The union has filed a lawsuit challenging the measure's legality.  An administrative law judge put the case on hold until after the election, and Spitaleri said he expected to "find out about the ruling either tomorrow or the next day."
Proponents contended that arbiters often had a pro-labor bias and didn't have to take into consideration a city's finances or how a disputed union contract — which might be hung up on pay raises, pension changes, minimum staffing levels or other issues — would affect other city services, such as libraries and parks.
When contract negotiations failed, "those of us on the city council here have to find another million dollars in revenue or make a million dollars in cuts — and the arbitrator walks away, with no responsibility for that," said Councilman Larry Klein.
Many California cities passed binding arbitration rules following a five-day strike by Vallejo pubic safety employees in 1969.  In 1985, the California Supreme Court ruled that employees who provide "essential public services," including police, firefighters and sanitation workers, cannot strike if contract negotiations go sour.
Public safety unions fought hard to protect binding arbitration, calling the measure unfair and an attack on labor rights.  They argue that, given their inability to strike, arbitration is their only recourse to protect themselves from unfair changes to wages, benefits and working conditions.
"What our [employer] can do if we don't agree is impose their will on us," Spitaleri said.  "We can negotiate for six, seven months.  Without arbitration, they can declare an impasse, and then they can turn around and impose their will on us for a year."
View video of firefighters union President Tony Spitaleri in support of Measure D >>
Spitaleri said binding arbitration is hardly a factor in the city budget, calling it a "red herring" officials are using to reduce employees' organized labor rights. "We've had it for 33 years," he said of the arbitration process.  "I think the awards were a split right down the middle."
But Councilman Gregg Scharff and others said the very threat of arbitration has affected budget negotiations and led to generous public safety contracts.  He pointed to an arbitration ruling a decade ago that retroactively boosted San Jose's pension calculations.  Palo Alto feared a similar result if they went to arbitration, so city officials "gave in," he said, and offered their unions the same pension formula.
Under the current contract, police and fire employees hired before June 2010 can retire at 50 with up to 90 percent of their final year's salary.  That means a fire department employee with 30 years of service who retires at age 50, at the department's 2009 average salary of $103,877, would receive a yearly pension of about $93,500.  If that retiree lived to age 80, his or her lifetime pension would total $2.8 million.
Critics contend that such pensions have contributed to the state's budget problems, calling them unsustainable. In response, Gov. Jerry Brown has proposed a 12-point pension reform package.
Measure D was hotly debated by city officials and organizations before it was even added to the ballot.  Kishimoto said she would have preferred to reform, rather than repeal, the arbitration process.  The council was split between the two paths, but voted 5 to 4 in July to put the repeal before voters.
View video of former Palo Alto Mayor Yoriko Kishimoto in opposition to Measure D >>
That vote came on the heels of a 16-month standoff between the union and city officials.  Before the July vote, the city held hearings to discuss possible reforms, including allowing arbitrators to decide only on wages or only on working conditions. "The firefighters — and the police union as well, but primarily the firefighters — refused to participate in these hearings as to what a potential compromise would look like," Klein said.
Last month the union approved a contract effective through June 2014 that included concessions such as a second pension tier for new workers, employee contributions to pension and medical costs, and elimination of minimum staffing levels.  Proponents of Measure D questioned the timing of the contract approval.  Schaff suggested the firefighters union might try to roll back those concessions if Measure D failed.
When asked about the surge of support for Measure D early Tuesday evening, Scharff said, "I'm thrilled. I trusted the people of Palo Alto would do the right thing."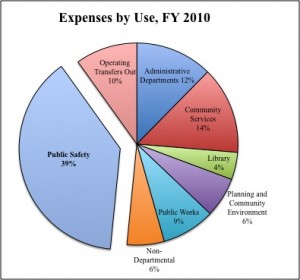 Police costs account for 20 percent, or $28.8 million, of the city's $147 million general fund for 2010. Firefighter costs accounted for 19%, or $27.7 million, according to the city's Service Efforts and Accomplishments Report.
According to the Yes on Measure D website, police and fire costs "have risen 80 percent over the last decade while the costs of other city departments have been largely frozen."
The fire department reports that staffing levels have remained roughly level over the last three decades, with 117 employees in 1976 and 102 in 2009, according to department data.  In 1976, the Palo Alto Fire Department responded to 3,765 emergency calls.  In 2009, the department handled 7,523 emergency calls.
Public safety unions outspent proponents of Measure D by 4 to 1, with the Palo Alto Peace Officers Association contributing $9,875 and the Palo Alto Professional Firefighters putting in $61,413, according to filing statements.  The opposition campaign, dubbed Committee for a Fair Palo Alto, spent most heavily on polling, phone banks and mailers.
The Yes on D campaign raised $18,049, only a quarter of their opponents' total, primarily from individual donations of $500 or less.  Real estate developer Charles Keenan contributed $2,500 and serial entrepreneur Asher Waldfogel gave $1,000.
Even without binding arbitration,  the city must negotiate in good faith with public safety unions, according to an analysis by  City Attorney Molly S. Stump. If an impasse is reached, the city will be able to implement its "last, best and final offer made during negotiations," she wrote.
Peninsula Press staff writers Arti Patel, Archer Zhang and Vignesh Ramachandran contributed to this report.
Follow the Peninsula Press live blog on Measure D and more: