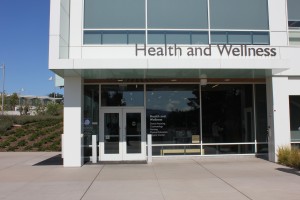 Correction: This article incorrectly reported that San Mateo County's three community colleges had a waiting list of 15,000 people. Each school has a wait list for courses, officials said, and a person may appear more than once on the same list. There were 15,000 names on the combined lists.
A bond measure that sought to raise $564 million to upgrade buildings and technology at San Mateo County's three community colleges failed to gain the required super majority.
With all the votes counted, Measure H was supported by 52.8 percent of voters — shy of the 55 percent needed for passage.
Community college officials could not be reached for comment late Tuesday night.
If it had been approved, Measure H would have financed improvements at Skyline College, Cañada College and the College of San Mateo through higher property taxes. The schools offer everything from associate of arts degrees to job training.
Twice before in this decade, the San Mateo Community College District persuaded voters to approve bonds aimed at upgrading campus facilities and technology. A 2001 measure was for $207 million, while a 2005 vote authorized $468 million.
The nation's economic downturn in recent years has increased demand for community college classes, but state funding cuts have limited the number of students that the schools are able to serve.For the 2010-2011 academic year, San Mateo County's three colleges had 43,061 students and a waiting list of about 15,000, according to state figures.
Compared with California State universities and schools in the University of California System, community colleges serve the largest number of students with the least amount of money.
From previous bond measures, Cañada College was able to upgrade its cafeteria and student activities center. At Skyline College, money went toward a multicultural center, along with facilities for cosmetology and auto technology instruction. The College of San Mateo used funding to create a health center.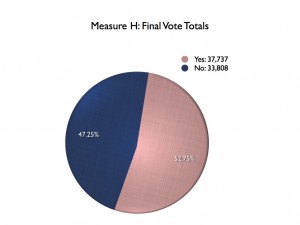 During the campaign, opponents of Measure H criticized the district's spending priorities in recent years. Some were upset that the new health and wellness building at the College of San Mateo includes a fitness center open to the community, rather than being just for students. Proponents countered by saying that the gym fees paid by local residents go back into funding additional classes for students.
A group of College of San Mateo students also objected to the planned demolition of a garden to make way for a parking lot. Though the parking facility was due to be built regardless of  Measure H's fate, the students made it an example of unwise decisions.
"There will never be enough parking. They need to look at what we can do to reduce the amount of people driving," said Shawn Kahn, a leader of the group. "The garden would only be 135 spots for faculty and staff. That garden is the only green space left from the original 1963 campus."
Measure H supporters argued that the bond measure was crucial because the state has eliminated all matching funds for building improvements.
Barbara Christensen, a spokeswoman for the California Community College District, said the state used to pass a facilities construction measure every two years, with the money distributed to public schools and colleges. That has not happened in recent years, leaving the districts hurting for money, she said.
"We have lost more than $200 million in state-funded projects," Christensen said. "This is an investment. General obligation bond funds can only be used for construction or reconstruction of buildings and equipment for those buildings. It cannot be used for salaries or operating classes."
Some students believe that modernizing campuses needs to be a top priority, particularly when it comes to making buildings earthquake-safe. "More money to schools is always a good thing," Cañada student Jonathan Saflor said.
Retired Menlo Park resident Corinne Barkin said she supported the measure because the colleges are community assets.
"I have taken community college classes for a number of years to nurture my interests," Barkin said. "Cañada is five miles from my house. I don't have an issue with the measure. It's for education. My friends and I all use the college as a resource. My husband is retired as well and takes classes there, too."
Peninsula Press staff writers Elizabeth Hinckley and David Ruiz contributed to this article.