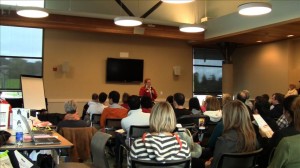 With its lagoons, manicured parks and marinas, Redwood Shores is a picturesque place to live. But if a natural disaster strikes, the community that juts into the San Francisco Bay could be a nightmare to evacuate.
That is why emergency preparedness has become a civic priority.
Ahead of today's nationwide test of the Emergency Alert System, Redwood Shores resident Ramona Ambrozic organized a community open house. About 80 people crowded into a library community room on Saturday to learn how to get ready for earthquakes, flooding and other disasters. A similar event was held last spring.
Ambrozic said she was motivated by the devastating earthquake in Japan earlier this year and the subsequent conversations she had with her neighbors.
"I was shocked that most of them had nothing at all in the way of preparation for an earthquake," Ambrozic said. "They didn't have water. They didn't have flashlights, candles, anything. So I thought this is not a good thing. We're out here in a neighborhood where … we could end up one day with no power, no water, and the firemen are going to be very busy."
A limited number of roads connect the Redwood City community of about 12,000 people to the main Peninsula. Residents wanted advice on how to evacuate in the shortest amount of time.
"They wanted to know how they should prepare for the eventuality of the children being in school and they couldn't get to them—how these kinds of things would be handled should there be an emergency," Ambrozic said.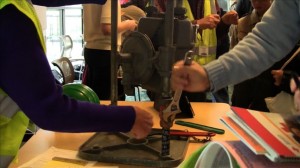 Nawied Amin, an American Red Cross volunteer who lives in San Bruno, encouraged families to formulate a plan in advance and pre-pack an emergency kit. Too often, he said, "People are apathetic unless something happens to them or their family."
After last year's underground pipeline explosion in San Bruno, "I think there's more awareness now, especially here in the Peninsula," Amin added. "No one ever would have thought something like that would have happened in San Bruno."
One of the tables at Saturday's event featured local Community Emergency Response Team (CERT) members, who showed Redwood Shores residents how to shut off their home gas lines if need be. Kent Soohoo, a team member who lives in the community, said, "CERT is a way for people to get trained up to a level where professionals, as in firemen, can trust them to go out and help other people without getting themselves hurt."
There are about 100 team members in Redwood City, Soohoo said. Budget constraints, however, have put a temporary hold on CERT training provided by the city.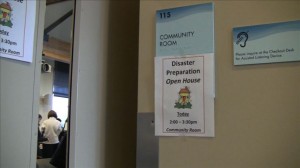 In addition to having an earthquake preparedness kit, residents should sign up for the CodeRED Emergency Notification System, according to Malcolm Smith, Redwood City's public communications manager. In an emergency, the system will contact residents based on targeted locations.
Occasionally, the city hosts "Are Your Ready?" disaster preparedness classes on how to get through a disaster safely.
"We plan to do this again in the spring, given that we've now recognized that there is not only a need but an interest in the community in preparing," Ambrozic said.