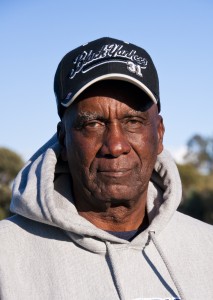 For most people at 79, life means retirement, enjoying visits by grandchildren and getting away from the pressures of work. Bob Hoover just started a job with the East Palo Alto Police Department.
He's not giving the occasional tour or taking on a ceremonial position, either. Hoover has been asked to re-start the city's parolee reentry program.
The program, in partnership with Peninsula-based nonprofit organizations, will provide job training and logistical support to people recently released from prison. The demand is expected to be considerable in the wake of a U.S. Supreme Court ruling that ordered California's overcrowded prison system to reduce its inmate population by more than 30,000.
"Hoover is someone who can lead people to find their self-worth and self-esteem," said the Rev. Andre Harris, pastor of Born Again Christian Center in East Palo Alto, who is helping to recruit mentors for the program. "He tried to retire several years ago. The community just kept on asking him to come back."
A North Carolina native who earned his master's degree from Stanford in 1960, Hoover is returning to a role he left a year ago, with one crucial difference: Now the reentry program is run by the Police Department.
Previously, East Palo Alto outsourced the services to a group of nonprofits. Hoover, as director, had to rely heavily on state funding. The program served 205 parolees before it ended on June 30, 2010, when the state money dried up.
Hoover was brought back in late October of this year after the City Council allocated $198,000 in Measure C funds. Approved by voters in 2006, Measure C is a special tax levied on property owners to support crime prevention and law enforcement programs.
Not everyone believes Hoover's program deserves as much city funding as it has received. Johnnie Gray, president of the East Palo Alto Boxing Club, which is seeking Measure C funds, questioned the need to hire managers to introduce existing programs to parolees. "Those organizations like Job-Train are not funded by the program," Gray said. "They are already there, and there is no need to hire somebody to tell those parolees where they are."
In an interview, Hoover said people who have been in prison for a long time need certain types of training when they are released, including practical information on how to get a driver's license and search for a job online. Many have never used a computer, he said.
They also need help adjusting to a lack of structure. "In prison, they were used to being told to do everything — from when to get up, when to eat, to what they can do all day long," he said.
According to the East Palo Alto police, fewer than 20 percent of parolees return to jail after successfully completing a re-entry program.
Program director was not the job Hoover wanted when he was called in 2008 by David Lewis, co-founder of the drug-rehabilitation organization Free at Last. "I have been doing community service for so many years," Hoover said. He told Lewis that he'd only agree to be listed as a program consultant.
The program didn't take off in the hands of its first director, though, and Lewis turned to Hoover. "David said, 'You have to do this,' " Hoover recalled. "He said this is basically what you have been doing for decades — taking care of people and treating them with dignity and respect."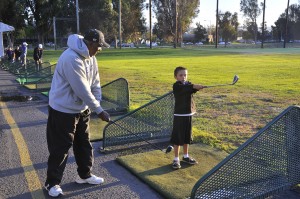 For years, Hoover had run the East Palo Alto Junior Golf Program, which he established in 1991 to teach children the game and to offer them guidance on everyday concerns.
"Bob is a person who is extremely passionate about helping people who may need some help," said Brandynn Williams, a basketball coach who helped him with the golf program. "With his background, he can do bigger things. But for him, always staying in the community to help out people is his big thing."
After graduate school, Hoover started his career as a physical therapist at the Veterans Administration Hospital in Palo Alto. At a time of racial segregation, he said, he could not buy a house in the city. East Palo Alto, with a majority-African American population at the time, was an easy choice for a newly married couple; his wife was still studying at Stanford.
In 1962, he and a friend started a youth program, setting up a community house where children could watch movies and play basketball after school.
Around that time, San Mateo County exchanged land — now the site of the Palo Alto Golf Course — with the city of Palo Alto for some inland territory. Residents of East Palo Alto, which was not yet a city, were furious about what they viewed as their land being traded away.
The community started to look for an organizer to protest, but couldn't find any at first. "So they came and asked me," Hoover said.
"I'm not a community organizer. I'm just a person working with kids," Hoover recalled saying. But he said people liked what he did in the youth program, and he decided to give a try. He quit his job at the hospital in 1965 and has worked as a community activist and educator for nearly five decades.
His career as a counselor even shapes how he dressed today. "I have shirts from probably 10 different colleges, some from ones my kids went to and some I went to," Hoover said.
It is not just about being proud of his family. As a teen counselor, he said, he wants to promote college education among youth. "Almost every time, I wear it as an advertising for college," Hoover said. "I want this to be in front of those kids all the time so that when I talked to them, they will always see the college name."
[youtube]W-RFzNRHRjI[/youtube]