[cincopa A0GApwKEr9Gm]
Redwood City's annual Hometown Holidays celebration featured all the usual winter scenes: carolers, ice sculptures, candy-apple vendors, and fawn-legged toddlers wobbling and toppling on their silver-bladed skates.
But in this sunny patch of the Peninsula, things can only get so wintry. There's no ice on the new ice rink.
A 4,020-square-foot sheet of lubricated plastic doubles as the real deal for skaters in Courthouse Square. City officials have considered installing a traditional rink for years, but the cost of keeping it frozen was prohibitive, according to Christopher Beth, the director of Parks, Recreation and Community. Ice rinks are typically kept at 25 degrees Fahrenheit. Already this month, the high temperature in Redwood City reached 73, which helps explain why the total first-year estimate for a real ice rink came to around $200,000.
"The ongoing cost of electricity for keeping the ice for nine weeks was well out of our price range," Beth said.
The synthetic rink, which does not require refrigeration, cost $47,000 for the initial year's installation and maintenance.
Synthetic ice rinks are often used in malls and on cruise ships. In November, the San Francisco Zoo switched from real ice to synthetic, citing the energy and water savings. Redwood City's rink is made of panels of white plastic, measuring 45-by-90 inches, jigsawed together. The company that installed the rink, Artificial Ice Events, describes the panels' consistency as a "solid piece of countertop."
The panels are sprayed periodically with a silicone-based lubricant, which the plastic absorbs. Skating on ice is made possible by the friction beneath a skate, which causes the ice to melt and a bit of water to form. On a synthetic surface, the lubricant itself allows skaters to glide.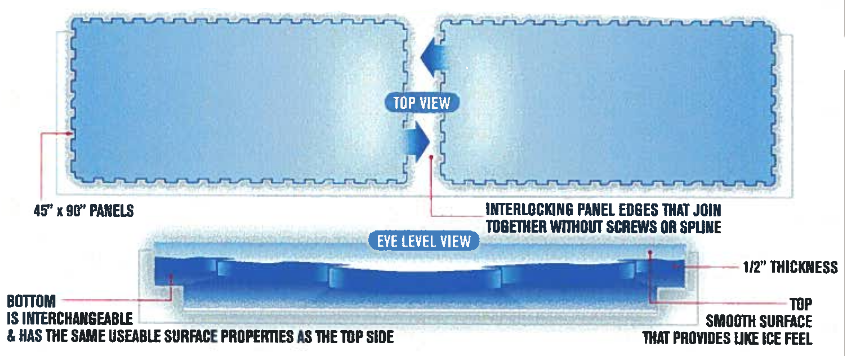 This isn't a perfect process. Beginners tend to like the artificial rink more than skating "purists," as Beth describes them. The cracks between the panels aren't noticeable, but the plastic and lubricant behave differently than real ice. Skaters in Redwood City notice a slightly slower glide.
For some, slowness is a good thing. People new to skating tend to step instead of glide, which is made easier with a little more friction. And slower speeds mean that when you fall, you hit the ground with less force.
"We've had really positive comments from kids falling, like: 'Hey I don't get hurt!'" Beth said. Joe Oneiberos of Redwood City took his 3-year-old daughter Nevaeh onto the rink during Saturday's Hometown Holidays event. Though he hadn't been aware that the rink was artificial, Oneiberos still left happy. "(Kids) can't tell the difference," he said, smiling at his daughter. "That's what matters, that they enjoy it."
The city has hired staff to patrol the rink and give complimentary guidance to first-timers. Beth suggests that beginners overcome the urge to step, even on the higher-friction surface, "If you let yourself glide you'll have a better experience," he said.
Some people don't notice the difference once they've become accustomed to the synthetic surface. "It just takes some getting used to," event staffer Albert Romero said. "The second time it was just like ice." He and his co-workers saw brisk business Saturday; they sharpened skates, monitored safety and kept filing people onto and off of the rink. Festival attendees crowded into the line, many eager to try something new.
The rink opened on Nov. 18 and won't close  until Jan. 16. Admission is $10 on weekdays and $12 on weekends, including skate rental.
Beth said the rink generated nearly $12,000 in its initial two weeks. Between this money and the $30,000 local businesses donated, the rink has already covered most of its start-up costs. Beth said there's a larger goal: "To bring people to the downtown during the winter months."
[youtube snyyDqi6wZ0]