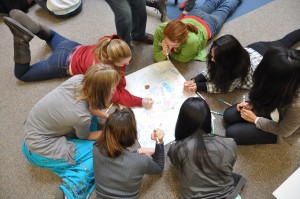 A later school start time and new block scheduling. Hundreds of teachers, counselors and parents trained in suicide recognition and intervention strategies. Mushrooming of student-led outreach organizations. Heightened sensitivity to the way students talk about stress, and renewed evaluation systems to understand teenagers' well-being.
In the two years since five teen suicides alarmed the Palo Alto community, many changes have taken root, a source of pride for school and civic leaders.
"No one has forgotten what we went through or the precious lives we lost, but we're able to talk about it more openly," said Paul Dunlap, a teacher at Henry M. Gunn High School and adviser to one of the peer counseling groups. "It seems as if people are more comfortable being nosy with one another, in a good way. I've seen staff and students ask each other how they're feeling, if anything's wrong, if they can do anything to help."
A recent $2 million commitment from the City Council is expected to expand these efforts, which so far have relied on hundreds of volunteer hours and a patchwork of funding from organizations such as the Palo Alto Recreation Foundation and Lucile Packard Children's Hospital.
But some holes remain in the safety net. Interviews with several students who attend the city's two public high schools, Gunn and Palo Alto, indicate that some teens are unaware of the many programs intended to help them and of the organizations fueling the change.
"I think it's cool that the city is doing stuff, but I haven't heard of anything," said Chandler Gardiner, 16, a junior at Gunn. She is a student leader of "Reach Out, Care, Know" (ROCK), a peer counseling and support group at her school.
Addressing the deep-seeded academic pressures that exist in high-achieving Palo Alto has been a slower, more complicated process than some envisioned. Students cite the drive to succeed as a common source of stress.
"Living in a town where so many people are successful—like Steve Jobs lived here—it does make students strive for academic excellence," said Fariha Beig, 16, a junior at Palo Alto High. "That is hard for students to work with because sometimes we are trying our best and we still aren't getting the result we want … it stresses us out."
Outpouring of support
May 2012 will mark the third year since a Gunn student ended his life at a train crossing near his school. In the eight months that followed, four other student deaths were classified as suicides.
In response, the community united to comfort its teenagers and identify ways to support them. The City Council established "Community Collaboration for Youth Well Being" as one of five priorities for both 2010 and 2011. Project Safety Net, an umbrella organization, grew out of a city and school community task force. "The project looks across all sectors – the business community, academia, the faith community, schools and youth – to say, 'How can we all do things to address this issue?'" Palo Alto Mayor Sid Espinosa said.
One of many challenges the project faces is addressing the complexities of Palo Alto's demographics, which lean heavily toward academic achievers. Results from the 2006-2010 American Community Survey, a U.S. Census project, revealed that 48.7 percent of city residents 25 and older hold graduate or professional degrees.
"Teens will tell you they do not run into someone who's not successful," Espinosa said. "Where's just the everyday, not phenomenally successful person … the parent who doesn't have three graduate degrees?"
In her role as a student leader for Break Through the Static — a Bay Area support group for people affected by suicide — Beig emphasizes the importance of teens getting involved with activities to relieve stress, such as sports. She also advocates finding a support system; for her, it is her mom and sisters.
Letitia Burton, a teacher and adviser at Beig's school, Palo Alto High, recognizes the need to challenge assumptions students may hold about success.
"I don't think that the right kinds of messages are being delivered in the community," Burton said. "The belief that you need to get into these very select, elite colleges to have a successful life is just ludicrous."
Given that much of Palo Alto derives identify from attracting the best and the brightest, there's no easy answer for how to balance achievement with a sensitivity to the pressure it creates.
"The good news is that this is a community that recognizes … a problem," Espinosa said. "[It] wants to do everything it can, and has really pulled people across sectors to think about what can be done."
Teen survey
In July 2010, Project Safety Net released a 70-page report highlighting the organization's 22 community outreach strategies falling under the general categories of education, prevention and intervention.
One of Project Safety Net's priorities is to train adults who interact with youth regularly to be "Gatekeepers" in suicide recognition through the "Question, Persuade, Refer" (QPR) program. So far, all counselors and psychologists in the Palo Alto School District, along with members of the Palo Alto City Community Services Council, have received QPR training.
"We have got hundreds of Gatekeepers trained and … 10 trainers in Palo Alto to train others, so that certainly is a big step," said City Recreation Manager Robert De Geus, co-chairman of Project Safety Net.
Other steps include working with the City Council to adopt a suicide-prevention plan and collaborating with the medical community to educate the public about mental health issues. Community education has focused on reducing stigmas, according to  Dr. Shashank Joshi, a child and adolescent psychiatrist at the Lucile Packard Children's Hospital and a Project Safety Net executive committee member.
"We found that in some ways, when we're on the ground in the schools, being able to help teens understand depression as a medical illness has been helpful in the destigmatizing process," Joshi said.
Project Safety Net and the Palo Alto Unified School District established community partnerships with organizations such as Project Cornerstone, a Santa Clara County-wide collaborative formed to help youth feel valued and respected. "The model we promote is called the developmental asset model," said Anne Ehresman, executive director of Project Cornerstone. "The more assets a youth has, the more likely they are to thrive, avoid negative risks and avoid suicide."
In 2010, the Palo Alto Developmental Assets Initiative surveyed more than 4,000 students in the Palo Alto school district. Results showed that fewer than 25 percent of high school students believe the community values teenagers, and 13 percent reported feelings of depression most or all of the time in the month preceding the survey.
The survey sought to measure 40 factors, known as "assets," that help teens thrive. High school students in Palo Alto averaged 21.2 assets, the survey found. According to Ehresman, 31 out of 40 is the "optimal zone."
The results prompted Project Safety Net and its partners to emphasize the need for further asset building in schools and the community."Everybody can be an asset builder if you understand what the development assets are," De Geus said. "You can, with a little more attention, try and build those assets with those kids in your life."
The survey will be repeated in 2015 so the results can be compared with those of 2010, according to Terry Godfrey, chairwoman of the Developmental Assets Initiative sub-team of Project Safety Net. Project leaders hope this data will help them evaluate the impact of their initiatives.
"It's hard to measure in a quantitative fashion, but there have been good reflective practices around qualitative evaluation," Joshi said. "Are we doing what we said we're going to do, [which] is to create an organization that maintains the well-being of Palo Alto's youth? I think the answer is yes, and the work needs to continue."
Student perspectives
Students at Gunn and Palo Alto High have noticed that their peers are more sensitive in the language they use to describe stress.
At Gunn, students also credit "ROCK," started in 2009 by friends of a peer who died by suicide, for training peer counselors, whom they often see as more approachable than adults.
"What we're trying to offer students is a toolbox to talk to other people," ROCK student leader Gardiner said. "To the student body in general, we are trying to give them someone to talk to who is a peer … someone who understands where students are coming from."
ROCK has expanded to include more than 40 trained student counselors who offer sympathetic ears during drop-in sessions at the school library.
Burton, who teaches a "Living Skills" student wellness class at Palo Alto High, noted organizational changes made by the school to try to alleviate stress. Examples include a later start time of 8:15 a.m. and adopting a block schedule with longer class sessions, so classes don't meet every day.
"Living Skills," a graduation requirement for the Palo Alto Unified School District, employs social science frameworks to discuss student health and personal wellness. The lesson on mental health issues and campus resources was "beefed up," she said.
Despite these promising culture shifts, many students do not realize all that's going on. Espinosa said that when he met with the well-informed editorial board of journalism at Palo Alto High, the students indicated a lack of awareness about Project Safety Net and its services.
Beig echoed Espinosa's sentiment. "Students don't know much about what the school board and City Council and Project Safety Net are doing," she said. "Once these organizations start better informing students about what they're going to do, it will help them and students in the long run because ideas from both sides will be intertwined and it can be a more transparent process."
De Geus said Project Safety Net's goal is to effect change in the community, not to promote its name.
"Some students are more aware than others," De Geus said. "What we're most interested in is not so much whether they know about Project Safety Net, but have they noticed a difference in life on campus? We've seen an increase in the number of people checking in [for counseling] and that's a good thing. It's those things that we'd like to see that speak to our strategies, rather than if they know what Project Safety Net is."
Editor's note: According to Project Safety Net, if you or someone you know needs help, call Adolescent Counseling Services at (650) 424-0852. For emergencies, contact the Santa Clara County Suicide & Crisis Center  (855) 278-4204. The center is staffed at all hours.
[youtube]yPLhl0ap-AA[/youtube]