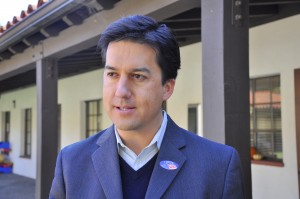 The first thing to know about Sid Espinosa is that the energetic Palo Alto mayor says he sleeps only two or three hours a night – and never drinks coffee.
"You can email Sid at 2 in the morning and he responds 10 minutes later, and then you can email him again at 7 a.m. and he still responds right away," City Council member Greg Scharff said.
The next thing to know is that the city's first Hispanic and fourth-youngest mayor juggles his elected duties with a fulltime job as Microsoft's director of citizenship, focusing on Bay Area philanthropy. "Basically, it's two 80-hour per week jobs," Espinosa said.
And then there's this: He grew up in a rural area of Gilroy, a far cry from Palo Alto's fast-paced technology scene. "We had one set of neighbors the same age as us," his sister, Tami, said. "Other than that, you'd have to go miles before you had people your same age."
Finally, he's a politician who rarely draws lines in the sand.
"Sid is not the person who will run to the front of a controversial issue after it has clearly become controversial," said Gary Fazzino, former two-time mayor of Palo Alto.
These various sides of Sid Espinosa were on display in the weeks leading up to Palo Alto's Nov. 8 elections.
The consensus-builder declined to take a public position on the hotly debated Measure D, which sought to repeal binding arbitration for city police officers and firefighters. Espinosa was on the losing end of a 5-4 council vote to put the issue before voters. He preferred a more comprehensive approach, looking at the compensation system for public safety employees in light of long-term city finances.
In the aftermath of the council's vote, he mostly offered diplomatic responses to questions about Measure D and stayed on the campaign sidelines.
"In general, I like the approach of, we should be able to make these decisions as a council," he said in an interview before election day. "But sometimes it's good to get to the voters."
Espinosa did take a public position, however, on Palo Alto's other divisive ballot issue: Measure E, which asked voters to un-dedicate 10 acres of Byxbee Park with the intention of building a composting site.
The Gilroy-bred nature lover in him left no doubt where he stood.
"I am a big believer that policy making is about compromise," he said before the election. "The only thing I said when I was initially running for office that I wouldn't compromise on is getting rid of parkland."
Measures D and E both passed.
"My initial reaction was disappointment, but not surprise," Espinosa said of the voters' decision to authorize developing parkland. "The Yes on E campaign had raised significantly more money and run a very strong grassroots campaign of knocking on doors and getting different constituency groups energized about their position."
One-on-one politics 
Espinosa knows a thing or two about grassroots campaigning. He reinstated mayoral office hours and brought City Hall to Palo Altans through a "Mobile Mayor" initiative, in which he attends various community events such as farmers' markets to interact with constituents, answer questions and seek feedback.
Community involvement and meeting with people one-on-one are hallmarks of his style, according to council colleagues.
Each January, a new Palo Alto mayor is selected from among the nine-person City Council to serve a yearlong term. On Jan. 4, 2011, the council unanimously chose Espinosa, who had served as vice mayor the previous year and been on the council since his election in 2008.
A mayor at age 38, Espinosa had already been director of global philanthropy for Hewlett-Packard, worked at the White House in the Clinton administration and served as an adviser to one of his mentors, Attorney General Janet Reno. He also worked for the U.S. Ambassador's Office in Belize.
"Sid has had a meteoric rise," Fazzino said. "People typically need to be in the community and active for 10, 15 years before they are considered a serious candidate for City Council. Sid had been here for six or so years."
In addition to his resume, what accelerated Espinosa's council candidacy, according to Fazzino, was his involvement with civic committees that allowed him to collaborate with Palo Alto leaders. His job with Microsoft also provided a background in community engagement.
"Sid has raised the profile of Microsoft's considerable philanthropic investments and activities in Silicon Valley with elected officials, community leaders and academic leaders by virtue of his connectedness and hard work," said Doug Free, Espinosa's colleague at Microsoft.  The mayor said he recuses himself from city matters that create a conflict of interest with his Microsoft affiliation.
Espinosa, who graduated from the Kennedy School of Government at Harvard University, explained that "I was serving on boards in the community and getting public partnerships established with the city, and people said … 'You should think about running.' "
Now, he is approaching his final months as mayor, a tenure colleagues say will be marked by Espinosa's ability to build consensus among a diverse collection of voices.
Perhaps his highest-profile accomplishment was the council's approval of the Stanford University Medical Center expansion, which Espinosa describes as the largest development project in the city's history. Fazzino praised him for playing a key role in moving the project along as quickly as possible.
But being the mayor of one of the world's tech hubs can cause some confusion.
"People come up to me and ask, 'you're the mayor of what?'" Espinosa said. "When I tell them I'm the mayor of the city we're in, they'll often say, 'you mean, on Foursquare?'"
Path from Gilroy
Growing up in Gilroy, the son of a Mexican immigrant father and a Norwegian-Scottish mother, Espinosa ran track and cross-country and was involved with community theater, accumulating a repertoire of leading roles including Joseph in "Joseph and the Amazing Technicolor Dreamcoat."
His younger sister never guessed he would enter politics one day; she thought he would become a movie star.
In college, as an undergraduate at Wesleyan, Espinosa impressed friend Matt Bahls with his ability to find balance during the fraternity pledge process when many peers were "off-kilter." Bahls added, "He was always playing chess at a higher level, which I think has only served him well in politics."
Away from work, friends and family say the mayor is a down-to-earth, quirky guy who enjoys "Glee" karaoke, photography, traveling and movies.
And while those who know him best believe higher office is in Espinosa's future, his sister says anyone's guess is as good as hers.
"My dad asks him, 'So when are you going to be governor? So when are you going to be president?" she said. "But I'm as curious as everyone to see what his next step will be."