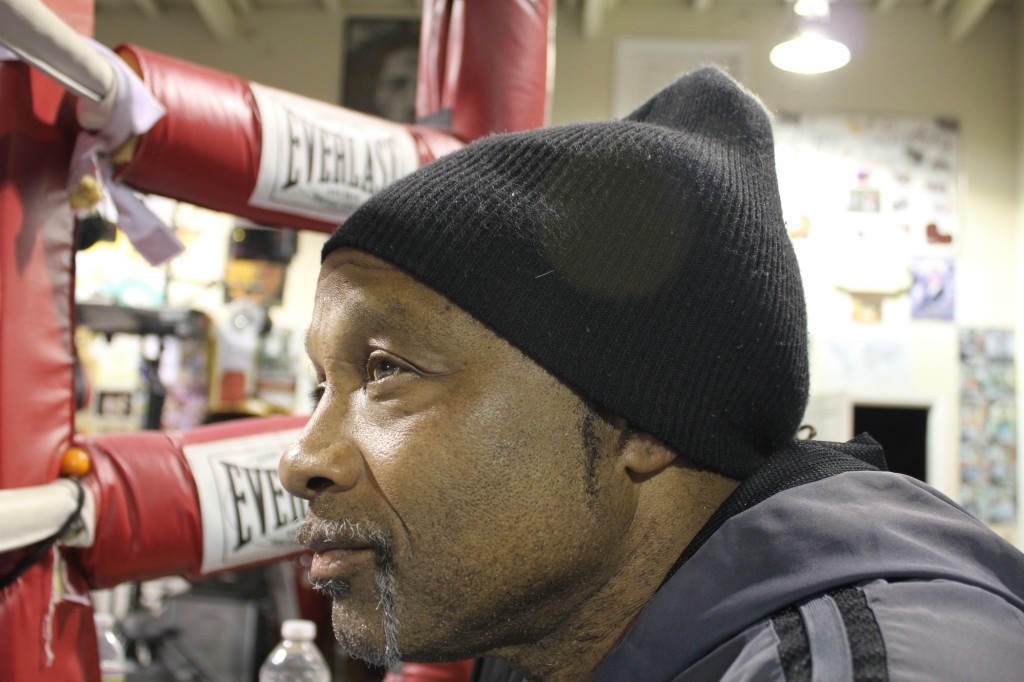 "I can build a house from the ground up," Johnnie Gray Jr. declared, raising his hands dramatically as if to prove the point.
Currently self-employed, Gray works in construction, but when he is not remodeling homes or assembling car engines from scratch, he is running the East Palo Alto Boxing Club. There, his goal is to rebuild lives.
Tucked away at the barren end of Pulgas Avenue, the gym provides young men and women with a temporary haven from the temptations of the city's streets. Gray invites his boxers to leave their troubles outside the door, to expand their physical and mental capabilities while taking jabs inside the ring.
"These kids have nothing to do, and the devil is right outside waiting for them," said Gray, a 54-year-old former amateur boxer.
Typically dressed in track pants and a T-shirt, his long dreadlocks tucked beneath a cap, Gray is constantly on the move. He's part trainer, part father figure for the 20 to 30 teens and young adults who use the gym daily — one minute repairing the laces of a boxing glove while chatting with children about school, and the next minute replenishing the food cabinet, which is marked "Free. Please Help Yourself."
As a nonprofit organization, the club charges a fee that varies depending on a person's age and financial situation, Gray said. Mostly, he relies on grants and private donations.
"I have never turned down any kid (who) cannot afford the $25 or $35 fee, because many people in East Palo Alto have no money," he said.
Jesse "Go to Work" Henderson, one of the boxers, praised Gray as "more than a trainer. He gives me knowledge about my history and culture." Henderson also got his nickname from Gray. "Johnnie calls me that because I go to work in the ring ," he said, playfully.
Henderson, 19, has a history of street violence but said he has not been in a fight outside the gym since joining Gray's club a year ago.
Ariana Farias, 22, is another success story. After spending her early teenage years in and out of jail, unable to escape a cycle of drugs and violence, she ended up at Gray's doorstep at 15. Farias said his training and guidance helped her control violent urges and nurtured her into caring for herself and others. She is now a college graduate working for a psychiatrist as a certified medical assistant.
But it's more than personal attention that draws people to the gym. There's an energy to the place. Loudspeakers blast contemporary and "old school" tracks, and that soundtrack merges with the pervasive noise of boxers panting and leather slamming against even harder leather.
"It's the old-school characters like Will (a volunteer trainer), the pictures of famous fights all over the walls, the live fights playing on the television, that keep me coming back," Henderson said.
Sometimes Gray will halt all activity to offer a life lesson, such as the importance of  cleanliness. "This is like your home as well, and I know that some of you do not care about keeping your own rooms clean, but I am not having it," he shouted one recent day, while collecting several half-empty soda cans scattered across the gym.
Repeating phrases like "Who's the champ?" and "Who's going to stop you?" in the ring, Gray keeps his trainees focused and motivated. "He makes me believe I can achieve anything I want," said Fatima Alcantar, a 21-year-old flyweight who is the club's vice president.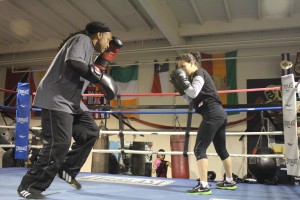 Despite its healing qualities, the gym is rough around the edges, much like its founder.
Some of the boxing bags are in bad shape, with duct tape used to repair years of damage.
Gray's no-holds-barred style doesn't work with everyone, either. A few members of the East Palo Alto City Council, for example, have grown weary of his verbal tirades at their meetings.
"He berates the council and hurls accusations at us regularly," Mayor Carlos Romero said, before adding, "It is his First Amendment right to be an advocate and speak his mind."
Gray has been a fiery speaker at council meetings for years. Lately, his efforts are focused on obtaining Measure C funds from the city to help him run the gym and enhance its outreach by expanding into a cultural center. He would like to offer arts and crafts, vocational training, talent shows and more.
Measure C is a special parcel tax approved by voters in 2006. The money is to be distributed among law enforcement and violence prevention programs. Being a nonprofit that helps youths who are prone to violence, the boxing club should get a larger share of city money, Gray has argued.
"The $80,000 they have given me over eight years is not enough to run a club whose rent is $2,000 a month," he said. "And less than 30 percent of this amount has come from Measure C."
Mayor Romero said the council has a responsibility to distribute the money to collaborative initiatives that show "quantitative results," as opposed to individual programs that display "anecdotal results."
"Mr. Gray has to learn to leverage the money the city has already given him and not rely on public funds indefinitely," Romero said.
Gray's determination has won the club non-government funding over the years. According to Gray, his application with First Harvest Food Bank was approved the same day he gave a presentation to the organization about the club's goals and successes.
Gray grew up in East Palo Alto and gradually watched most of his childhood friends disappear from his life – ending up behind bars, in crack houses or in the morgue. Boxing kept him focused, in shape and away from the "mad world" outside, he said.
"Johnnie is a fighter," said his wife, Stephanie Johnson-Gray, who added that she herself did not have the patience to dedicate so much time and effort to wage uphill battles for funding. She acknowledged that her husband's behavior at council meetings can be aggressive. "Johnnie insists that it wouldn't matter if he was as soft as a kitten, they still won't listen to him," she said.
Johnson-Gray knows that her husband will not give up, though. His passion to make a difference in the lives of East Palo Alto youth is what drives him to fight for the gym's survival, she said.
"It motivates Johnnie when young adults approach him in the street and tell him how he has changed their lives," Johnson-Gray said.
The couple, together since 1973, have two children, Johnny III and Erica, as well as five grandchildren. "My children were never involved in the club, but I consider the kids at the gym my children too," Gray said.
His grandson also carries his name, Johnnie the fourth. "I am just trying to keep the line going," Gray said, "because I know that one of them is going to make history."
[youtube]v=TPCrAPooR98[/youtube]