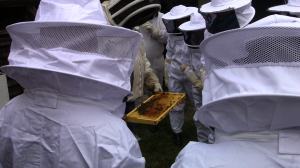 When Round Rock Honey decided to expand its beginner beekeeping school beyond the borders of Texas, its first stop was the suburban peninsula south of San Francisco.
In San Mateo County, Round Rock found a natural location to recruit a new crop of apiarists, sandwiched between eco-oriented San Francisco and the rolling hillsides of the Silicon Valley.  The region's beekeeping guilds were robust and welcoming to new members.
Round Rock had been working with the online discounter Groupon to reach out to the general public.  Owner Konrad Bouffard said the response to the Peninsula Groupon was "bigger than we had ever gotten."  In just a few days, about 1,000 people in the San Francisco and San Jose region had snapped up the deal.
View video from Round Rock's beekeeping class >>
For those who aren't afraid of bees, it can be a fairly low-impact hobby.  Franklin Carrier, who has been keeping bees since the 1950s, said that after learning the ropes, amateur apiarists can spend less than an hour a month maintaining a couple of hives.  Bees "can take care of themselves," he said. "They don't need our help."
While the hobby may be easy to pick up, the ordinances that govern residential beekeeping are anything but.  Apiary regulations are sometimes found in zoning codes, animal control ordinances, both or neither.  Some cities make their own rules, and others adopt whatever the county does.  Still others provide no regulations at all.
There's also the tricky question of whether to follow rules that the government doesn't actively enforce.  California law requires all beekeepers to register with their county's agricultural commissioner, but the state doesn't provide funding for enforcement.  Santa Clara County Agricultural Commissioner Kevin O'Day said he received 28 registrations in 2010, a small fraction of the actual number of beekeepers in the county.
Palo Alto requires residents to get written consent from all of their neighbors before starting a colony; then, they are limited to two hives that must be kept at least 25 feet from the property line.  Foster City bans beekeeping.  San Jose issues permits for residents to maintain up to two hives.
Redwood City outlaws apiaries within 150 feet of any residence.  In Los Gatos and unincorporated areas of Santa Clara County, apiaries must be 1,000 feet from any "residence, church, school, public building, corral or water area," unless the beekeeper gets written permission from everyone within that radius.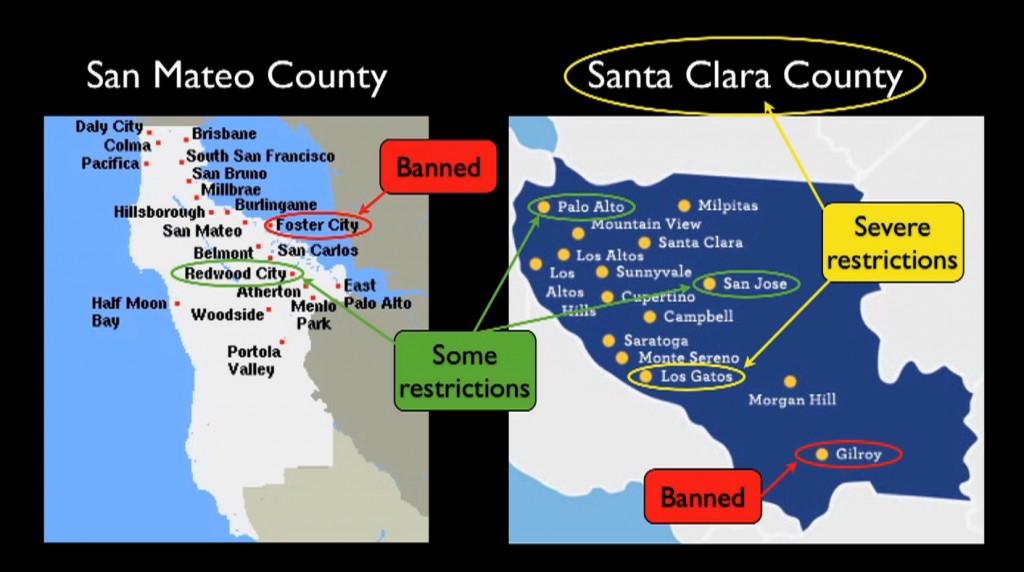 Such severe distance requirements effectively ban beekeeping in most places and have prompted some to rebel.  On a beesource.com forum, a local poster named MastoDon said he feels "crappy having to become a law violater just because I want to keep bees. … I hate scofflaws and now I are one."  Several responders advised him to "put the bees where they can't be seen.  Don't tell your neighbors.  Hope they don't swarm over to the neighbors property."
Even if a beekeeper follows every municipal rule, neighbors could seek to have the hives removed by filing a nuisance complaint.
That's why Richard Baxter, president of the Beekeepers Guild of San Mateo County, urges people to talk to their neighbors before they set up hives — and sweeten the deal by sharing honey now and then.
"You have to appreciate the fact that even though we work with the bees day in and day out and rarely get stung … that doesn't mean anything to the person who is scared of bees," he said.  "Their problem is real.  It shouldn't be ignored."
Eric Mussen, an apiculturist at UC Davis, said reactions to bee stings can vary but "not many people become deathly allergic to bees."  Still, many beekeepers keep epinephrine injections on hand in case of emergencies.
Given the medical and emotional reactions bees can incite, cities may want to start updating or clarifying their regulations sooner than later.  Interest in amateur apiculture is expanding rapidly nationwide, Mussen said.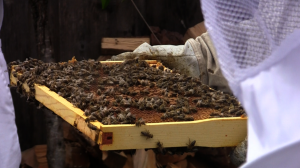 Bouffard got into the business at just the right time.  He started Round Rock about a decade ago, selling honey at local farmer's markets from a couple of apiaries in his backyard.  He started teaching beekeeping classes in Austin, Texas, in 2008 as a way to buffer the business during a drought year.
Since then the company has expanded to Dallas, Houston, San Antonio and the Peninsula, with plans in the works for Los Angeles, San Diego, Seattle, Chicago, New York, Atlanta and Miami.  A fundraiser this spring will bring the classes into San Francisco's Tenderloin District.  In each city, Bouffard finds local beekeepers, usually guild leaders, to host and teach the classes.
Baxter, the San Mateo guild president, led the Groupon classes at his home near Redwood City.  He maintains a hive in the backyard and has nearly 100 others scattered across the county.
He said apiculture has become the "hobby du jour," with his club membership quadrupling in recent years.  Newcomers run the gamut from honey-grubbing foodies to gardeners looking for an army of pollinators to soon-to-be-retirees looking for an easy hobby.
The trend is no less strong in neighboring Santa Clara County.  The Santa Clara Valley Beekeepers Guild saw its membership jump more than 40 percent this year, according to guild president Wayne Craft.
Carrier, the longtime apiarist who runs Carrier's Beekeeping Supplies in San Jose, said the number of hobbyists has "increased dramatically" in the last two years.
That's a good thing for local flowers and crops. Bees are susceptible to a number of mites and viruses, in addition to the much-publicized Colony Collapse Disorder.  More hobbyists means less risk of neighborhoods losing their pollinators.
Without bees, "there would be no apples, there would be no strawberries, there would be no almonds," Bouffard said.  "We would all be eating rice and oatmeal and that would be it."