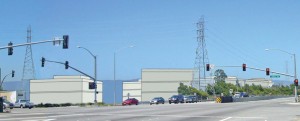 To most Menlo Park residents who spoke at their city council meeting, Facebook's expansion brings "jobs," "donations" and "pride." But for their East Palo Alto neighbors, it also carries burdens.
When Facebook moved to the former Sun Microsystems campus at 1601 Willow Road last year, it asked Menlo Park to lift the city's 3,600-employee cap from its current headquarters. The social networking giant is planning to triple its workforce from about 2,000 to roughly 6,600 and house an additional 2,800 employees at another new campus on the other side of California State Route 84.
The prospect of flooding about 7,400 new employees to the Facebook campus not only triggered the drafting of an environmental impact report in Menlo Park but also aroused anxiety among East Palo Alto communities. The expansion may bring hundreds if not thousands of additional cars commuting to Facebook each day. Unable to stop the project, East Palo Alto residents could only express their discontent at their city council meetings.
"This is my first time to speak here," Katia Solorio, a member of the environmental advocacy group Youth United for Community Action, said at a city council meeting in late January. "The draft environmental impact report that Menlo Park produced ignored significant impacts to the traffic of East Palo Alto," she said. Angered that the draft report has "ignored" East Palo Alto, members of Youth United for Community Action took turns speaking.
The draft report does admit a "significant and unavoidable impact" on the overall traffic caused by the expansion "because much of the city and surrounding areas are built out" and widening roadways would require property acquisition, according to the report.
It also adds "potentially significant" traffic to the intersection of University Avenue and Donohoe Street in East Palo Alto, the report wrote, which Council Member Carlos Romero said is only one of the "burdens" East Palo Alto would need to cope with.
However, many Menlo Park residents don't share East Palo Alto's concern. Facebook moved from Palo Alto to Menlo Park to gain more space for the company's long-term growth, and it appears to have already won favor from the local community.
Karae Lisle, Executive Director of Shelter Network, a non-profit providing housing services for the homeless, said at a Menlo Park planning commission meeting that she is impressed by the commitment Facebook employees made to her organization by volunteering and donating large sums of money. Lisle said she "believes the small amount of noise and travel inconvenience will be well offset by the tremendous amount of benefit of an increasingly engaged community."
With almost no option ahead, East Palo Alto council members voted to send a letter to Menlo Park, urging it to fully study the influence of the project on East Palo Alto before finalizing the environmental impact report. "If the impacts of that project are not addressed," Romero said in a city council meeting. "I don't care how magnificent, how a great community citizen Facebook is, ultimately, those neighboring communities will share the burdens from that particular project."
Speaking at both cities' meetings, Andrew Boone, a bicycle activist from the Silicon Valley Bike Coalition, a cycling advocacy group, urged both cities to add bicycle-trail improvements, including closing the one-mile Bay Trail gap between Menlo Park and East Palo Alto. Boone said the gap creates a safety problem as it forces cyclists to take a two-mile detour that includes a state highway and a long series of congested residential streets. For months, he has been lobbying Facebook to pay for improvements and is trying to convince both the company and the cities that it's "a win-win strategy."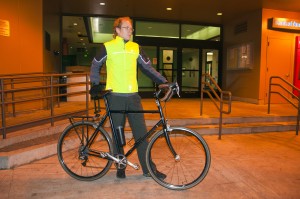 Boone said in an interview that the investment could make the street safer for the local residents to bike and help Facebook to attract talented young people who are increasingly choosing companies based on whether they could commute by bike or other means of public transportation.
"Facebook has set up a goal that 50 percent of its employees would use public transit, carpool, bike or walk to commute," said Nicole Nagaya, a consultant Facebook hired to develop a transportation plan, speaking at an East Palo Alto city council meeting. The new traffic cap Facebook proposed to replace the current employee cap would allow a maximum of 2,600 trips during peak hours and a maximum of 15,000 trips daily, according to a Menlo Park staff report.
The proposed plan would grant Menlo Park the right to collect fines if Facebook could not meet its objective, Nagaya said. But details about the fine, including how much it would be and whether it will be shared with cities other than Menlo Park, are still under discussion, Nagaya told the council.
After meeting with Boone and other members of the Silicon Valley Bike Coalition, Facebook announced Jan. 30 that it will collaborate with local municipalities to create a continuous Bay Trail.
Even if the bike-trail improvements are carried out, Ben Eiref, a member of the Menlo Park City Planning Commission, said he has other concerns. In a public letter he wrote to the Menlo Park City Council, he said he is worried that the commuting habits of Facebook's employees could change over time — "as they get older, married, have kids and move onto the peninsula."
Boone said he does not think that is going to happen, especially for cyclists who are committed to commute by bike. "High-tech companies are filling in vacancies with young people all the time," he said.
After spending almost a year on this project, Boone said he believes this is a rare opportunity to improve bicycling in the Peninsula.
"The opportunity," he asserted, "only exists because of Facebook."