Silicon Valley's private sector is making a comeback, but technology, the valley's economic driver, is no longer a tide that lifts all boats.
That's one of the findings of a report released Tuesday by Joint Venture Silicon Valley and Silicon Valley Community Foundation. The report also details continued struggles in the public sector.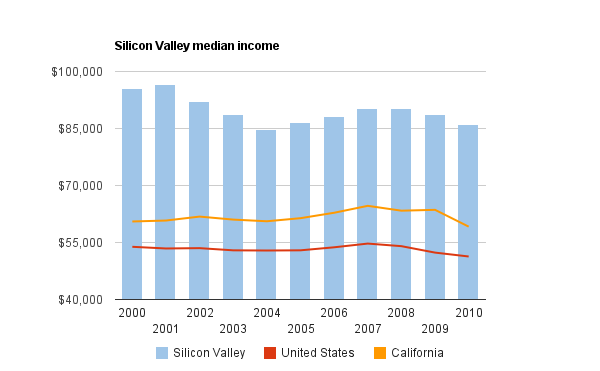 The Valley added more than 42,000 jobs last year, lowering the region's unemployment rate to 8.3 percent in December. The region saw modest job growth in all private sector areas except manufacturing. Russell Hancock, Joint Venture chief executive officer, pointed to companies involved in cloud computing, Internet, mobile devices and social media as "clear drivers" of the rise in employment.
However, Hancock cautioned: "If you take away tech, we would look like any other region. In fact, we would probably look more depressed than other regions."
"Something has changed," Hancock said at the release of the 2012 Silicon Valley Index. "Tech used to be this tide that would lift all the boats. That doesn't seem to be the case anymore."
The annual overview of the state of Silicon Valley's government, economy and society examines 40 cities in all of Santa Clara and San Mateo counties and parts of Santa Cruz and Alameda counties.
"The Silicon Valley was the last to succumb to the economic recession and it appears to be the first emerging out of it," Hancock said. But the ongoing public sector fiscal crisis and other factors are slowing widespread economic gains, he noted.
Published since 1995, the Index analyzes leading indicators and regional trends in economic development, workforce, housing, education, public health, land use, environment, arts and culture.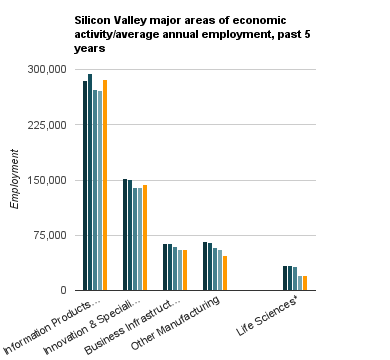 Among the report's highlights:
Innovation: With 13,300 patents filed last year, Silicon Valley accounts for half of patent registration in California, and 12 percent in the nation. The number of IPOs is to 12 from 11 in 2010, compared to only 1 in 2009. Hancock said there is speculation that more companies will follow in Facebook's lead and go public this year. "Our innovation engine seems to be heating up," Hancock added.  Total venture capital investment rose 17 percent in 2011.
Housing: The region's public sector has suffered, as decreases in home prices and property assessment values have eroded government revenues. While residential foreclosures fell 16 percent between the first half of 2008 and the first half of 2011, compared with 24 percent statewide, only 5 percent of new Silicon Valley housing was classified as "affordable" — a 14-year low.
Income:  Silicon Valley's average per capita income has increased, but that's due to greater numbers of "super rich" residents in the valley. According to the report, the number of people earning between $40,000 and $100,000 per year — middle-income earners — shrunk by 4 percent. Hancock said high earners were bringing up the average. "It's as if we're becoming two valleys," the report said.
This year the Index also included a look at look at the long-term impact of Proposition 13.
Passed in 1978, Proposition 13 capped property taxes,  partially to prevent older residents from being taxed out of their homes as property values increased. It also raised the legislative requirements to pass other taxes on a local level.
Author Steven Levy, the director and senior economist at the Center for the Continuing Study of the California Economy, said Prop 13 made it much made it difficult for local and state government to raise funds for education and other public services through local revenue sources.
"It's clear that we have a tax system that no longer tracks with the economy that we've invented," said Emmett D. Carson, President of Silicon Valley Community Foundation. The recession, he said, rendered an already ailing system completely defunct.
"There's nothing on the horizon that suggests we will see the property tax revenue we enjoyed prior to 2008. In 2008, the world changed. We need to rethink how we finance local government," he said.
Despite pockets of good news, speakers briefing the media on the report warned that they didn't see the Index as cause to celebrate. "Companies are thriving," Hancock said. "But it doesn't actually translate into community health."
"You could look at this and say Silicon Valley is a place where people come and pursue their dreams," Hancock said, referring to statistics on economic growth. "But we don't think that there is a ladder in place and people are climbing the ladder. The people who come to the Silicon Valley are in the first place a highly elite set."
To view the full Silicon Valley Index report visit www.jointventure.org.