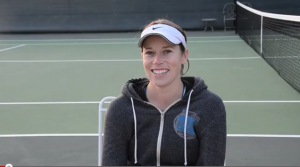 "Professional tennis wasn't the real world," Laura Granville said.
Looking around the still-new glamor of Stanford's Knight Management Center, she laughs and says, "But this isn't exactly the real world either."
Granville, a two-time NCAA women's tennis champion, left Stanford in 2001 after her sophomore year to pursue professional tennis. Ten years, nine International Tennis Federation wins, and an abundance of stories about tour life later, she is weeks away from hanging a Stanford diploma on her wall, and from conquering her next challenge: "the real world."
Descriptions like disciplined and hardworking are quickly followed with words like sweet and thoughtful. The same woman who once defeated Martina Hingis at Wimbledon now takes carrots and apples to her equestrian class at the Stanford Barn so an aging pony will look forward to riding class.
Granville, 30, a history major, frequently forgets that she is a decade older than classmates who are taking a more traditional four-year route to earn their Stanford degrees. But Granville's worlds and goals have never been traditional. She plans to work for the Women's Tennis Association's Charleston tournament this spring — one of her favorite events — before moving to New York, getting married and working for a nonprofit.
"I want to change the world. Is that too cliché?" she asks with a laugh.
"She was a different person on the court," recalls Stanford head tennis coach Lele Forood. "Laura just did not want to lose. She dominated." In two years at Stanford (2000 and 2001), Granville won a record 58 consecutive matches, two national titles and a multitude of regional events. She owned a perfect single-season record (6 and 0 in 2000-2001).
"She was one of the greatest players Stanford tennis has ever seen," said Jim Young, Stanford's Senior Assistant Athletic Director, Director of Media Relations and Communication. (Story continues below.)
[youtube]T_iBNFE0B4k[/youtube]
Forood recalls Granville's freshman finale: "Laura and [Stanford teammate] Marissa Irvin were playing each other for the NCAA singles final in Malibu in 2000. They spent the night before the final, studying and finishing a group project together."
According to former Stanford teammates Veronica Li and Jennifer Yen, that is the legacy she left for Stanford's program.
"Stanford tennis traditionally has a high standard, but Laura raised the bar. She won the NCAA singles championship as a freshman and then successfully defended her title," said Yen, the former Stanford team captain.
"When I joined the Stanford tennis program, it was understood that we were playing not just for our current team, but for the entire tennis program." Yen paused, "We owed it to the people ahead of us to keep winning."
"Laura's work ethic and her general 'fight' on the court set a standard for the women's team that put them on a trajectory to the five national championships they'd go on to win over the six years," said Lindsay Burdette, a Stanford tennis star, who won the 2009-2010 NCAA Doubles championships with partner Hilary Barte.
According to Forood, Stanford women's tennis has a legacy of returning professionals to complete their degrees. "We encourage people to be on their own timeline. Two years was a very common initial period for our best players to play for us and then turn professional," Forood says.
Forood had "no doubt that Laura would find success as a professional." She also had no doubt that someday Granville would return to campus.
Granville has a Wikipedia page, a listing on a celebrity public speaker's page, and fan postings from around the world, but she seems unaware of her celebrity.
"Laura is one of the most humble and down-to-earth people you will ever meet," Yen said. "The first time we met, I was so intimidated because I was just in awe of her. But when we spoke, you would never have known she played professional tennis, let alone dominated out there on the court."
Current Stanford tennis standout Veronica Li partly attributes her decision to attend Stanford to Granville. "We trained together in Florida, and she spoke highly of Lele Forood. I'm very thankful for that, and thankful to know her," Li said.
"I kept the first trophy I ever won on my desk. The rest of my trophies usually ended up in our basement storeroom in our apartment building. I think most of them are still in boxes," Granville laughed. "I probably should go through them."
The only other tennis memorabilia she kept in her room were her gold balls, earned after winning the 14-and-under Hard Court National doubles tournament with her best friend Ansley Cargill, who played at Duke before competing professionally. Granville will be a bridesmaid in Cargill's wedding this year. Granville herself is newly engaged to a former Northwestern tennis player, Scott Kurtis. They met at a U.S. Open party five years ago and will be married next year.
After winning three matches in qualifying in her first professional tournament in 2001, Granville became ill and withdrew, "Not the best start to my pro career," she said.
A month later she drew Martina Hingis, the No. 1 seed in the first round of the U.S. Open. "We played on Monday morning at 11 a.m. at Arthur Ashe Stadium. I had never played in a stadium close to as big as Ashe Stadium. I was totally overwhelmed," she said.
She lost 11 straight games, and the match was finished in less than an hour. "Not the Grand Slam debut I was hoping for," Granville said.
Six years later, Granville faced Hingis again at Wimbledon. Granville defeated the tennis idol 6-4, 6-2.
Today, Granville has memories of crazy tennis parents, insecure famous players, and the entourages of Sharpie-holders that patronize and lionize the ranks of professional athletes. In seven years on tour, Granville's career singles record was 221 and 160.  She won nine International Tennis Federation titles and more than a million dollars and was ranked as high as 28th in the world (June 9, 2003).
"I had posters of Andre Agassi and Monica Seles on my wall growing up," she said. Granville asked for Seles' autograph when she was a teenager playing in Japan. Seles graciously shared her autograph, as well as lessons about life on tour. Granville never had the courage to ask Agassi.
Granville signed her own first autograph after she defeated the No. 1 seed in the U.S. Junior. "It was a massive yellow tennis ball," she recalled. The size that small fans wrap their arms around and hug tightly to their chests. She remembers meticulously scripting her name across the ball. "The famous stars have unreadable signatures," she said.
"Her outlook on life is so unique and grounded, and she brings amazing perspective," Yen said. "I really respect her as a tennis player, but I respect her even more for the way she carries herself as a person."
"Laura is one of the best, if not the greatest, player to play for Stanford Women's tennis team. She accomplished basically everything a collegiate tennis player could dream of, and she did it in only two years," Barte said. "It was easy to see the fire that she carried inside her." Barte was the 2009 Pac-10 Player of the year, and a two-time NCAA Doubles champion.
Granville recalls being so excited to be at Stanford, that she did not hear a single word that her first economics professor said. Her second time as a new student was a bit different.
"Do I remember how to write an essay?" she thought at the time. "My first class consisted almost entirely of freshman, so it was definitely surreal for the first few weeks."
Her transition back to Palo Alto was difficult. She had re-injured her wrist just a month earlier, and the decision to return to Stanford was swift. "I was still coming to terms with the fact that I was done playing tennis competitively," she said.
After 24 years, she was done. She first picked up a tennis racquet at the age of 4 in a Tiny Tots program at the largest indoor tennis club in Chicago. She played in her first tournament at 6 and had her first win at 7.
"There are many matches and tournaments that I have forgotten, but I will never forget the finals of that tournament.  It was the most excited I had ever been, and from then on I was hooked."
Her parents were a supportive combination. Her father spent "thousands of hours" watching her hit balls and driving to tournaments, while her mother was "very loving and could have cared less about tennis, so win or lose, she would give me hug and want to talk about other things. I am so thankful for their support."
As her academic career concludes in 2 weeks, Granville's next championship to play will be a life in New York, a job search and her wedding to plan. "I want to make a difference," says Granville. "I want to positively impact the world."