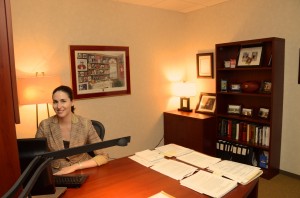 A paperback is missing from Hannah Gordon's bookshelf, causing the rest of her collection to slant precariously. It is the only item out of place in her office at the San Francisco 49ers' headquarters in Santa Clara, where Gordon embraces order after a chaotic year in which she came to be known as "Queen of the Lockout."
At 30, the Stanford Law School graduate is five months into her job as the team's director of legal affairs. But already she has earned the respect of the National Football League's owners for her role in helping to resolve the bitter labor-management disputes that threatened to wipe out the current NFL season.
Before the 49ers hired her, Gordon spent two years working for the league's Management Council as its manager of labor operations. She was the sole woman in a non-secretarial position in a 10-person department. "They would quote 'The Godfather' and 'Scarface' and 'Gladiator.' I watched the hyper-masculine movies to try to understand them," she said, laughing.
When the owners imposed a lockout, preventing players on the 32 teams from working until a labor agreement was reached, Gordon found herself in the middle of a male-dominated clash of egos with billions of dollars at stake. Her education would accelerate.
"Oftentimes your opportunity will not come with the expected wrapping," she said. "You might get an amazing opportunity as an issue of last resort because no one else wants the job."
Her unofficial position as "Queen of the Lockout" — as Chris Polian, vice president and general manager of the Indianapolis Colts, crowned her — offered much greater access to NFL team executives and front office staff. Because the owners' lockout came with strict prohibitions against contact with players outside of the bargaining process, myriad questions arose surrounding daily life: If a player experienced a death in the family, for instance, could the club send a condolence card?
"I was the person answering everyone's questions about bizarre incidents and extreme circumstances," she said. "I was implementing the rules on clubs to ensure that the lockout was conducted in a legal and appropriate manner."
She added, "The lockout changed my career. It showed that I was up and coming in the NFL, and it allowed me to have so much more contact with clubs."
Paraag Marathe, the 49ers' chief operating officer, called Gordon in the midst of the lockout to gauge her interest in working for the team. That was last December.
"We were looking for someone with more experience than she had. But we hired Hannah because of her experience with the lockout, and more importantly, through our interviews we felt that she was capable of handling all matters," said Patty Inglis, the team's executive vice president. "She has excellent judgment and takes on a lot of work with a wonderful attitude."
Having followed a path carved by Inglis and Oakland Raiders CEO Amy Trask, another of her mentors, Gordon is among a growing number of  young professional women rising to leadership positions in professional sports. She speaks often of how she was influenced by Trask – the NFL's only female chief executive – and of the importance of mentoring younger women.
On Nov. 9, Gordon will speak on a panel at Stanford's Graduate School of Business. The topic: women in football.
In a typical week, she divides her time between overnight trips to conduct league business and the legal issues closer to home, including the 49ers' efforts to build a stadium in Santa Clara.
When not traveling, she starts the day in the gym with a 6 a.m. workout followed by a 4-minute commute to the team's headquarters, during which she "mentally readies for work" by listening to music; hip-hop artists like Jay-Z and Kanye West jumpstart the morning.
Then it's on to legal negotiations, writing and editing contracts, returning dozens of e-mails and phone calls, and meeting with 49ers staff.
Gordon favors tailored suits and designer heels. Along with law books, her office is decorated with football memorabilia, notably her credentials from the Raiders' 2002 Super Bowl appearance.
She worked for the Raiders twice, and Trask remains one of her heroes.
"Amy has a wonderful love of interns because she came up through the Raiders as an intern while attending law school," Gordon said. "I was just a 20-year-old intern and she was the most powerful woman in sports. She took all of the interns out to ice cream. She gave us an inspirational speech, and let people ask questions. She remembered our names, and was aware of who we were."
Between her two stints at the Raiders, Gordon, an Oakland native, graduated from UCLA with a sociology degree. A dancer since childhood, she didn't play team sports in college but was a Daily Bruin football writer for two years. She then interned at Fox Sports Net and the NFL Players Association, and spent two years at UC Berkeley as a media relations assistant in the Athletics Department, before beginning her first year at Stanford Law School.
Her return to the Raiders between her first and second years of law school furthered her relationship with Trask and prepared Gordon for her first associate position at the San Francisco law firm Latham & Watkins.
Bob Rose, now the director of public relations for the Oakland A's, hired Gordon at Cal. "She's so bright, but more than anything it's her determination and hard work that allow her to get ahead," he said. "She's driven by the right things and she cares about people."
While they have each changed jobs multiple times since working together, Rose and Gordon maintain annual friendly lunch meetings and occasional phone conversations.
Rose has witnessed the change in women in sports during his extended career in the industry. "I worked for Stanford during the [John] Elway years, and then for Cal in Sports Information before I was at the Giants and the A's," he said. For most of his career, there were few opportunities for women.
"There was definitely a stereotype of the good-old-boys network. It was a male-dominated business," he said.
Rose recalls advising young women throughout their early careers, including Gordon. "I always emphasized not to take an administrative position or an executive assistant position in a sports organization," he said. "I had seen too many women in those positions who were contained within an artificial ceiling. They would take on more and master more, but they could never get away from that title, and they could never be compensated for their work."
Rose sees many more women in high-level positions in professional sports, though the ranks of team owners, presidents, general managers and coaches are overwhelmingly male.
"It's no longer uncommon to see vice presidents who are women," Rose said. "Men take traditional sports routes — assistant sports information director, through the levels — but women seem to take untraditional routes. They were hired into the team after doing something more on the corporate side. They were a PR person in an agency, or a press secretary with a political background."
In Gordon's office, a picture of her with her mother, Pat Kernighan, rests on a side table, celebrating Kernighan's 2005 election to the Oakland City Council.
Gordon greets colleagues by name throughout the 49ers' Santa Clara offices, including the interns. Her office is filled with light, and her desk is organized into several carefully sorted piles. "The missing book," she said, referring to the tilted gap between two books, "is Moneyball," which Gordon had loaned to a colleague.