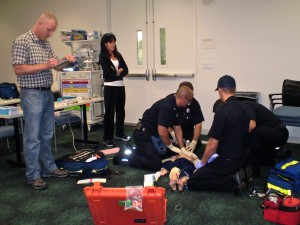 More than 200 firefighters from across San Mateo County underwent training last month to improve the continuity of care for children facing medical crises.
In partnership with Stanford's Lucile Packard Children's Hospital, the firefighters tested their reaction times and critical-thinking skills through simulation drills. Medically advanced training mannequins and other high-tech devices made the exercises eerily real. A makeup artist was hired to dress up the mannequins with wounds and actors played frightened family members.
"These mannequins actually breathe and have a pulse," said Lynda Knight, a clinical life support and resuscitation educator at the hospital. "They're highly functioning, so you can put an IV in them, do chest compressions, get a monitor read-out."
In one simulation, Knight portrayed a mother who witnessed a drive-by shooting that wounded her 3-month-old child with special needs.
"They're all based on case studies that have actually happened," San Mateo County EMS Division Chief John Kammeyer said. "It's pretty valuable training because they get realistic … but in the comfort of a training scenario."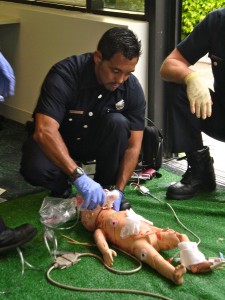 Kammeyer and Knight created the Pediatric Advanced Workshop With Simulation program in 2008 along with Michael Jacobs, an emergency medical service pre-hospital care coordinator in Alameda County. The trio began brainstorming ideas to share training strategies taught at the hospital with local firefighters, EMS workers and paramedics to create a more effective method of patient treatment.
Firefighters, many of whom are paramedics, often are the first responders.
"One of our still largest challenges today in emergency medical services is bridging the gap for a more seamless continuity of care from dispatch to discharge," Jacobs said.
After an emergency is called in, there is a very small, crucial window of time between when firefighters and paramedics arrive on the scene and when a child reaches the hospital. Even a 30-second delay in treatment can have damaging consequences.
"First responders need to have adequate training in order to quickly assess a situation. Often they are the life- saving measure, because critical children might not make it alive to the hospitals," said Dr. Bernard Dannenberg, director of Lucile Packard Children's Hospital's pediatric emergency center. "I'm essentially here to give them some direction, put things into perspective and specifically point out the most critical things that are part of resuscitating a child."
Dr. Saraswati Kache, clinical associate professor of medicine at Stanford and the medical director of the hospital's training program, strongly supports educating emergency personnel in the intricacies of dealing with children.
"I would refute the notion that children are little adults. They're completely different entities," Kache said. "For example, a normal heart rate for you and me may be 60 or 65; a normal heart rate for that 2-year-old may be 120. For you and me, 120 is a really bad sign, but it isn't for that 2-year-old."
The county's firefighters must take training courses every other year to learn new techniques and keep their skills sharp. The program with the hospital offers the firefighters and their EMS and paramedic partners a chance to gain practical experience during those gap years in education, according to Kammeyer.
"This year, we did a fair amount of pediatric training," Kammeyer said, "and then we usually like to end it with the training at Lucile Packard because it's probably the most challenging training that we'll have all year."
The program was not held last year due to budget cuts. Craig Hogan, a firefighter-engineer-paramedic for the San Mateo Fire Department, came to the workshop prepared for a refresher of what he learned in 2008.
"I thought it was a great experience," Hogan said. "It provided some more real-life training as opposed to sitting in a sterile classroom and approaching it from that side."
In addition to the anatomic and physiological differences between adults and children, firefighters are also learning to deal with the added emotional stresses of rescuing a child.
"When we hear it's a kid, it always kicks it up a little bit and makes it a little more stressful before we ever get there," Hogan said.  "When I first started, we had a call where I pulled two kids out of a fire. One had already passed and one passed probably a half hour after we pulled it out. Those never go away. They always stick with you."
[youtube]04dI_xBtmVI[/youtube]