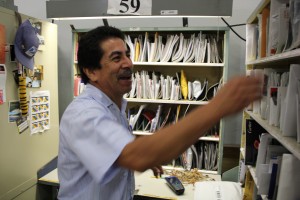 Eduardo Estrada is trying to save the United States Postal Service, one customer at a time.
It's the Friday before Halloween, and the 56-year-old mail carrier strolls through a strip mall at the corner of El Camino Real and Clark Avenue in Mountain View.
He ducks into the businesses along his route, including the Kwik Key Lock & Safe, where the clerk asks, "Where's your costume?"
"I'm wearin' it," Estrada calls back, raising his arms to show off the standard carrier uniform of a pale-blue button-down shirt, blue USPS hat and gray slacks. Two doors down at the Jenny Craig, he has no incoming mail to deliver, but drops in anyway to check for outgoing shipments.
"Hello, darling," he says to the receptionist. "Anything for me today?"
"Only my heart," she says.
Ten minutes away by car sits another Mountain View business: the world headquarters of Google. The Googleplex is a looming reminder of the digital revolution that has pushed the Postal Service to the brink of default.
Americans sent 42 billion fewer pieces of mail through the USPS in 2010 than they sent in 2006—a 20 percent decline, according to the Government Accountability Office.
By contrast, about 294 billion emails were sent per day in 2010—a 19 percent increase in just one year, according to the Radicati Group, a tech research firm.
The bottom line is that the Postal Service has too many workers, too many branches, too much competition, not enough money and, perhaps, not enough time.
But Estrada, a cynic's worst nightmare, refuses to yield ground. He can offer one thing Gmail can't: delivery with a human touch. (A Google spokeswoman, Andrea Freund, declined to comment for this story.)
In his nearly 27 years as a carrier, Estrada has built personal relationships with the people and businesses along his routes in Mountain View. In his truck, he carries a box of mailing forms, ready to be handed out to anyone who asks for them. And if a senior citizen forgets to put a stamp on a letter, Estrada does it himself.
"We're supposed to deliver service," he says. "That's the bottom line: service. The people on my route, everybody knows me. They know when I'm gone. I can't tell them when I'm going on vacation because they get upset!"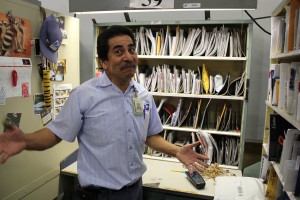 An Oakland native who now lives in the East Bay city of Newark with his wife and four children, Estrada seems equally comfortable as a pragmatic philosopher, an open-minded Catholic and a family man.
The way he effuses about his old-fashioned work in one of the tech capitals of the world, it's almost easy to forget that the Postal Service is in dire financial straits.
Walking through the rows of parked USPS trucks in front of the Mountain View Carrier Annex, one can spy Microsoft's office buildings across La Avenida Street. But Estrada can only talk, with childlike awe, about how "I've received packages from back East in three days. The day they mailed it, the third day I'm delivering it."
The problem is that enthusiasm alone can't save the country's second-largest civilian employer.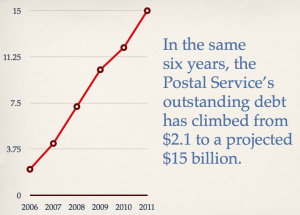 At the close of fiscal year 2011, the Postal Service is projected to be $15 billion in debt, which is the maximum it can legally borrow from the Treasury Department unless Congress acts to change that limit.
The situation could be much worse, though. James Widgel, a spokesman for the USPS based in San Francisco, says the agency has downsized by 110,000 employees nationwide in the past four years without any layoffs, due to resignations and retirements. He adds that consolidating delivery routes and retail networks has saved $11 billion.
"If you sell milk and bread out of a store, then there's no sense in having a store the size of Costco," Widgel says.
Estrada can't speak for the organization, but he says he's personally optimistic that Congress will find a way to keep the USPS out of default, most likely by removing the unique obligation to pre-fund billions of dollars in health benefits for workers who have not yet retired.
"Man, they say that the mail business is an institution," he says during lunch at Tony & Alba's on Escuela Street, a regular hangout for Estrada and a handful of his Mountain View friends. "And I feel that way. If we've been able to bail out banks, why can't we let the Postal Service do what it needs to do?"
One of the lunchers at the table leaps to his feet in loud applause.
"Thank you," Estrada says with a chuckle.
Even if the Postal Service can dodge default, the continuing competition from technologies such as email hovers over Estrada and his 574,000 co-workers nationwide. Widgel calls technology a "dual-edged sword" for the USPS because automation has made the work of clerks and carriers easier.
Nearly half of the mail processed and delivered each day by the Postal Service is advertising. In the past decade, online marketing platforms such as Constant Contact have arisen to make it easier for businesses and nonprofits to reach their customers.
Elyse Tager, the San Francisco area regional director for Constant Contact, says she expects traditional mail to be a part of all of her clients' marketing campaigns, but that Bay Area businesses are especially attuned to the web.
"Even the solo-preneur or the mom-and-pop shop who's running a nail salon, these organizations are very aware of online marketing," Tager says. "When I give a seminar, 60 to 75 percent of people are using social media in their marketing mix."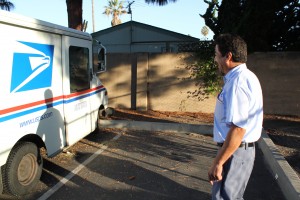 The challenge for the Postal Service is to provide something digital companies cannot. With his friendly demeanor and down-to-earth attitude, Estrada is doing his part along his nine-mile driving loop.
He counts the elderly men and women who live at the Ginzton Terrace Apartments at 375 Oaktree Drive among his favorite customers. When one of them forgets to put a stamp on a piece of mail, Estrada will often take care of it himself, reasoning that it's too cheap not to care about getting that mail out sooner.
"And then people the next day will say, 'Ed! I forgot to put—' and I say, 'I took care of it,'" he says.
"Now, you know how long that'll take you? They care about you after that. That's all I am. We take care of each other."
Life has taught Estrada about the importance of caring for others. After a drunken driver badly injured his father, the family moved from the Bay Area to Gómez Palacio, Mexico, where Estrada attended Catholic military school. He says his grandfather Luciano and great uncle Enrique both served as generals in the war to overthrow the anti-Catholic presidency in Mexico in the 1920s.
When his father was diagnosed with cancer, Estrada and his family moved back to the United States.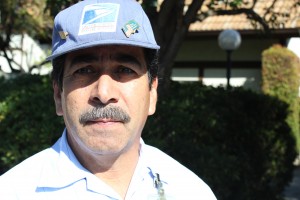 His mother became the nana to the wealthy Oliver family in Hayward, and after her husband's death, the Olivers told her she could stay in their mansion. Estrada never finished his bachelor's degree in criminal justice at Cal State Hayward, choosing instead to travel across Central America until his mother called him home to settle down.
He joined the USPS, thinking it would be temporary work, but held on when he saw the job security it provided.
Today, Estrada, his five brothers and their families are all clustered in Newark, Hayward and Fremont. His 19-year-old son Ed also wants to leave the area and travel, but Estrada has warned him, "don't make my mistake: Get an education."
Patience, he says, is a necessary value, whether he's dealing with the "old folks" on Oaktree or people like his mother, whom he cared for until she died at 94.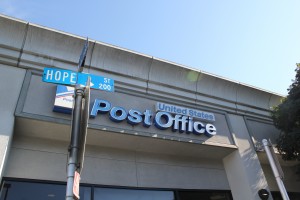 "When you're single, you're a little impatient, and you're wandering, and you're wild," Estrada says. "But as you grow older, you have a family and you have responsibilities—you learn to be patient. That's the only way to communicate with your elders. They can't move as fast anymore, you have to be more understanding and patient."
A bit of patience from its critics could also help the USPS. The $15 billion question is whether the 236-year-old service's hardest workers, like Estrada, can keep it out of retirement.
[youtube]0KvS96ZQW-0[/youtube]