Hear more about this story and how it developed on the Peninsula Report radio podcast.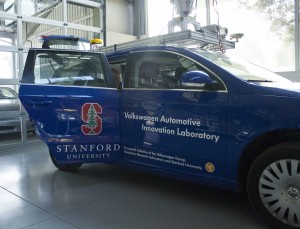 Legislation signed into law by Gov. Jerry Brown last month authorizes the testing of autonomous or robotic cars on California's roads, bringing the state to the forefront of the driverless car conversation.
The driverless car technology is so new that previous state laws did not address them at all. Researchers at Stanford University and several Silicon Valley companies, including Google, have been testing autonomous cars technology on state roads for years. In fact, Google's 12 self-driving cars traveled more than 300,000 miles on California's roads.
The new law now makes these activities legal, with the caveat that a licensed driver must be behind the wheel to take control if necessary. The law also requires the California Department of Motor Vehicles to develop regulations for autonomous cars by Jan. 2015.